Review: Google Pixel 3
Hardware Software Wrap-Up Comments 1
Lock Screen
The Pixel 3's lock screen is very good. It includes Google's take on the ambient display, which means the time, date, weather, notifications, and battery life are all visible in white text on the black screen. I like that you can set the ambient display to be on all the time, or just when you double tap the phone and/or lift it up. As always, you can take full control over notifications and how they appear on the lock screen. 'Tis good, 'tis good.
If you're a music fan, you can turn on Google's song recognition tool. With this feature enabled, the phone is always listening. It can identify most modern music in the background and let you know the song and artist. Of course, you can tap to find the song for sale in the Google Store. Google says it's able to do this without draining power and that seems to be the case.
Advertisements article continues below...
As for security, there's a fingerprint reader on the rear. It's well-positioned and easy to activate without looking. Set-up is quick and it performs very well. You can always opt for a PIN, pattern, or password.
Curiously, the Pixel 3 doesn't have any sort of facial recognition for security purposes. This is in direct contrast to Apple and Samsung (and others), which include this feature on their flagship phones.
Home Screens
Android 9 Pie is the most recent version of Android from Google and that's what's aboard the Pixel 3. If you're coming from a Pixel or Pixel 2, you'll see that not much is different from the version of Android Pie on your existing device.
The biggest change is home screen navigation. The Pixel 3 ships with Google's swipe-based UI as the default. You'll see a small "pill" icon at the bottom of the screen. Long press the pill to open Google Assistant, swipe up once to see recent apps, swipe up again to see the app drawer, or flick it to the right to quickly jump backward through apps. I like this last gesture, but the double swipe needed to get to the app drawer is just awful (and we told Google execs that in May). It's not as smooth or intuitive as the swipey UI on Apple's iPhone Xs or even the OnePlus 6. It's a tough pill to swallow, but this is something you're going to have to deal with.
One you get past the pill, the rest of the Pixel 3's home screen experience is the same as most other Android phones. You've got customizable home screen panels, your Google Feed on the far left, a notification / Quick Settings shade, and an app drawer. The app drawer doesn't support folders, but the home screen panels do.
Pie has one behavior worth calling out. In the app drawer you'll begin to see suggested actions near the shortcuts at the top. For example, if you call Mom once a day the Pixel 3 may suggest you call her and provide a one-touch button to do it. That's neat, but I've also noticed it picks up on the wrong things sometimes, such as suggesting you open a web site you've only ever visited once.
The Pixel 3 includes an interesting call screening tool. The phone gently suggests you activate it when you use the phone app to make calls. It works like this: A suspect call rings your phone, Google labels it as possible spam, and you send it to the screener. Google will answer the call and explain to the caller that you're screening the call. It will then give the caller a chance to talk. All of this is transcribed in real time so you can see the convo on the screen. If it's someone you wish to speak with, tap to connect the call. Otherwise, you can tap to disconnect and block the number.
I get two to five spam calls every afternoon / evening, and I found Google was able to do a really good job of identifying which ones were spam. The transcription wasn't always quick or 100% accurate, but it was good enough to let me know I didn't need to talk to a robot about that Caribbean cruise.
Digital Wellbeing is a major new feature of Android 9, but it's something you have to find and turn on yourself; the phone doesn't suggest it. Digital Wellbeing is meant to help you put the phone down and use it less.
First, it counts how many times you pick up the phone, how many times you unlock it, how many notifications you receive, and how much time you spend in various apps. This can be eye-opening.
Unlock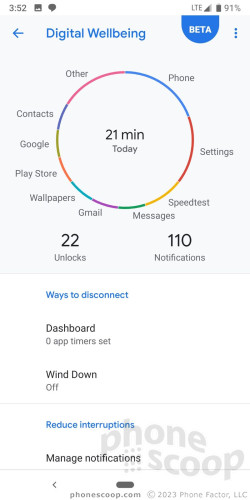 Unlock
Second is Wind Down, which activates a night-time routine for the phone. It will dim the screen, enter Do Not Disturb mode to quiet those notifications, and then, at a predetermined time, enter grayscale mode. Nothing makes me want to stop looking at my phone quicker than when the screen goes grayscale. Google hopes that, all together, these tools will provide insight and eventually coax people into adjusting their behavior. You can ignore all of it if you want.
Wind Down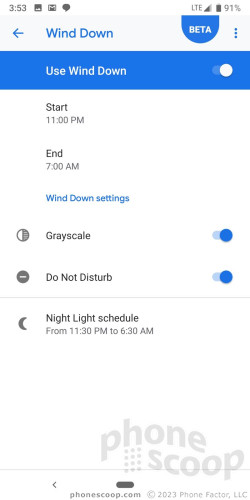 Wind Down
The Pixel 3 runs on a Snapdragon 845 processor. It's paired with a head-scratching 4 GB of RAM. Most other flagships in this price class have 6-8 GB of RAM. It's a bit baffling that Google opted for a lower amount of RAM. Even so, the Pixel 3 runs well. I didn't notice any real problems or hiccups. It might not be the best gaming phone, but all other apps opened quickly and performed appropriately. It's snappy, and in line with devices like the V40, Note9, and others.
Camera
If there's one app that's definitely different amongst the Pixel family, it's the camera. Google has updated the layout for the Pixel 3 in order to take advantage of some new modes.
The fastest way to open the camera is to double-press the lock button. You can also open it from the home screen, or ask Google Assistant to open it. The app springs to life in an instant.
The layout is fairly standard for a modern camera app. Four modes are easy to jump to from the main screen: panorama, portrait, camera, and video. The rest of the modes are buried under a tab that says "more." These additional modes offer photo sphere, slow motion, Photobooth, Playground, and Lens.
Motion Photos are like Live Photos on the iPhone. The Pixel 3 captures a couple of seconds of video when you press the shutter button. You can then save the file as a GIF and send it to others. I like that there are three settings here: on, auto, and off. The auto mode will have the Pixel 3 capture video if it senses motion, such as kids jumping around. If you're taking a pic with no motion in it, the phone will take a normal photo.
Slow Motion offers two capture speeds: one-quarter (120fps) or one-eighth (240fps). That's not as impressive as the insane 960fps option that Samsung and Sony offer, but it's still fun to play around with.
Photobooth is for fun selfies. It takes four shots when it senses smiles, allowing you and your friends to change poses in between pix. A couple of bummers: You have to smile to get it to work — which means no serious poses, smokey looks, or other funny faces — and it doesn't compile the results in an old-timey photobooth strip. That's a total missed opportunity.
Photobooth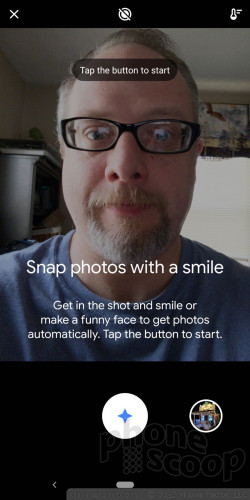 Photobooth
Playground is the renamed AR Stickers mode. It lets you drop stickers into your photos or videos. There are tons of sticker packs available, with some cool new ones from the Marvel and Stranger Things universes. The vast majority of stickers are animated and dance around. You can also generate animated text boxes. This is great for entertaining kids, or having a kid-at-heart moment.
Google Lens is, of course, Google's visual search tool. It is baked directly into the camera and lets you search for things in a snap. The tool has expanded its ability to recognize objects and text, meaning it's more useful than older builds. You can use it to search for products, identify plants and animals, scan QR codes, and discover books/movies. It's quick and helpful.
Google Lens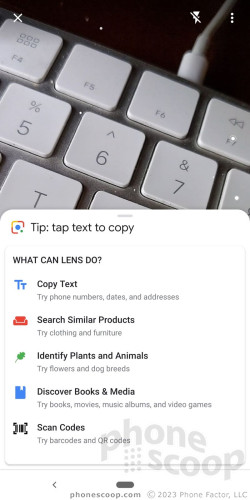 Google Lens
The settings let you tap into some extra tools. For example, you can turn on RAW mode and record videos in the more efficient H.265/HEVC format. RAW is particularly helpful when you're going to edit photos on a desktop.
The selfie camera includes the majority of these tools and adds the option to turn on beautification if you wish.
It's somewhat surprising to me that Google doesn't include a manual mode, but the phone's "computational" photography is so good I doubt you'd get better results adjusting things on your own. Even so, this does take away some creativity. You'll also have to rely on third-party software if you want to capture timelapse video.
Photos/Video
There's a lot going on with the Pixel 3's cameras. In a time when most flagship phones are shipping with two or three (or more) rear cameras, Google is sticking to one. There's a single 12.2-megapixel sensor on the rear at f/1.8 and a field-of-view of 76 degrees. It includes optical image stabilization and can snag 4K video if you wish.
Like the original Pixel and Pixel 2, the camera on the Pixel 3 is a stunner. Google's algorithms are simply superior. The majority of shots I captured with the phone are fantastic. The low-light shots (see the dusk-y firehouse) are the most impressive. This is possible in part thanks to Google's HDR+, which now takes and merges an even broader range of exposures to get the perfect result.
Portrait photos are particularly impressive. The phone does a fine job of defining the subject and ensuring that the border between subject and background is in the right spot. Google's portraits look less janky when compared to results from Apple, Samsung, and LG. I also like that you can adjust the blur after the fact.
Google's software is better at stitching together panoramas and photo spheres (360-degree images) than competitors.
I like that Google is easily able to turn the Motion Photos into shareable files. The results depend a lot on your timing, but you can tweak them just a little in Google Photos before sending them to friends.
Google did choose to put two cameras on the front of the phone. Both have 8-megapixel sensors. The main lens shoots 75-degree shots at f/1.8, while the second shoots 97-degree shots at f/2.2. An on-screen toggle lets you easily jump between the two. The wide-angle is for those moments when you want to capture a Group Selfie (Groufie), or want to get more of the background in the frame. The results are excellent.
Portrait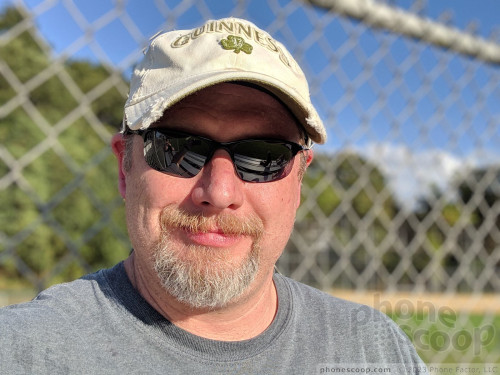 Portrait
The selfie cameras can also capture very good portrait shots. The selfie camera doesn't have a dedicated flash, but it will use the screen to brighten things up when necessary.
Portrait 2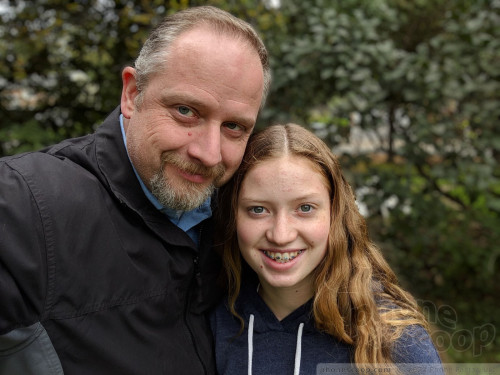 Portrait 2
As for video, the phone captures footage up to 4K in resolution (up to 1080p on front). The video I took looked very good, particularly in low light situations. I was most pleased with the lack of grain and noise. Color looks good and so does exposure.
The Pixel 3 (and 3 XL) offer the best camera on a mobile device today.
Consider the fact that Google allows Pixel owners to upload unlimited full-resolution images and videos to Google Photos for safekeeping, and you have a winning combo.
Google Assistant
Google Assistant is baked into everything on the Pixel 3. The most obvious is via the squeezable side edges, something carried over from the Pixel 2. Using the settings, you can enable and adjust this tool. Set it to activate on gentle, medium, or firm squeezes. You do need to squeeze both sides together. Opting for the firmest setting prevents misfires when you're holding the phone, but requires more effort to activate.
If you don't want to mess with the squeezable sides, you can always holler "Hey Google" and the phone will jump to life, even when locked. Google Assistant is always at your beck and call. And of course, a long press of the pill at the bottom of the screen always activates Google Assistant no matter what app you might be in.
Google's latest tagline is "Make Google Do It". Indeed, the Pixel 3 will, if you ask. I found Assistant to be very responsive to voice requests. Your success with results still depends on the query, connectivity, and how much permission you choose to give Google concerning your everyday life.