Review: Google Pixel Stand Wireless Charger
Article Comments
Oct 15, 2018, 11:00 AM by Eric M. Zeman
Google designed a special wireless charger for the Pixel 3 and Pixel 3 XL. Not only does the Pixel Stand charge your phone rapidly, it conjures up special features that turn the phone into a miniature desktop assistant.
Advertisements article continues below...
Google has (finally!) adopted wireless charging for its flagship phones. The Pixel 3 and Pixel 3 XL are both able to charge via any Qi-based pad or stand. Google also crafted a custom charging stand for its phone called the Pixel Stand. This stand delivers rapid wireless charging, but also activates a special version of Google Assistant that's ready for your beck and call. Is this charger worth it?
Hardware
The Pixel Stand looks a bit weird. Like many Google products, the design is simplistic to a fault. A circular disc forms the base and an oval-shaped support stands fairly tall at an odd angle. A small ledge crosses the bottom of the disk to hold the Pixel in place.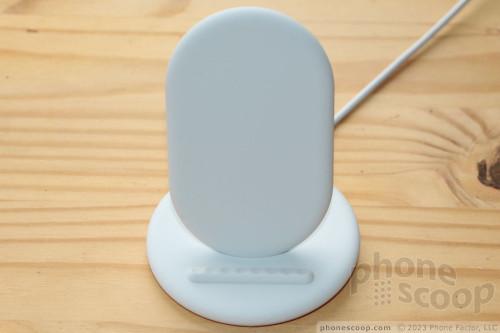 It's too upright, if you ask me. The other wireless charging stands on my desk have a more relaxed angle that I think works better.
The entire thing is wrapped in a grippy, soft-touch material that feels more like rubber than plastic. It's bone-white, and comes close to matching the shade of the white Pixel phones themselves. The bottom surface is made from an extra-sticky, salmon-colored rubber so the stand stays in place on flat surfaces. A small cutout allows you to insert the USB-C cable.
Bottom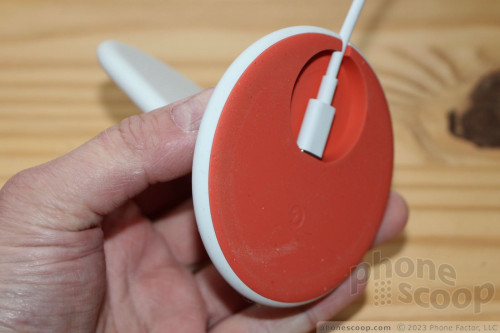 Bottom
It's easy enough to drop the phone onto the charger. It looks like the Pixel is perched precariously on the Stand, but your Pixel is quite safe.
I wish the stand could fold flat for traveling.
Side Profile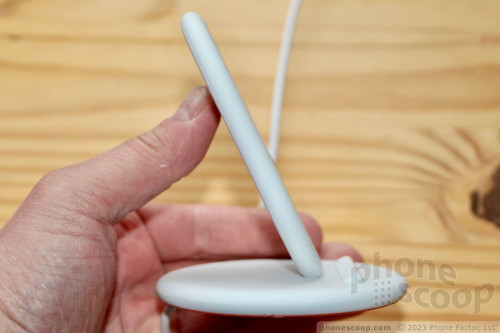 Side Profile
It will charge in both upright and landscape orientations, but the phone's screen doesn't adjust if you charge it on its side. All the screen content is sideways. That's weird.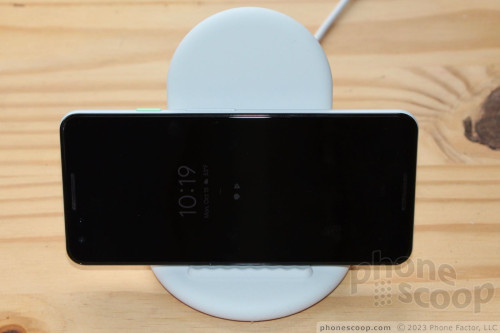 Software
Here's where the real fun begins.
Placing your Pixel on the Pixel Stand for the first time launches the Pixel Stand app. (This app is hidden somewhere in the system, and not accessible otherwise.) It walks you through the capabilities of the Pixel Stand and allows you to make some tweaks. Here's what it does.
First, it keeps Google Assistant up and active. The phone's ambient display is visible, so you see the time, date, weather, and notifications. At the bottom of the screen you'll see Google Assistant there waiting for you to speak. There's a cheery little Good morning, afternoon, evening salutation. So polite!
Basic View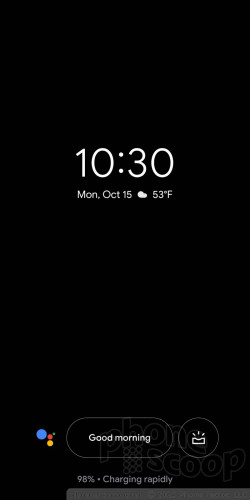 Basic View
This view delivers alerts when you have upcoming appointments, and shows what's next on your calendar. If you wish, you can tap the feed icon to see your Google feed, which typically includes the latest news headlines, what's trending, suggested actions, and much more. This is helpful, truly, and I like the idea of having Google Assistant always there with a screen.
Morning Weather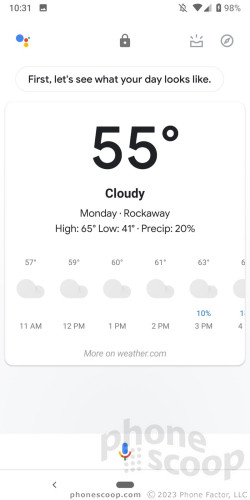 Morning Weather
If you don't care about Google Assistant's little info screen, you can instead set the phone to launch into a screensaver. The screensaver is specifically based on the albums you have created in Google Photos. You can select multiple albums and they will display in random order as the phone charges. Cool.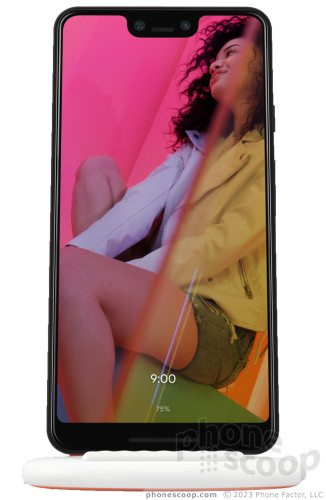 I dislike that the photos are displayed at or near full brightness. Also, the movement of the photos as they transition from one to another is really distracting if you're trying to work. I found myself looking at my phone every time a new photo popped up.
Google Assistant is still available for voice requests when the photo show is playing.
Speaking of Google Assistant, it's hard to use if you have another Google product in the area. For example, I have a Google Home speaker in my office. Whenever I asked Google Assistant for some help, the Pixel deferred to the speaker for the answer. With one-quarter of all U.S. households owning a smart speaker, this is bound to happen to others. While I don't mind that the speaker answers queries that have simple, spoken answers, it's annoying when the phone-based Assistant could show a YouTube video, but doesn't because the speaker took over the request. Google hasn't offered a good way to set preferences on which device answers you when multiple devices are available.
If you'd rather keep the Pixel Stand in your bedroom, instead of your office, there's a different set of tools available. For example, for your morning alarm, the phone will turn on the screen and slowly amp up the brightness with a yellow color mimicking the sun. When I tested it, I slept straight through the bright screen until the alarm when off.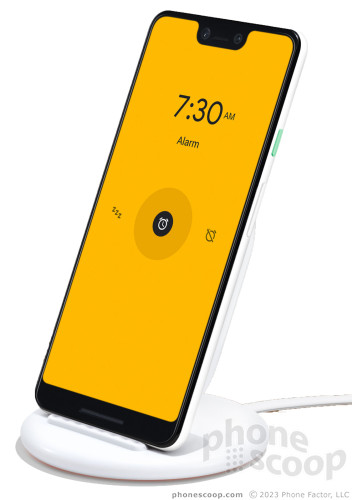 Want to know what's in store for the day? Pixel Stand will have your Pixel phone provide a visible snapshot of your day, including the weather, traffic conditions, your schedule, and reminders.
Morning News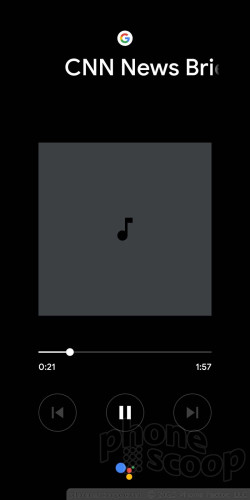 Morning News
Last, you can choose to put the phone into do not disturb mode whenever it is dropped onto the charger so it just sits there and charges.
Performance
The Pixel Stand will charge any phone that relies on the Qi standard. Only the Pixel 3 and Pixel 3 XL can access the extra software features.
The stand includes an 18W wall plug and the necessary USB-C. It provides up to 10W of wireless charging for the Pixel 3 and Pixel 3 XL, and lesser wattage for other Qi devices.
Your Pixel phone will charge very quickly on the stand. You can see a 25% jump in just 15 minutes, while 30 minutes pushes it to 45% and an hour will give you 60%. It takes about 100 minutes to charge the Pixel 3 fully. For a wireless charger, that's quite good.
Discussion
The Pixel Stand costs $79. That's a little bit more than some of today's better chargers, but I think it's worth it if you take advantage of the extra features.
No messages