In-Depth: Assessing the Huawei P20 Pro Camera
Article Comments 1
Apr 27, 2018, 1:41 PM by Eric M. Zeman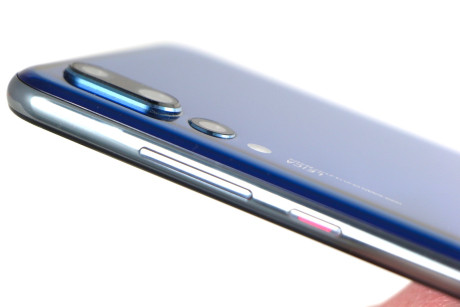 Huawei's P20 Pro includes one of the most advanced cameras of any phone in the market. It's novel in that it combines an unusual number of sensors and lenses with unique software to create a powerful machine for novice and knowledgeable users alike. If photography is your number one interest in modern phones, the P20 Pro is a tempting option.
The Huawei P20 Pro is a gorgeous piece of hardware wrapped in some ugly politics. Huawei — a Chinese company — is getting the stink eye from Washington right now. That means the P20 Pro isn't the most accessible device. You can technically buy it unlocked from online importers and use it with AT&T or T-Mobile, but there's no specific U.S. version and support for US LTE networks is... modest. It's a shame, because it's an otherwise rock-solid phone that delivers the goods across the board.
With no direct US sales and support, and that not-great LTE situation, we can't recommend this phone to our US readers, so we're not doing a full review. Instead, we're diving deep into the camera so you can get a better sense of what this device offers compared to competing high-end phones. The camera system of the P20 Pro is a complicated bit of work from Huawei. There's a lot going on in order to make it the powerhouse that it is. You'll almost certainly see similar technology coming to other phones over the next year or two, whether from Huawei or from competitors. Consider this a preview.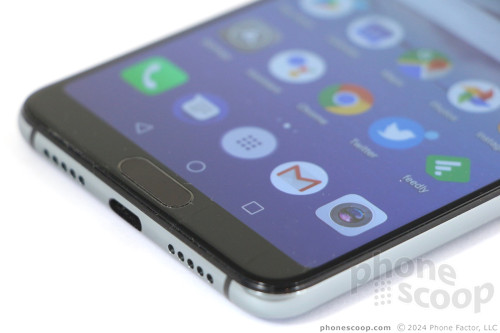 The Phone
The 6.1-inch display is luscious, the metal-and-glass chassis is lustrous, and the 4,000mAh battery is ludicrous(ly awesome). The P20 Pro offers good call quality, clean and fast software, and smarts across the board. The hardware does everything I want in a modern phone, except charge wirelessly. Huawei created one of the most attractive and most powerful phones in the market in the P20 Pro, one that deserves more attention from American consumers. If only.
The Camera Bits
The P20 Pro has three cameras, each with a different function. The main camera features a 40-megapixel sensor at f/1.8 and a standard-view lens. Out of the box, the P20 Pro is set to capture 10-megapixel images with the main sensor, and you'll do best to leave it that way. The P20 Pro relies on pixel binning, which merges four pixels into one in order to capture more light in this 10-megapixel setting. At the full 40-megapixel resolution you'll see sharper images at the (potential) cost of exposure. Moreover, zooming isn't possible when the camera is set to 40-megapixels.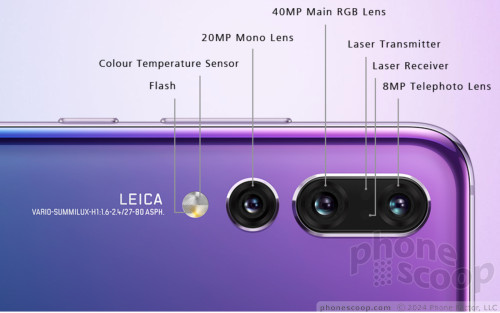 An 8-megapixel sensor at f/2.4 provides 3x optical zoom. Tap a button and instantly zoom in by a factor of 3. Tap again to zoom in by a factor of 5. In order to reach 5x zoom, the P20 Pro blends optical and digital zoom to create the sharpest possible results, even when shooting without a tripod.
A third 20-megapixel monochrome sensor at f/1.6 provides contrast and depth-of-field information.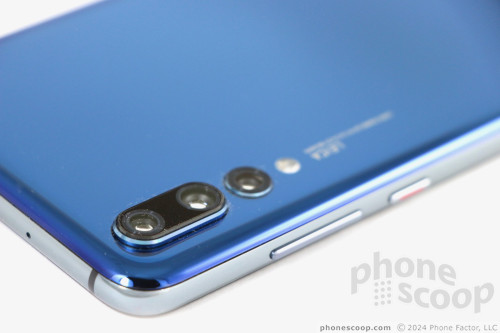 The lenses and sensors were jointly developed by Huawei and Leica. Other notable hardware features include laser-assisted focus, a dedicated color temperature (white balance) sensor, and an LED flash that automatically adjusts its tone to match the ambient light.
The P20 Pro features a 24-megapixel selfie camera. This camera has a fixed focal length and a screen-based flash.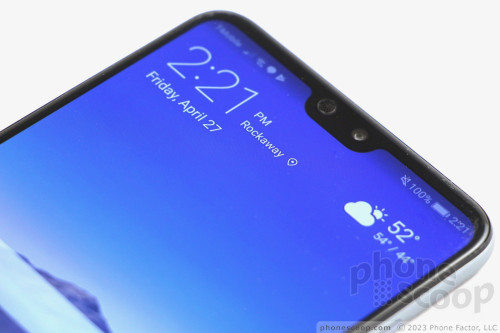 This is all managed by the P20 Pro's Kirin 970 CPU and neural processing unit, or NPU.
The App
The P20 Pro's camera app lets you tap into the advanced hardware via myriad modes. The learning curve is a bit steep due to a busy interface. It's too easy to swipe your way into the wrong shooting mode.
The normal point-and-shoot auto mode does a fine job. The "Master AI" (Huawei's NPU-powered image/scene recognition software) will automatically sense what's in the viewfinder and adjust the camera's parameters to get the best shot. It isn't perfect, but it does all right.
For example, when outside on a bright sunny day the Master AI often switched to "blue sky" mode. Perfect. It easily scored the right scene when I aimed the P20 Pro at waterfalls, food, text, groups, and sunsets. The same was true for "flowers" when I aimed the camera at some lilacs. However, when I pointed the P20 Pro at some regular bushes and trees the Master AI kept the scene in "flowers" mode rather than adjust to the "greenery" mode. A small, but important, distinction, to be sure. You can turn Master AI off if you want to.
The LG V30, which LG recently updated, includes an AI Cam mode. It does much this same thing, though it's slower and recognizes fewer scenes than the P20 Pro.
The remaining shooting modes accessible from the drawer in the viewfinder include aperture, portrait, night, video, pro, and more. Here's a rundown on what these do and how well they do it.
Aperture mode is basically bokeh. It uses the main color sensor and secondary monochrome sensor to create photos with sharp subjects and blurred backgrounds. It is meant for objects, rather than people. What I appreciate are the before-and-after controls. A tool allows you to control how much blur effect is added as you shoot. More importantly, you can also tweak this afterwards. This mode works great, as you can see in the results below.
Portrait mode functions in almost exactly the same way, but with some added twists for photos of people, such as a beauty enhancement feature. Huawei also stole a page from Apple and added a range of "3D lighting" effects that let you pretend you're a studio photographer. These include normal, soft, butterfly, split, stage, and classic (B&W) lighting that mimic those on the iPhone X.
I met with mixed results here. For example, I can't detect any real difference between the butterfly and split lighting effects. The soft effect definitely is nice. The stage and classic modes, which black out the background, are not so great. More often than not the software chopped off part of my head or my hair, or thinned my profile too much. Still, I got some awesome shots of my daughters using this mode. Just be careful with the beauty effect in portrait mode, which can make you look like a mannequin.
Night mode is what really sets the P20 Pro apart. In this mode, the camera takes multiple exposures over a 4-second span and then combines the best parts of each to make one image. It's sort of like HDR on steroids, though the results are uneven. Huawei claims you can skip the tripod and shoot these 4-second shots in your hand without worry, but that's not always the case. More than once my results had noticeable blur or soft focus. When it works, though, the results are eye-popping. You'll see far more detail in the dark when using night mode, particularly low-lit scenes such as city streets. You can see in some of my shots of Rome just how much detail stands out. The P20 Pro trounced the LG V30 and other phones in low-light shooting.
Versus:
The pro (manual) mode doesn't stray far from what you expect in such a tool. Users can adjust metering style, shutter speed (up to 30 seconds), ISO (up to 3,200), exposure value, focus, and white balance. Options include shooting in RAW, as well as adding an assistive grid to ensure level shots. It's pretty straightforward. For people who want more manual, creative control — or simply want to shoot in RAW — this is the way to go. For the record, the Master AI is always working, so even if you leave the manual controls alone you have an assistant helping in the background in pro mode. Here the P20 Pro compares well to other phones with manual controls.
Believe it or not, the video mode offers some fun stuff. First, it has its own beauty mode. As long as you don't mind shooting at 720p, the P20 Pro can provide real-time beautification effects when capturing video. The results were a bit uneven and require plenty of light. This feature is best used outdoors during the day. Other tools include electronic video stabilization (at 1080p) and several color formats (vivid, smooth). They all work well. I was pleased with results I got at all resolutions and frame rates, which I'd say are on par with phones such as the Pixel 2 XL and Galaxy S9+.
Video Recorder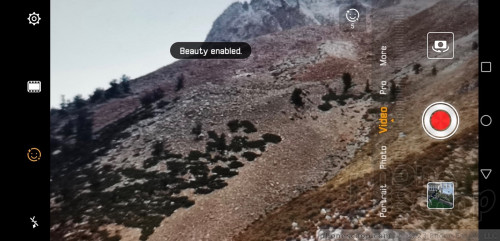 Video Recorder
Under the "more" setting you'll find creative modes such as panorama, monochrome, light painting, HDR, time-lapse, filter, 3D panorama, watermark, and document scan. We've seen all these on other Huawei phones and they work about as you expect.
There's one surprise: super slow motion. Like the Samsung Galaxy S9+, you can capture slow-motion video at up to 960 frames per second for those epic moments. Except, this mode is impossible to use. The super slo-mo tool captures 0.25 seconds that is then played back over a period of 9 seconds. The problem is that there's no way to time the action exactly right. Either the action was too early or too late. After dozens of attempts, the one decent slo-mo video I got was purely by accident. It's far harder and fussier to use than the Galaxy S9+ and far worse at delivering results. Ugh. The S9's super slo-mo tool is also frustrating, but it's at least usable. The P20 Pro's is not.
Slow-Motion Capture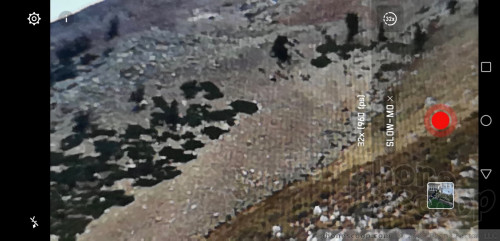 Slow-Motion Capture
The zoom function is impressive. The 3X optical zoom lens produces clean, sharp images that are exposed just as well as those taken from the main sensor. The bulk of phones that include separate telephoto lenses offer only 2X zoom, so the P20 Pro stands out a bit. Huawei hasn't said exactly how it's blending optical and digital zoom to create the 5X zoom effect, but the results are also very, very good. (They clock in at 9.5 megapixels.)
Versus:
The selfie camera offers a solid set of features in its own right. When you switch over to the selfie cam it defaults to portrait mode. Selfie portraits work just the same as regular portraits, complete with bokeh, 3D lighting, and beautification. I like that you can choose from the 4:3, 1:1, and 18:9 aspect ratios for selfies, as well as take live motion shots of yourself. The results are very, very good. Selfies I took at the Coliseum and Vatican in Rome turned out perfectly.
The Assessment
There's no question the Huawei P20 Pro is a significant competitor to top devices from Apple, Google, and Samsung. The hardware is top-notch and, as a modern smartphone, the P20 Pro ticks all the right boxes.
Huawei's camera app is a bit fussy, but perhaps no more so than the app of the Galaxy S9/S9+. Apple and Google's phones may not have as many fancy software features, but their cameras are far easier to master.
But there's no doubt that the camera delivers impressive results. The three-camera system gives the P20 Pro more flexibility than most devices when it comes to getting the right scene and the right exposure at the right time. The night mode and 3x optical zoom are particularly useful and impressive.
If you want this phone, you'll pay dearly for it. You can find it on Amazon.com and Newegg.com for about $1000. Limited support for U.S. LTE bands (only basic AT&T/T-Mobile connectivity), makes it hard to recommend the P20 Pro as a daily driver. The trade-off is a glorious design, a powerful camera, and a phone that stands out in today's sea of iPhones and Galaxies.
Huawei P20 Pro Camera
I have seen many photos from this phone.
Rivals the S9+, Pixel 2, Iphone X with ease.
Shame there is no good North American LTE band compatibility.