Huawei's P20 Series Boasts Gradient Paint and Advanced Cameras
Article Comments
Mar 27, 2018, 8:30 AM by Eric M. Zeman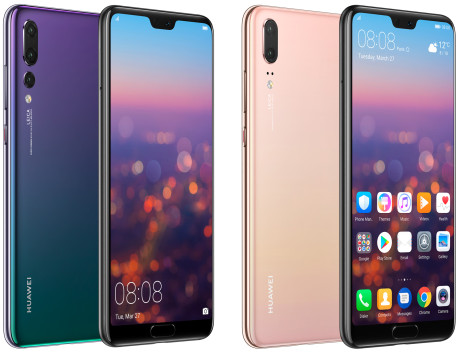 Huawei today introduced the P20 and P20 Pro at an event in Paris. The new phones, direct competitors to Apple's iPhone, are high-end devices that include unique colors, powerful processors, and the newest camera technology. Shared features of the P20 and P20 Pro include metal frames with gradient, painted 3D glass panels on the back. Huawei says the colors were inspired by Monet. The 2:1 displays on front feature notches at the top to hold the user-facing camera and sensors. The notch can be "hidden" with software that blacks out the info bar on the screen. Huawei has improved its facial recognition security software, which now works in the dark by illuminating the display. The P20 and P20 Pro carry over Huawei's premiere Kirin 970 processor with neural processing unit and Master AI to recognize scenes (group shots, landscapes) and objects (dogs, cats). The P20 series ads Master Stabilization software that allows owners to take exposures up to 4 seconds in length without using a tripod. The selfie camera on both phones has a 24-megapixel sensor with a lens at f/2.4. Other specs include 128 GB of storage, USB-C, Cat 18 LTE, Bluetooth 4.2 with aptHD+, and rapid charging. The phones ship with Android 8.1 and Huawei's EMUI 8.
P20 Pro: The more advanced of the two phones has a 6.1-inch screen with full HD+ resolution, 4,000mAh battery, and IP67 rating for protection from water. The phone boasts a 1/1.7-inch, 40-megapixel main camera sensor that Huawei claims is larger than most other phones in the market. Individual pixels measure 1.55µm each, and the sensor has an ISO rating of up to 102,400 for extreme sensitivity in low light. The secondary camera has a 20-megapixel monochrome sensor. The P20 Pro is one of the first phones to include a third camera with an 8-megapixel sensor and 3x optical zoom at f/2.4. With software, the third camera can dial up to 5x hybrid zoom. The P20 Pro ships with 6 GB of RAM.
P20: The standard, smaller P20 has a 5.8-inch display with full HD+ resolution. It includes a 3,400mAh battery and is a bit thinner than the P20 Pro. The P20 has a rating of IP53, which means it provides minimal protection from water. The phone's main camera has a 12-megapixel sensor and lens at f/1.8, while its secondary camera has a 20-megapixel monochrome sensor and lens at f/1.6. It ships with 4 GB of RAM. The P20 doesn't have third camera nor the extraordinary zoom capability of the P20 Pro.
Huawei didn't say when the phones will ship, nor how much they will cost. It's unlikely Huawei will sell these phones in the U.S.
No messages