Hands On with the Huawei P20 and P20 Pro
Article Comments
Mar 27, 2018, 8:30 AM by Rich Brome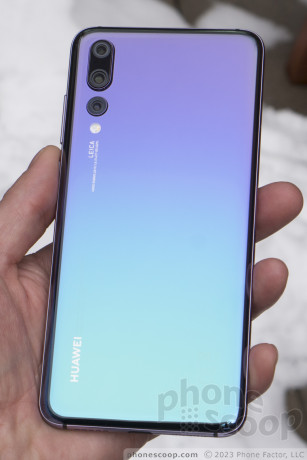 The Huawei P20 Pro and P20 have a few special tricks will really help them stand out among flagship phones in 2018. Which is why it's such a shame they aren't coming to the U.S.. We had a moment with them and want to share the things that stood out, so you know what you're missing. The multi-color gradient finish is gorgeous, the camera specs are impressive, and the camera software includes some ground-breaking features, like a stabilized long-exposure mode you can use without a tripod. Read on for our first impressions of these flashy phones.
Huawei's P-series has always been about a mid-size phone with flagship specs. It's also arguably Huawei's most direct answer to the iPhone. The fact that this year's P20 includes a "notch" at the top of the display — just like the iPhone X — only solidifies that comparison.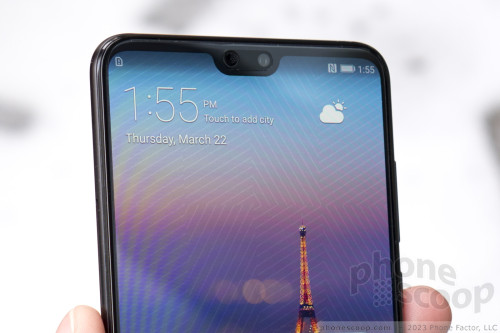 And yet Huawei is far from alone in adding a notch this year; several other Android phone makers are doing the same. The P20 might even blend right into this year's sea of aspirational Android phones were it not for a few really key things that help it stand out.
The most obvious is the unique color gradient behind the glass back. There are five color options, two of which have a gradient of color that changes from top to bottom. The most flashy is the purple/blue/green gradient that Huawei calls "Twilight". It can be somewhat understated indoors, but looks amazing in brighter light. I absolutely love it. Huawei says they were inspired by Monet paintings. It reminds me of the rainbow colors on a bubble about to pop. Remember blowing bubbles as a kid, and what that looked like? The finish on the Twilight P20 delights me just as much.
A "Pink Gold" color option transitions from pink to gold, with an opalescent sheen. Huawei is not shy about saying this is designed for "the ladies". Unfortunately we didn't get to see this color in person. More plain Midnight Blue and Black color are also available. All four colors are available for both models. The lower-end P20 will also come in a Champagne Gold color option.
The body is a metal frame with curved-edge glass front and back. It's a common design at the high end the days. Huawei has delivered high-quality hardware for some years; the P20 and P20 Pro do not disappoint. The cameras stick out a bit much for my taste, but I can't find any other fault with the design or construction. They look and feel just great.
P20 vs P20 Pro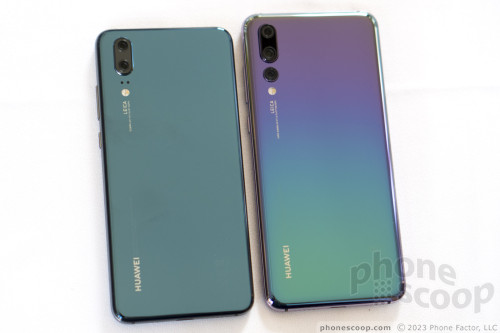 P20 vs P20 Pro
The P20 and P20 Pro differ in a handful of ways. The size difference is so small that you might wonder why Huawei bothered. One screen measures 5.8 inches and the other is 6.1 inches. But those few extra millimeters in the Pro model let them upgrade the battery from 3,400mAh to 4,000mAh, a nice bump up. They also managed to upgrade the body rating from IP53 (can handle a very light rain) to IP67 (pretty much waterproof).
Most obviously, there's also an extra camera lens on the back, for telephoto shots. Unlike most telephoto lenses that only zoom in 2x, this one goes 3x. That's nice, so it's a shame that there's only an 8-megapixel sensor behind that lens. Any time a phone has an extra lens that's wide-angle or tele, it needs a real sensor behind it, not a toy camera. I'm calling gimmick on this.
The main sensor, however, is 12 megapixel on the standard P20, and a whopping 40 megapixel on the P20 Pro. That's impressive, although we're anxious to run real tests on it to see if they're using tricks or compromising something to get to that number. If it had a real, no-compromise 40-megapixel sensor, you wouldn't need that separate telephoto lens at all; digital zoom would get you the same result without the extra camera. There are a lot of variables, though, which is why we're so eager to try it out.
You also get more RAM (6GB versus 4GB) with the Pro model, which should mean a snappier performance with demanding apps.
The P20 is no slouch. You get the same sexy design, powerful Kirin 970 processor, 128 GB of built-in storage, super-fast Cat 18 LTE, and a whopping 24-megapixel selfie camera. Both also feature Leica lenses, laser focusing, and a color sensor cleverly hidden in the flash window, to improve white balance.
The 5.8-inch screen on the P20 is LCD instead of OLED, but is packs the same full-HD resolution and notch design. It's also an RGBW LCD, which means extra white pixels that should improve brightness and power efficiency. It is, of course, arranged with the newer 2:1 aspect ratio (well, 18.7:9, technically) that puts a larger screen in a narrower body. Both phones support high-end audio such as aptX HD, as well as fast charging via USB-C.
The P20 is a very nice phone, but waterproofing and a larger battery are probably enough reason to spring for the P20 Pro.
If the notch bugs you, Huawei lets you "hide" it by making the top one solid back bar. The time, signal meter, etc. will still appear in the same place next to the notch, but the black background gives it a cleaner, simpler look. Oddly, in the notch settings, it shows rounded corners, but I got sharp corners when I tried it. That may be a glitch they fix in the final software. I hope so; I prefer the rounded corners, and square corners at the top just look wrong when the bottom corners are still rounded.
The camera software contains every camera mode and option you've ever heard of, and then some. The list of modes can be customized, and you can download new ones. I think it's odd that HDR is its own mode instead of an easily-accessible setting.
Auto mode attempts to make everything as automatic as possible, going a bit further than most phones. In auto mode, scene detection will detect a face and switch to portrait mode, see a waterfall and switch to a longer exposure, etc. Every possible setting and mode is automatically controlled by this "Master AI", if you let it. There are also plenty of manual controls, if you prefer.
The most impressive feature, by far, is what they call "Master Stabilization powered by Huawei AIS". If the name put you to sleep, the feature itself will wake you right up. It lets you take a 4-second long exposure night shot while holding the phone with just your hands. Normally long exposures absolutely require a tripod, etc. to not be a blurry mess. Normal stabilization features don't help with this kind of shot. But Huawei has come up with something genuinely new here. We're absolutely dying to try it.
No messages