Hands On with Alcatel's new 3 Series Phones
Article Comments
Feb 24, 2018, 1:03 PM by Rich Brome @rbrome
updated Feb 24, 2018, 2:58 PM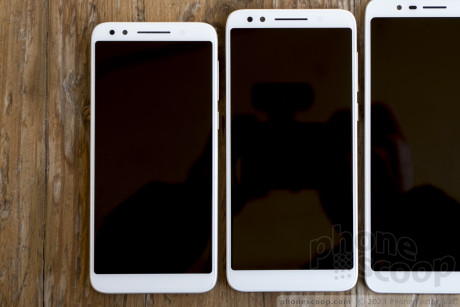 Alcatel has a new lineup of very affordable Android phones with 2:1 displays. They come in three sizes. Some have curved-edge glass on the front, and one has a dual camera setup with a wide-angle lens. Read on for our first impressions of the newly-announced 3 and 3x models.
Advertisements article continues below...
The 3 series is designed to be very affordable, all falling under $200 unlocked. The display sizes range from 5.5" to 6.0", and that's definitely the main difference. If 5.5 to 5.7 inches sounds like a minor difference, it's not. The 6.0" screen on the 5v feels huge, and the 5.5" on the 3, downright petite. You'll also find fingerprint readers and curved-edge glass on the 3 and 3x, but that's where premium features end. The bodies are plastic and feel like it.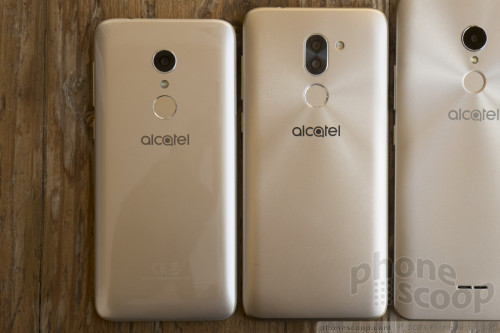 Screens with a 2:1 ratio (taller and narrower than old 16:9 screens) are the future, as they allow more screen in a narrower phone that's easier to hold. It's great to see Alcatel embracing this trend all the way down to some of its most inexpensive phones. These phones feel smaller in your hand than you might guess from the screen size number alone. They also have bezels that are impressively thin, especially for this price range. Even some pricey new flagship phones have thicker bezels.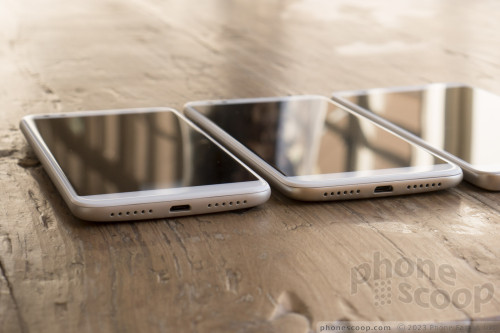 Interestingly, these phones also have screens with rounded corners, something we've only seen on higher-end phones until now. It's a nice touch. Another small but classy touch is the white notification LED above the display.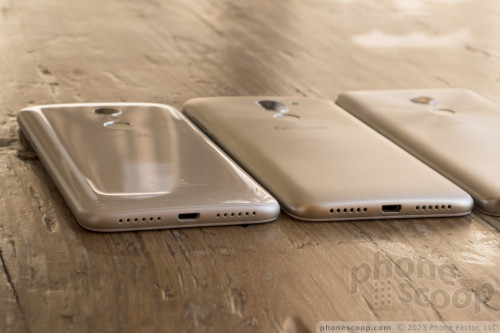 There are actually four phones in the 3 series, and a 1 and 5 series as well. We did a very quick hands-on with the 1x, 3v, and 5 back at CES. Look for our thoughts about the 3v there, with its 6-inch screen. There's also a 3c, but it lacks 4G LTE so we won't see it in the US.
Alcatel 3
The smallest of the new 3-series phones is just called the "3". It may have a 5.5-inch screen, but the 2:1 ratio and exceptionally thin bezels (at least for this price range) make this quite a narrow phone, and a small phone overall, without sacrificing screen size. The very curved back makes it feel even smaller. It's a nice shape and weight, as well.
The solid plastic body definitely feels… plastic. It has a nice matte texture on the sides, but a very glossy lacquer on the back. From a distance, it might fool someone into thinking it's glass, but to me it feels a bit icky. It's a good thing there's curved-edge glass on the front to add a premium touch.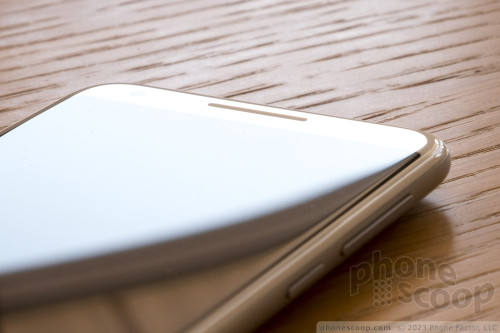 The buttons work well; a texture on the lock button helps with feel, something found on both new phones.
Alcatel 3x
The middle child of the series is the 3x, with its 5.7-inch screen.
It's basically a larger 3. The design is identical from the front, differing only in size. On the back, the gloss is replaced with a fine grooved pattern that offers an interesting texture and shimmers in the light.
There's also a second camera, which is a wide-angle lens at 120 degrees. As on LG phones, the wide-angle really helps you get shots you wouldn't be able to get otherwise. It's a surprisingly handy feature.
As with the 3, the bezels next the screen are really impressively thin for phone of this class, creating an unusually narrow — and thus easy to hold — phone considering its large 5.7-inch screen. This size will appeal to a lot of people. It's the Goldilocks phone of the three and I really like it.
The interface has an Alcatel look to it. The icons, in particular, have been molested. Some people care about that. You may not.
There are a few neat features in the software. One is an easy mode, for anyone who finds standard Android to be a bit much.
The camera app also has a "light tracing" mode for long exposures. I'm always a fan of that fun feature.
Finally, there's a floating shortcut button called "Joy Touch" (ahem) that summons a carousel of shortcut buttons for things like flashlight, calculator, timer, and split-screen mode.
I really like 3 and 3x. We can expect to see some version of these come to the US, perhaps with a different name, but they will come in the spring.
No messages