Sony Ericsson Makes Walkman Even More Affordable
Article Comments 7
Jan 8, 2007, 4:55 AM by (staff)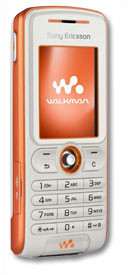 Sony Ericsson today announced a new entry-level Walkman phone. The W200 is a tri-band (850/1800/1900) candybar phone that features Walkman player despite its otherwise low-priced feature set. The W200 has a VGA camera, a 128 x 160 screen, FM radio and Memory Stick M2 Micro card slot. There is no Bluetooth, but the phone comes with a wired stereo headset. It will ship in the second quarter and is slated to launch in the US soon after. Sony Ericsson also launched a teaser campaign today for a new high end Walkman phone, the W880, which looks to be a slim model the company says has "astonishingly good looks."
SE keeps being creative
Great low/mid level phone. Music for the masses.

Let's hope TMo gets this phone as it's been too long since they have had any Sony Ericssons.
THE SE/TMOBILE FEUD CONTINUES SO I DOUBT IT WILL BE THIS HANDSET THAT IS GOING TO TMOB, BUT THE GOOD NEWS IS YOU WILL SEE ONE SOMETIME IN THE LATE SUMMER
if tis is the w880...............