Review: Motorola ROKR E8
Body Basics Extras Wrap-up Comments 9
Is It Your Type? Body The Three S's
Jun 26, 2008, 3:03 PM by Stewart Wolpin
Motorola's latest ROKR phone faces the music in Phone Scoop's review. It may have great haptics, but does it have what it takes to impress audiophiles in the crowd?
Advertisements article continues below...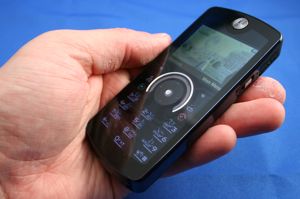 A year ago, we would have praised the Motorola E8 ROKR as a fine update of its previous ROKRs. Alas, it is not 2007, but 2008 and we're deep into the music phone era, with iPhones, Instincts, Chocolates and others vying or your musical ear. As a result, our expectations for performance and functionality for a music-oriented cellphone have been raised considerably. The E8 has some fascinating technology and it is arguably the best music phone available except for you-know-what. But given the current music cellphone environment, a great deal will depend on the price T-Mobile sets for it.
Video Tour?
Eric/Rich can i please get a Video Review on this phone i want to see it in action and how the modeshift etc. works thanx alot
Just head into a Tmobile store and try it out for yourself. 😉
Welcome T-Mobile to the wonderful world of 2006
What a pathetic joke. You know, people are RAILING on Sprint and Samsung for the M800 and its a true bargain at $129. $200 for a crappy ass old MOTO?

Any people wonder why Motorola is going of business and why T-Mobile has the fewest subscribers. Of course their CSI is awesome, they have the LOWEST subscriber base.

And I am a former T-Mobile high ARPU client who just recently bailed. I live in Los Angeles and their is not a HINT of ANY 3G love out here. Pathetic. I waited and waited.

HELIO done, Next up T-Mobile USA. I wish Rich and the original Eric would come back and bring some investigative journalism back to this site like they used to do.
I must say that I have had T-Mobile for 5 years now and the only thing that I am disatisfied with is their rural coverage. Its not just about phones. I have really appreciated them and their service!
Shea Stadium
the E8 footage of a ball game (extra points for identifying the stadium)

Home of the Mets, Eric. What do I win?
Not to hard considering the Mets is clearly seen behind the plate
Review
It is just me or was that review completely Biased? Its like the reviewer already hated the phone before he even started using it.

Maybe you could handle the phone better if you took better care of you hands.

"Unfortunately, if you don't remember the "down" nav toggle gets you to your contact list, you have to scroll through the Shortcuts or Main Menu to get to the contact list itself, a multi-click operation"

Really? I don't even know what to say about that comment. That's just trying to find something negative to say.

Terrible Review.