Hands On with Razer's Project Linda Laptop Concept
Article Comments
Jan 10, 2018, 7:20 PM by Eric M. Zeman
updated Jan 11, 2018, 9:18 AM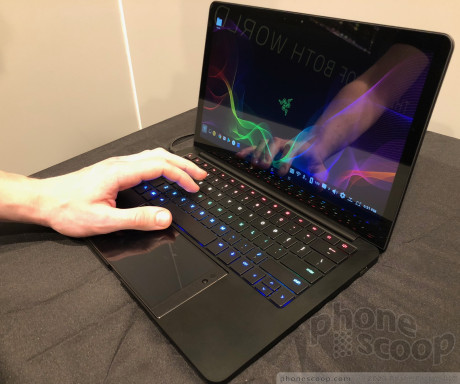 Most Innovative: Razer Project Linda
Razer had sort of a throw-back product on hand, the Project Linda Laptop Concept. This device merges the Razer smartphone with a laptop dock to create a single device that can do several things at once. Here is a quick look at the basic features of the Project Linda.
Project Linda
Razer's lone smartphone may not be the world's biggest seller, but it's clear the company has plans for the device. The Razer is, of course, a gaming-focused handset. It has an impressive screen that refreshes at 120 Hz, or twice the rate of most other smartphone screens. This is ideal for gaming. The phone is large and blocky, but it has the powerful Snapdragon 835 under its hood with a whopping 6 GB of RAM.
This week in Las Vegas, Razer showed off the Project Linda Concept Laptop. With it, you stick the Razer into a laptop chassis to create a phone-powered laptop. The phone goes where the trackpad would be. A novel, retractable USB-C plug holds the phone in place and connects it to the laptop in order to power the experience.
The laptop itself is rather straight-forward. It's black, made of metal, thin, and really heavy. It has a 13.3-inch screen that also refreshes at 120 Hz, though the resolution is limited to full HD in this prototype. (Razer may bump it up to match the phone's quad HD resolution.) The device has plenty of ports (USB-A, USB-C, 3.5mm) as well as an internal battery and internal storage. When plugged into an AC outlet, the laptop can charge the phone as well as run the laptop.
The keyboard is great. The keys have customizable colors and Razer ditches the row of function keys in favor of Android shortcut keys, such as a "home" button and an "app switcher" button.
With the phone installed in the laptop chassis you can do all softs of interesting things. The laptop UI is driven by Android, but resembles Windows visually. You've got access to all the phone's apps and services, and can run multiple apps at a time (multitasking). The handset can act as a trackpad for the phone, or you can add a mouse. What's really neat is you can run one app on the handset and a completely separate app on the laptop screen.
This is all really neat stuff, but it is truly a concept. Razer doesn't have pricing, availability, or even final specs of laptop dock. The company said it plans to mull feedback on the device over the next few months before it finalizes the hardware and brings it to market.
In the meantime, check out this video.
No messages