Review: Samsung Galaxy J7 V for Verizon Wireless
Hardware Software Wrap-Up Comments
Dec 1, 2017, 1:00 PM by Eric M. Zeman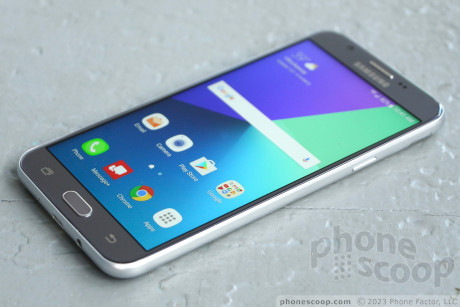 This mid-range Android handset is a throwback to Samsung's heritage line of smartphones. It offers a big screen and an even bigger battery wrapped up in a plastic shell. If you're a Verizon customer and need to save some green, the Samsung Galaxy J7 V is affordable and pleasing in its own way. Here is Phone Scoop's in-depth review.
Advertisements article continues below...
Is It Your Type?
The Galaxy J7 V for Verizon Wireless is an update to Samsung's mid-range device. The J7 V's looks may be somewhat dated, but the handset is far more affordable than Samsung's flagships. If you're a Samsung fan and want a simpler, cheaper smartphone the Galaxy J7 V might fit the bill.
Body
If you think the Galaxy J7 V looks familiar, you wouldn't be wrong. It's a bit of a throwback to the appearance of much older Samsung phones. This mid-sized slab masquerades as a metal mobile, though it's made mostly of plastic. I'd call the design conservative almost to a fault.
The phone features 2.5D curved glass that's set into a polycarbonate chassis. A gray background frames the display and chrome accents here and there catch the light. The front of the chassis has a chamfered edge that's not quite shiny. The rear panel has a metallic paint that gives it a bit of reflectivity. A dark band crosses the rear to help break up the panel some.
The J7 V is fairly big. Thanks to its 5.5-inch screen, it's about the same size as an LG V30 or iPhone 8 Plus. People with very small hands may find it to be too big. The plastic body helps keep the phone's weight down. It's comfortable to hold and use over time. I didn't run into any trouble stuffing it into pants pockets, but it may not work with the tightest jeans.
The J7 V is no S8. It feels better than the cheap plastic Samsung phones of yore, and yet you'll know you're using an inexpensive device. The phone appears to be assembled well as I didn't spot any unevenness in the seams or joins.
The glass front panel is curved along the edges and the rim that protected the screen of last year's J7 V is gone. That means you'll need to take care when setting the phone face down. The size of the gray frame that surrounds the display is in line with other mid-range handsets. The home button has just enough profile to help your thumb locate it without looking. It requires a lot of travel to push this button and feedback is a bit clacky. Two capacitive keys flank the home button. Samsung positions the app switcher on the left and back on the right. The buttons work well.
Home Button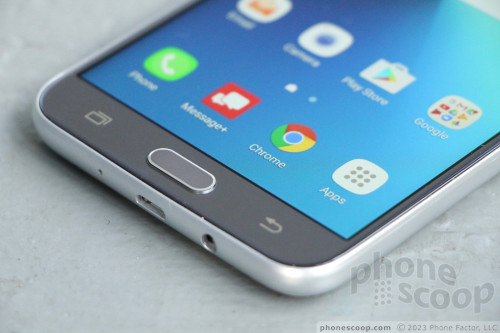 Home Button
Samsung improved the volume toggle when compared to last year's phone. It's about an inch long and you'll find it high on the left edge of the phone. The profile is fine. The travel and feedback situation is a lot like the home button: it feels fine to press but products a loud clacking sound. The screen lock button is smaller and over on the right edge. It has an excellent profile and good travel and feedback. The phone has two things on the bottom edge you won't find on many devices these days: a micro USB port and a proper headphone jack.
The Galaxy J7 V is not a rugged device, nor is it water resistant.
The rear panel is flat and smooth. A dark gray band running across the top gives the J7 V just a wee bit of personality. It contains the camera module and dual LED flash. The way this band is designed, however, makes it look like a kickstand. I seriously thought I could flip it out and prop the phone up on a table. No such luck. The left side of the band has a small slit that looks like a notch for your thumbnail. It's actually the speaker for the speakerphone, which makes it one of the oddest placements I've ever seen for a speaker.
Side Speaker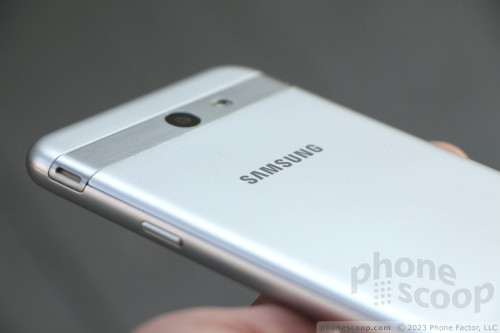 Side Speaker
You'll be happy to learn that the rear cover can be removed and so can the battery. Each is easy to interact with. The SIM card slot is buried next to the battery, while the microSD slot is easy to access without pulling the battery.
Samsung did a good job with the design of this mid-ranger. The hardware isn't perfect, but I suspect it will be good enough for most people in the market for a device such as this.
Hand Fit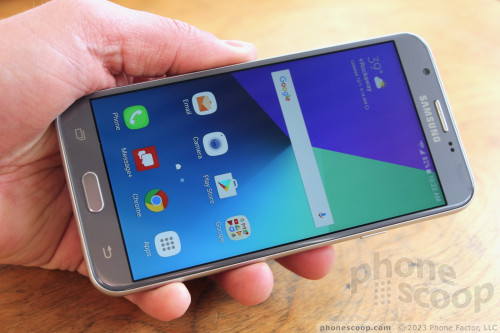 Hand Fit
Screen
The J7 V has a 5.5-inch display with 720p resolution. I wish Samsung had improved the resolution to 1080p, as a screen this large is screaming for more pixels. In casual use you probably won't see individual pixels, but I did notice them on occasion. Icons, text, and graphics sometimes looked a bit rough around the edges. On the flip side, the LCD display is very, very bright. I was able to use the phone outdoors with no problem. Colors are oversaturated a bit, which is the norm for Samsung's screens. Viewing angles are very good. There's little change in brightness and no blue shift when viewing from an angle.
The screen includes an "outdoor mode" that boosts screen brightness for a period of 15 minutes. It turns off automatically. Honestly, I didn't see much difference between the normal max brightness setting and "outdoor mode."
No fingerprint-resistant coating means the display gets gross quickly.
Signal
The J7 V performed on par with other devices I've tested on Verizon's network. The phone always held onto LTE 4G in my neck of the woods, even under the worst network conditions. The J7 V was consistently able to make and receive calls, and didn't drop any during my tests (even at highway speeds). Data speeds are fine for most tasks, but could be a bit faster. You won't have trouble browsing the web, downloading apps, or playing most online games, but network-intense activities like streaming video resulted in some buffering and pauses. Still, the J7 V did fine for this class of device.
Sound
Samsung engineered a fine voice phone in the Galaxy J7 V. Call quality is very good. The earpiece pushes plenty of sound and allows you to hear calls pretty much everywhere. I had no problem at all carrying conversations in loud coffee shops, city streets, and other noisy spaces. Voices sound good, with a warm timbre that I appreciated. There's no distortion in the earpiece at all, even with the volume cranked all the way up. People I spoke to through the J7 V said I sounded very good.
The speakerphone isn't as good. It's not quite loud enough, it is prone to distortion, and voices are a bit robotic-sounding. You can make use of the speakerphone in quiet spaces at home or the office, but it's not punchy enough for calls anywhere noisy.
Ringers and alerts did their job and consistently notified me when there were incoming calls or messages. The vibrate alert is adequate.
Battery
The J7 V has a relatively large 3,300mAh battery. The phone easily pushed from breakfast to bedtime with plenty of power to spare. I was never able to fully kill off the battery in a single day, even when I spent lots of time streaming Netflix. It's a fine battery that everyone will be happy with. It outlasts many of today's flagships by a significant margin.
The phone does not support wireless charging, nor does it support rapid charging.
Bluetooth, GPS, NFC, WiFi
Samsung did a fine job with the Galaxy J7 V's secondary radios. I was happy with how the Bluetooth radio performed. Pairing and connecting a range of different devices was no issue. The phone delivered a strong connection to headphones and speakers. Calls sounded very good in my car's hands-free system, and music playback was impressive when pushed to a speaker.
The GPS radio also did well. The phone located me quickly and accurately. The J7 V managed to keep up with my location during real-time navigation between points, and helped me navigate city streets on foot with no problem.
The Wi-Fi delivered speedy performance.
Samsung didn't include NFC in this phone.
No messages