Review: Samsung Galaxy J7 V for Verizon Wireless
Hardware Software Wrap-Up Comments
Samsung stuck to the basics with the Galaxy J7 V and I think that's the device's one major failing. Many competing phones in this price range now include at least something extra, like a metal body, dual camera, or at least a fingerprint reader. The J7 V is so incredibly humdrum I fear it won't stand out from the crowded shelves at Verizon stores. That's not to say that the J7 V doesn't have at least a few things going for it.
During my time with I found the device did well on Verizon's network and it delivers above average battery life. The screen is pretty good for what it is, as are the secondary functions like GPS navigation and listening to music.
The software sort of ruins it for me. It's bad enough the phone is shipping with the year-old version of Android (and the February security patch, at that), but it carries over the tired old Samsung TouchWiz UI that feels outdated. The camera app is easy to use, though it lacks advanced features.
AD article continues below...
The price is the one thing that really makes the Galaxy J7 V an attractive buy. At $240, it's hundreds less than the flagships at Verizon's stores. Personally, I'd rather spend $240 on the Motorola Moto G5S Plus, which is more appealing in most every way. However, if you prefer Samsung phones and would rather pick it up at a Verizon store, then you can do a lot worse than the Galaxy J7 V.
Hand Fit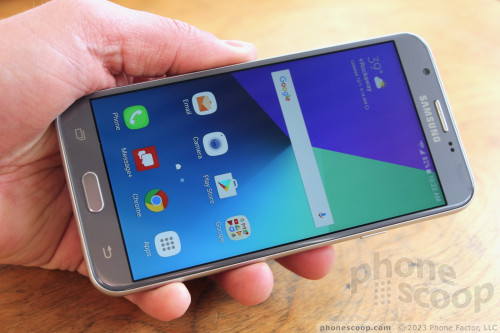 Hand Fit