Preview: Motorola MOTOZINE ZN5
Article Comments 24
Jun 23, 2008, 11:36 AM by Eric M. Zeman
updated Jun 26, 2008, 12:25 PM
Motorola offers its best camera phone ever with the ZN5. See why it might replace your stand-alone shooter. With video tour and hands-on photos.
Advertisements article continues below...
Hardware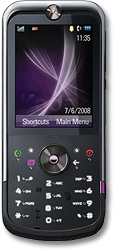 We had the opportunity to spend some time with the new Motorola MOTOZINE ZN5 before its official debut today. Even though we were using a pre-production prototype, we though we'd share our first impressions.
Hardware
The phone is very similar in shape and feel to the MOTOROKR E8. Nearly identical in footprint, what sets the ZN5 apart the most is the lack of the semi-circular navigation scroll bar and the quality of the keypad. The scroll bar has been replaced with a standard 5-way D-pad. This D-pad feels OK. It is a little on the small side for my tastes. All the buttons that run along the outer edge of the phone work well and feel good, though the camera button itself felt a little loose to us. We'll chock this up to it being a prototype model.
The keypad is the phone's only real failing. It loses the E8's fantastic haptic feedback keypad and replaces it with a keypad that is similar to the recently released Motorola Z9. It feels cheap and plastic-y. The buttons all felt "clacky". While travel and feedback was good, we couldn't help but be underwhelmed by how cheap it felt. This could be because the unit is pre-production, but knowing what the keypad quality is of other Motorola handsets, we're not hopeful that it will be improved on production units.
The phone does have a 3.5mm headset jack, which is nice, as well as an exterior slot for the microSD card. In all, it is slim, pocketable, and feels decent.
Camera
We'll start off by saying "Wow". Motorola showed us 16 x 20 enlargements made from images taken with the ZN5. The pictures looked frickin' amazing. The color was excellent, the light balance and exposure were top notch, and focus was crystal clear.
The camera is positioned on the back of the phone and has a lens cover. Sliding open the cover (or holding down the camera button) starts the camera, which must be held horizontally for picture taking. The camera launches in about 2.5 seconds, which is reasonably fast for a cameraphone. It isn't the fastest, but it certainly isn't the slowest, either.
With the camera open, some secondary buttons appear on the keypad. They are camera-specific, and include a trash can for deleting pictures instantly, as well as a dedicated sharing button. These buttons are illuminated purple, and match the purple camera menus and camera button on the side of the phone.
The menu system for the camera is contained in a little circular button on the screen that corresponds to the D-pad. Hitting up or down on the D-pad cycles through the vast selection of menu items. Pressing left or right on the D-pad cycles through the options in each of the menus as you cycle through them. Now, not all of the ZN5's camera functions are available in this little menu. Only the most important ones: Flash, resolution, shooting mode, and one or two others. The bulk of the phone's configurable options are found in a more standard options menu. What's important here is that the options you use the most are only one or two clicks away, and can be changed almost instantly. You don't have to dig through menu after menu and screen after screen to find them.
Motorola developed this software with Kodak, which happens to know a thing or two about cameras. That means there is some powerful image-processing going on in the background as you frame and take your pictures. For example, Kodak's Perfect Touch software is on board. If you take an image that happens to have less than perfect exposure, using Perfect Touch automatically brightens the image, highlights details in the shadows and drastically improves balance and color. There are also advanced editing features built into the phone that allow you to make any number of adjustments to your images before you send them to friends or family, or a photo sharing service via the Easy Share software.
The camera itself is 5 megapixels. It has a full flash, which results in much better pictures taken in low-light settings. On top of that, the camera has been optimized for taking pictures in low-light settings to begin with. Kodak said that 70% of all pictures are taken indoors, so it made sure to include this low-light sensitivity. Pressing the shutter button halfway will focus the image in less than 1 second. Compared to many other camera phones that have auto-focus, this is pretty fast. You can, however, override the auto-focus and just press down all the way on the shutter button to capture an image faster. What this does is set aside the auto-focus and sets the camera to a standard 6 feet to infinity focus mode.
Another exciting feature is a completely fool-proof panorama mode. Using the panorama feature, the ZN5 lets you paste together three images to give you a super wide-angle shot. Based on the unscientific experiment we conducted, it can show an scene that is approximately 270 degrees wide. The software on the camera then auto-stitches the images together to produce one final image. It works great and is super easy.
Photos
Motorola had a large number of blow-ups available to look at, as well as a number of images that Motorola staffers had taken on the phone themselves. It was hard not to be impressed with what we saw.
On the largest pictures (16 x 20), everything looked excellent: good color, good focus, good lighting balance. The exposures looked to be spot on, and some of them even had a tasteful use of fill flash to make sure dark areas weren't underexposed. There were a large number of pictures cycling through some picture frames. They all looked good.
Images that we took in the darkened conference room where we saw the ZN5 looked better than the average camera-phone's indoor shots. The use of the flash really helped to improve color and focus, which typically suffer indoors.
In all, these images handily beat those from other, lesser camera-phones. They are certainly on par with images that come from Nokia's N95.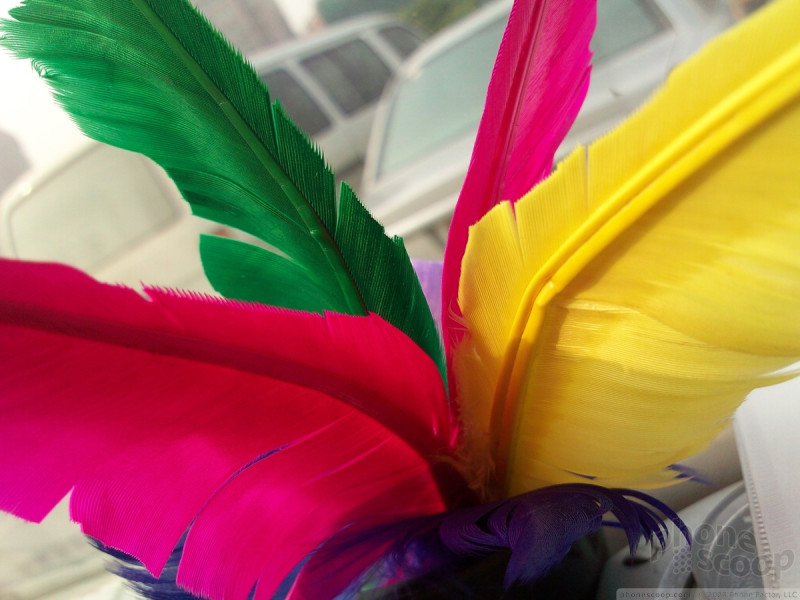 Other
Camera aside, there are some serious disappointments in the ZN5. First off, no 3G. The phone is limited to quad-band GSM/EDGE. It does add Wi-Fi, though, for sharing pictures through hotspots. While the Wi-Fi is nice, 3G is a necessity for a phone with a camera of this caliber. You won't be able to send large image files without finding Wi-Fi. Motorola did not say if the ZN5 can use the Wi-Fi radio for browsing the Internet, but it is probable that it can.
It also runs the MOTOMAGX platform. It gets the job done, but doesn't support 3G. The OS is a Java-Linux hybrid and is also seen on the Motorola RAZR2 V8. The OS is a refreshed version of its older platform, and is certainly easier to use, but doesn't make a big enough leap for us. Menus are a bit deep, and require more clicks that we care for.
It has a music player, messaging features and just about all that you'd expect to see on a higher-end feature phone.
Oddly, the ZN5 only captures video at 15 frames per second. Quality of the video was average, and did not compare to the still images taken with the phone. That Motorola and Kodak would invest so much time and energy into making the camera so powerful, yet leave the video recording capabilities lacking in comparison had us scratching our heads.
Video
Here is a video preview of the ZN5. You can watch it here:
Or visit YouTube for more viewing and sharing options.
Wrap-Up
We'll go out on a limb and say that the Motorola MOTOZINE ZN5 is one of the few cameraphones that can absolutely replace your stand-alone camera. The quality and ease of use are there. Though the phone itself has a few drawbacks, the right pricing point could make this an excellent choice.
For Motorola, this is a much needed product in its lineup of devices.
SLVR look alike
..and I like it!

I pretty much want this phone. 🤤
Carrier
Okay, So who do you think will get this phone? Do you think it will be offered in the states? I'm thinking Cingular... They always have the best camera phones.... Wishing Tmobile would step it up anyday now!
It would seem like AT&T. But, that's just my hunch. T-Mobile doesn't ever seem to get cool phones like these.
AT&T would probably rather it have 3G. AT&T also doesn't seem to be terribly interested high-megapixel camera phones.

Them again, no US carriers seem interested in high-megapixel camera phones... unfortunately. ☹️