Motorola Sheds Light on MOTOZINE ZN5
Article Comments 9
Jun 22, 2008, 10:30 PM by Eric M. Zeman
updated Jun 23, 2008, 8:38 AM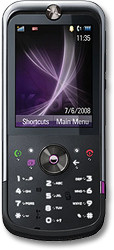 Today Motorola officially unveiled the MOTOZINE ZN5. The ZN5 is a bar-style phone similar in shape and appearance to the ROKR E8. The phone's stand-out feature is its Kodak-branded 5 megapixel camera. The camera has autofocus, and can focus on images in less than a second, allowing you to take your picture quicker. It has a full flash, as well as Kodak-approved optics. It carries Kodak's Easy Share software, and the user interface for the camera was jointly developed with Motorola and Kodak to ease operation. The software supports a lot of editing features, panorama shooting mode, and easy sharing with social networking sites. All functions related to the camera are color-coded purple, and the keypad morphs when in camera mode to show camera-specific buttons. The ZN5 carries quad-band GSM/EDGE radios, as well as stereo Bluetooth, FM radio and 802.11b/g Wi-Fi. The phone has a slot for a microSD card (supporting cards up to 4GB), 3.5mm headset jack (supporting TV out), a full HTML browser and runs the MOTOMAGX platform. It will be launched in China first, and will be available in the U.S. by the end of 2008. Motorola did not announce its carrier partner for the phone yet.
source: Kodak
Who's gonna carry it?
T-Mobile maybe. I hope so.

If this is not available with a carrier, I'm gonna be pissed. And it's not Motorola's fault.
I wonder if the U.S. version will have HSDPA???. . .
Camera seems to be very impressive, though it's yet another high end camera phone that lacks an optical zoom.

Ah heck I be surprised if ATT even picked up a 5mp camera phone!!!
Look at the Sony Ericcson C905 before thinking AT&T will not get a 5MP camera phone. It offers an 8.1MP camera with a full HTML browser.
The U.S. version will NOT have HSDPA. THe Motorola MOTOMAGX platform does not support 3G.
Arg
I wish they wouldn't put those pictures on the screen... I tend to look right past the phone and assume it's something special when I see the design on the screen.

Sneaky adverts