Hands On with the Razer Phone
Article Comments 1
Nov 1, 2017, 4:00 PM by Rich Brome
Razer's first phone is designed explicitly for gamers. Unlike some past efforts by other companies, this one looks like a normal phone. It packs high-end technology, including a display with a variable refresh rate that crank up to 120 Hz. A number of other high-tech features and thoughtful design touches make this one of the best gaming phones we've seen to date, at least on paper. What's it like in person? Read on for our first impressions.
There have been multiple attempts at "gaming phones" over the years, from the awkwardly taco-shaped Nokia N-Gage, to several with slide-out or snap-on gaming controls. Nearly all of them focused on adding buttons that resemble a console controller, making the phone bulky and awkward in the process. In other words, they were poor phones.
Then there's the fact that gaming buttons are only useful when games support them. Since most phones don't have extra gaming buttons, game developers focus first and foremost on making their games work well with a touch screen.
All of which is why the Razer Phone is the first phone for gamers that actually makes sense. It's designed to offer the best experience for the today's mobile games that people want to play, which are designed for a touch screen. This also means that Razer didn't bog the phone down with bulky extra buttons; the design is still a slim and sleek phone.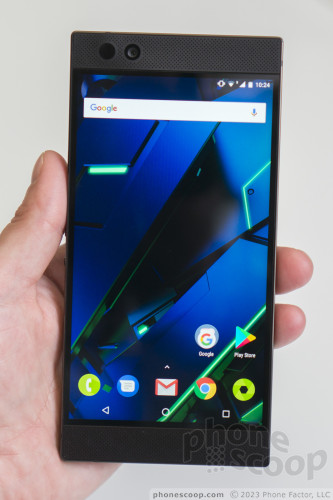 The same reasoning explains why this high-end phone has a 16:9 display instead of the 2:1 aspect ratio seen on other 2017 flagship models. Twitter might stretch to fit a 2:1 display just fine, but games are the one category of app that's firmly stuck at the 16:9 ratio for now. It would be silly to release a gaming phone where most games would use only part of the display.
So what makes this a good phone for gamers? Two things stand out: the top-end specs and the special display.
The specs are absolutely top-notch, starting with the Qualcomm Snapdragon 835 processor paired with 8 GB of dual-channel LPDDR4 RAM. That's simply as good as it gets right now, period. Razer also claims to have put extra effort into the heat dissipation system to ensure that the processor doesn't get too hot during heavy gaming and throttle down. This beast should deliver the fastest, smoothest gameplay of any phone.
There's also the display, which is where Razer actually has something unique.
It's a Sharp IGZO LCD panel; thats a good thing, and it does in fact look lovely in person. It has quad-HD resolution for super-sharp details, and it's 5.7-inch, which is downright huge for a 16:9 panel. All of this a great for gaming, but not unique.
What's special is something Razer calls Ultramotion. The screen has a variable refresh rate that goes up to 120 Hz. It's the first phone (outside of Japan) that can do that. Most phones just refresh the screen 60 times a second no matter what. But the Razer Phone, like high-end PC gaming rigs, can sync the display to whatever frame-rate the game can crank out, all the way up to a crazy 120 times per second. This means smoother, more realistic motion, ideal for fast-paced games that require quick reaction times.
If you've heard of G-Sync or FreeSync, this is like that, but in a phone. Apple put this tech in the iPad Pro, too.
Razer is working with a large array of game companies to make sure this technology is well-supported. A large number of games — from Titanfall Assault to Pokémon Go — already support it, with more coming.
This technology is based on Qualcomm technology called QSync, but Razer has done a lot of work on top of that. For one, they've made it work at all times, even when you're not gaming. This has the benefit letting the phone refresh the screen less often when there's not much motion on the screen, which saves battery life. It's silly for your phone to refresh the screen 60 times per second when you're just staring at an email (and yet that's exactly what most phones do.)
There's also a generous 64 GB of internal storage, plus a memory card slot, so you can store plenty of large games.
Battery life is a major issue for mobile gaming, as games are notoriously hard on any battery. Fortunately, a large 4,000 mAh battery means you won't run out of juice mid-session. And if you do, it's the first phone with Qualcomm Quick Charge 4.0+, for the fastest possible charging.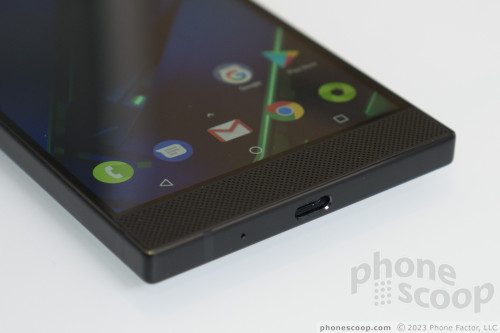 The 16:9 display leaves room for huge stereo speakers at each end, hidden behind fine metal grilles. Razer says they might be loudest speakers on any phone in the world.
Because of that, I hope anyone using this phone in public uses headphones, although unfortunately Razer has made that difficult by leaving out a 3.5mm headphone jack. Yep, you'll have to use the included dongle, USB-C headphones, or Bluetooth. At least the dongle includes its own 24-bit DAC for good sound quality. Headphones aren't included, but Razer will be making a USB-C version of its Hammerheads.
The body of the Razer Phone is large and boxy, but it's thin and sturdy. The matte texture feels very nice. It feels like a well-crafted slab of slab of solid aluminum. In fact, it looks and feels a lot like a metal version of the Nextbit Robin, which isn't surprising since Razer bought Nextbit. The same team designed this phone, and it shows. It would be easy for a gaming phone to look cheap or gaudy. Razer didn't fall into that trap here; the simple design is both functional and classy.
The fingerprint reader is located on the side, and it's a newer generation compared to the (sometimes unreliable) reader on the Robin. The side volume keys are two small metal dots. They look and feel nice. All of the side controls are perfectly centered so you won't press them accidentally when holding the phone sideways for gaming, a smart touch.
The software looks just like the stock Android experience you might find on a Google Pixel. That's a good thing. It's technically using Nova Launcher, though, which means you can apply themes to the software. Razer plans to offer themes based on popular games and comic book franchises.
The software also includes GameBooster, which lets you control frame-rate and resolution, to optimize gameplay versus battery life. You can set this system-wide, but also per-game. That's a nice feature to have.
The camera is dual-lens, with one telephoto lens, like on an iPhone Plus. The camera software is very, very basic, with almost no features.
To sum up, this is very nice bit of hardware. There are no gimmicks here. Razer just set out to make a good high-end phone, ruthlessly optimized for gaming. From my short time with it, I'd say it looks like they did a very good job.
Look for the Razer Phone in mid-November for $699.
NITS
How bright can this screen go in NITS for outdoor use?