Review: LG V30
Hardware Software Wrap-Up Comments 4
Lock Screen
The V30 includes an Always On Display that shows the time, date, and battery life in white on the black screen. Incoming notifications, such as email, SMS, or Facebook, will cover up the clock for a split second before lining up next to the battery meter. This way you can always see what unread notifications await within. LG's version of this feature works well.
Lock Screen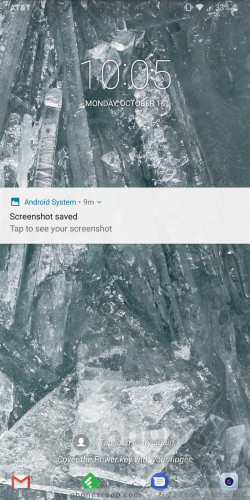 Lock Screen
You can customize the lock screen a bit. For example, you can set which shortcuts appear at the bottom, as well as where the clock appears on the screen. You can also adjust the swiping animation and choose whether or not to display the weather.
Advertisements article continues below...
The V30 includes LG's KnockOn and Knock Code. Double-tap the display to wake the lock screen. This is most helpful when the phone is sitting on a table or desk. KnockCode is an optional security tool that unlocks the phone through a custom pattern of taps on the screen. I'm not sure it's necessary, given the V30's fingerprint sensor, but at least you have more than one way to wake the screen.
The V30's fingerprint reader is quick and reliable. It takes only a few moments to set up several fingerprints and I found the reader was consistently the fastest way to unlock the phone. Beyond unlocking the phone, the fingerprint reader can be used to secure individual photo galleries and QuickMemo files, but not apps or folders.
The V30 also includes facial recognition for unlocking the phone. The tool is fairly easy to set up, though LG warns it is not as secure as a fingerprint or password. Using the software, you can record your face a single time, or multiple times to improve accuracy and security. If you plan to use the facial recognition feature as your main lock, you'll notice the phone wakes up and unlocks very quickly when you raise the phone and look at it straight on. Sometimes it takes a second, but most of the time it's swifter. Facial recognition does not work very well in low-light, and won't function at all in the dark at all.
Home Screen
The V30 ships with Android 7.1 Nougat and a lot of software from LG.
Home Screen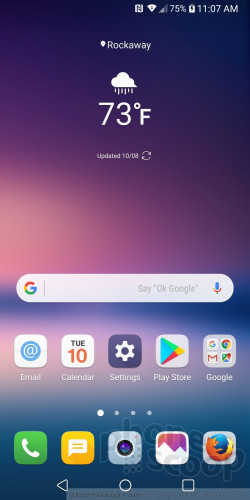 Home Screen
You can select one of three different home screen arrangements. Out of the box the default home screen doesn't include the app drawer. This means all the apps are bundled together in folders on the home screens. You may elect to choose a different home screen experience that includes the app drawer (literally called Launcher + App Drawer). The third home screen option is EasyHome, which dumbs down the interface for novice users.
The V30 allows you to switch up wallpapers and other behaviors with ease. I like that apps can be arranged in various grid configurations (4x4, 4x5, 5x5) to allow for more effective use of the screen's real estate, and, using menu options, you can elect to hide apps you know you won't use often, as well as bring them back when needed. You can control behaviors such as fonts, font size, button arrangement, screen effects, and so on.
LG didn't mess with Android's Quick Settings panel too much. It includes five toggles across the top, as well as a slide to control screen brightness. You can customize which toggles appear in the Quick Settings screen and swipe the toggles to see more. The panel also allows you to access, act on, and dismiss notifications.
The main settings tools are broken down into several tabs by default, but you can adjust it so they appear on a single screen. It's rather dense and not that easy to use.
LG's Smart Bulletin is aboard, which becomes the left-most homescreen and provides quick access to certain data sets, such as LG Health, your calendar, and action items. The tool is inactive when you first boot the phone, but you can choose to turn it on if you wish.
Android's split-screen multitasking benefits from the screen's extra space.
The V30 ships with Qualcomm's Snapdragon 835 processor, the company's most advanced chip in 2017, with a reasonable 4 GB of RAM. There must be a bug in LG's code somewhere, because the V30 experiences some crazy screen response lag at times. Most apps run crazy fast, but every so often the screen simply won't respond to touch input, or it responds very slowly. Hopefully this is something LG can clean up quickly. Games ran smoothly and VR content presented no trouble whatsoever.
Floating Bar
LG didn't want to ignore the V series' legacy completely, so even though the V30 dropped the Second Display it includes a faux version called the Floating Bar. The Floating Bar is optional and is turned off by default.
Floating Bar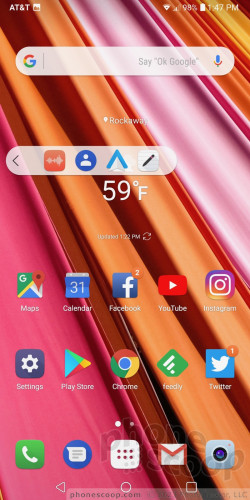 Floating Bar
The Floating Bar supports up to four different sets of controls: shortcuts, screen capture, music player, and contacts.
The Floating Bar is accessible from either the right edge of the left edge of the V30. It appears as a small arrow in a half circle along the screen's border. I like that it comes and goes whenever you want. The Floating Bar reminds me a bit of Samsung's Edge Screen tool on Galaxy handsets. I think it's more useful than the dedicated Second Screen.
Camera
The V30 doesn't have a physical camera button, but you can launch the camera from the lock screen or with a quick double press of the volume-down button.
Where Apple and Samsung offer one standard lens and one telephoto lens, the LG V30 offers one standard lens and one wide-angle lens. The V30 allows you to zoom seamlessly from one camera to the other.
The camera interface is a really busy place. Starting from far left, a batch of options runs down the left side of the main screen and includes flash controls, user-facing camera, film effects, shooting modes, and settings. None of these can be customized.
There's a decent selection of shooting modes, including auto, Cine video, snap movie, popout, manual photo, manual video, match shot, slow-mo, time-lapse, 360 panorama, regular panorama, and more.
The big addition for the V30 is Cine video. This mode gives you 15 Hollywood-style filters for capturing video. Each filter has a distinct look and feel, helping videos stand out. For example, Noir is very 1930s detective-y, while scenery is better for landscapes, and summer blockbuster is great for outdoor action. You can adjust the strength of the effects. You can add the video filters at will while capturing video, and mix and match styles when editing the results later.
The other tool built into cine video is smooth zooming. Zooming with video cameras can often be a herky-jerky affair. With Point Zoom enabled, you select something in the viewfinder and tap the slider tool. The V30 will then smoothly zoom in on that subject, and you can control the speed. It's far more professional-looking than randomly dragging the slider tool. Neat stuff.
Pop-out mode creates a picture-within-a-picture effect. In other words, you have a smaller box in the middle of the frame with the subject, and larger box around the outside to which you can add effects (blur, fisheye distortion, etc.) to make the central image pop.
The multiview mode lets you shoot pictures with both rear cameras and the front camera at the same time so you can include yourself in a three-panel montage. There are several different panel configurations and you can arrange them however you wish.
The snap movie mode lets you assemble video clips into a 60-second story. You can shoot with 1, 2, or 3 panels in a variety of configurations. A quick tap of the shutter button records a 3-second video segment. You can piece together up to 20 of the 3-second clips, or press-and-hold the shutter button to record longer clips up to 60 seconds long. It takes some practice to use effectively.
Manual mode is for knowledgeable users who want to be creative. As the name implies, you have full control over everything: white balance, focus, brightness, ISO, and shutter speed. Shutter speed can be set as long as 30 seconds, (for dramatic and/or creative night shots.) You can also set the auto-exposure to lock. Each option has its own slider that lets you, for example, alter the focal point between close and far. As you do this, the screen changes to provide a preview of how the resulting image might look. It gives you some neat insight into how each individual part of the exposure process may affect the final result.
Manual mode for video is essentially the same thing, but it gives you far more control than most phones. You have several hi-fi audio controls, as well as control over frame rate, bit rate, and LUT. If you don't know what LUT means, then manual video mode probably isn't for you. These controls are intended for serious video pros. You can also save video to Cine Log format, which is like RAW mode for video. If you are a pro, be careful to dig into the full manual settings menu each time you shoot; it's too easy to accidentally shoot in a lower-quality mode than you might intend.
HDR is buried in the settings menu. You can set it to on, auto, or off.
Even though the V30 has two cameras, it doesn't include a bokeh or portrait mode. That's totally odd.
The user-facing camera includes a number of its own tools, including a screen flash, smile capture, gesture shot (make a fist to start a photo timer), and beautification filters.
The V30's camera software is extraordinarily quick to focus and snap photos. It's a powerful app that performs well. It could be a little simpler.
Photos/Video
The V30's twin cameras are on par with those we saw in the G6, but don't quite live up to the Note8 and iPhone 8 Plus. The standard view lens has a 16-megapixel sensor and an aperture of f/1.6 (the lowest ever for a phone, which should make it great for low light.) The wide-angle lens has a 13-megapixel sensor an aperture of f/1.9. Other features include optical image stabilization (on the standard lens), tracking focus, and zero shutter lag image capture.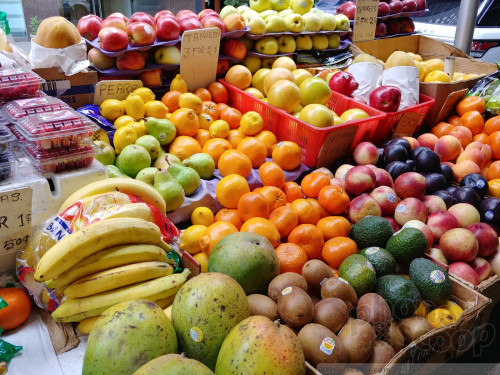 After using the V30 for a week I'm mostly impressed with the results, though they are a bit uneven. The V30 was able to balance high-contrast scenes thanks to the auto HDR function. It does a fine job with focus, exposure, and white balance.The images I took around my home and of my kids were great. The one major issue is low-light photography. Both pictures and videos shot in dark environments are destroyed by grain and noise. The exposures are decent, but whatever LG is doing with its software leaves the results besotted with horrifying amounts of grain. Hopefully this is something LG can fix with software.
The 5-megapixel selfie camera shoots at a wide angle (90 degrees), but you can toggle a more narrow view of 75 degrees if you want. The front camera has a beautification tool, a lighting adjustment tool, and a lot of filters. I was pleased with the results. It's a good option for taking self-portraits for sharing across social networks.
The V30 lets you capture video from 720p through 4K resolutions at a variety of frame rates. Like the G6, the V30 defaults to 1080p HD in LG's 18:9 aspect ratio. This means the video you shoot on the phone will fill the phone's screen, but won't quite fill today's 16:9 screens. I thought the footage was quite good. As noted, dark environments lead to grainy results. Otherwise, the results are on par with today's flagships.
I worry about the low-light performance, but I think most people can leave the dedicated camera at home and use the V30 for nearly everything.
AT&T Stuff
AT&T continues to be a top offender when it comes to bloatware. The V30 is crammed full of junk apps, particularly the AT&T-branded stuff which is pushy about being selected as the default. Seriously, who wants Firefox to be the default browser on their Android phone? The good news is that AT&T allows you to delete at least some of the third-party garbage, such as LookOut, games, Uber, and Yellow Pages.