Hands On with the LG V30
Article Comments 2
Aug 31, 2017, 2:11 AM by Rich Brome
updated Aug 31, 2017, 2:12 AM
The V30 is LG's new top-end flagship, for people who want something even more cutting-edge than the G6. As with previous V-series phones, it sports a huge screen. But the incredibly tiny bezels let LG make the screen much larger, but the phone much smaller, compared to last year's V20. LG has taken all of the features of the G6 and improved them, including a better dual-camera setup, faster processor, and OLED screen capable of VR. The V series continues to support advanced audio, but the V30 adds advanced video features as well, including a feature similar to RAW mode for video. We spent some time with the V30; read on for our first impressions.
If you follow the industry at all, the first thing that pops into your mind upon seeing the V30 for the first time is "Gee, that sure looks a lot like Samsung's Galaxy S8." It does, and the resemblance is just as striking in person. While there are good reasons most high-end phones now have a metal frames and glass backs, it seems unlikely that the truly uncanny resemblance between the S8 and V30 is a coincidence. After the somewhat unique G6, I expected LG to be more original; it's a shame.
With that said... The V30 is gorgeous, and it feels divine. It feels impeccably crafted, comfortable, thin, and light.
Even more amazing is just how small the bezels are. It's incredible how much screen LG fit into the svelte body of the V30. They did something similar with the G6, but they've gone even further here. It has a positively expansive screen at 6 inches, and yet it's only a smidge larger than the G6 (with its 5.7-inch screen.) In fact, it's noticeably thinner, and — together with the rounded sides — it doesn't feel larger at all.
I was expecting the V30 to be some kind of crazy-big brother to the G6. But in person, it feels more like a successor to the G6. It's slightly wider, but there's just not the big size trade-off you might expect. Looking to the competition, Samsung's Note8 isn't for everyone; but the V30 just might be. (If you can afford it, that is.)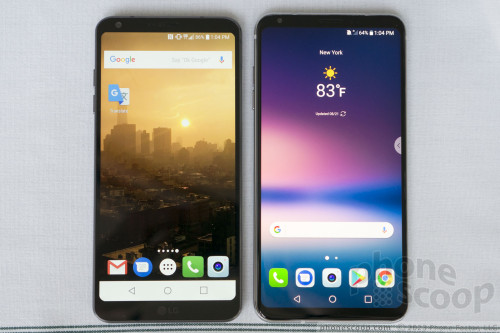 And if you go back and compare against the V20, the difference is even more dramatic. The V30 has a much larger screen in a much smaller body. It's kind of shocking how large of an engineering leap LG has made in just one year with the V series. (Although dropping the silly second screen helped a lot.)
The front of the phone is draped in curvy Gorilla Glass 5. It may look like the OLED screen curves with the glass, but upon close inspection, it doesn't seem to. The curvy front glass is sexy, but it probably means a step down from the practical, everyday ruggedness promised by the flat glass on the G6.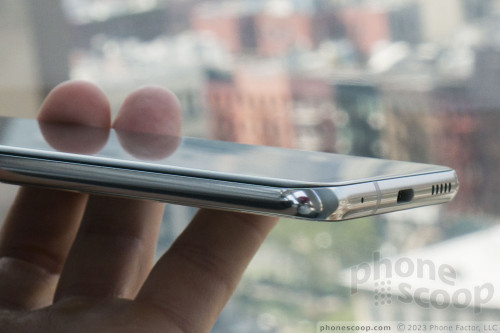 Because the screen doesn't really curve at the sides, the V30 is a hair wider than the Samsung Galaxy S8+, but it's shorter and thinner.
Of course it's quite water-resistant, even with its exposed USB-C and 3.5mm audio jack.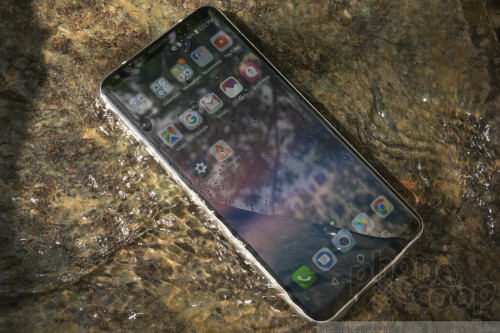 The only buttons are the volume buttons on the side, and the fingerprint reader, which doubles as a physical lock button (it does move like a real button.) The buttons are all easy to find by feel and work well.
The back should look familiar if you've seen the G6. It's also Gorilla Glass 5 and curved on all four edges. As with many Gorilla Glass 5 phones, it tends to scratch easily. Our unit has a very visible scratches after just a couple of days of gentle use. In typical LG fashion, the rear fingerprint reader is also a physical lock button.
The dual cameras do all of the tricks of the G6, but the main camera has improved resolution and a better lens (made of actual glass) which gives it an industry-leading aperture rating of f/1.6. That should be great for low light. The wide-angle camera has an aperture of f/1.9, which is good for a wide-angle lens, and LG promises less distortion than before.
The camera software has the "Square Camera" features of the G6, plus a few new tricks for video and manual mode.
On the video side, there's something called Cine Video, which captures 10-bit HDR video. You can apply filters as you record video. Even with the most extreme effects, the HDR source material means that the end result should preserve detail in the highlights and shadows. It's fun to play with.
One of the options in Cine Video is a slider for a vignette effect. It's not an effect I would necessarily think to take seriously, but LG arranged a private discussion with Director of Photography for Game of Thrones David Franco, and he told me that he applied a vignette effect in post-production in almost 90% of his scenes for Game of Thrones. He's also been DP for Westworld and Stranger Things, so suddenly that seems like a pretty smart option for LG's Cine Video mode.
There's also "Point Zoom", which lets you zoom in on part of the image as you record video. It's not just zooming in on the center; you can tap the corner and zoom in there, too. You can even control the speed of the zoom effect, to make it nice and smooth. It's best used with a tripod, though.
When it comes to manual adjustments, the really crazy feature is in the dedicated manual video mode. Here, there's a setting for "Save as LG-Cine Log". (You might expect to find this in Cine Video mode... nope. The interface isn't as intuitive as it could be.) This is basically RAW mode for video, so if you're serious about shooting high-quality video with your phone, this is what you need. You'll need a computer with Adobe Premiere or DaVinci Resolve to make use of this footage; it's not for everyone.
In this manual video mode, you can also toggle the phone's LUT on or off for the viewfinder. If you're not a video pro, you can safely ignore this feature. But basically, it lets you view the video preview as the camera actually sees it, or as it thinks a human would see it. On a phone, you usually only see the latter. But if you're a video pro, you might care more about what the camera is seeing. To non-pros, "what the camera sees" often looks like tinted garbage, but to a pro, it can be quite useful.
LG has seriously raised the bar with these pro video features. For video pros capturing unexpected moments on the go, the V30 is now the only phone worth considering.
As for stills, all I usually care about is getting the exposure right, and I find it easiest to do that just by tapping the part of the image I want to be properly exposed. Frustratingly, tapping the screen only sets focus, not exposure. You need to touch and hold for a second to set exposure. That gets old really quick. You can touch and hold to set exposure and summon an exposure slider. That works, but it's an extra step compared to most other phones.
I usually only go into full manual mode when I want to take a long-exposure night shot. Fortunately, the V30 lets you take them up to 30 seconds.
Graphy mode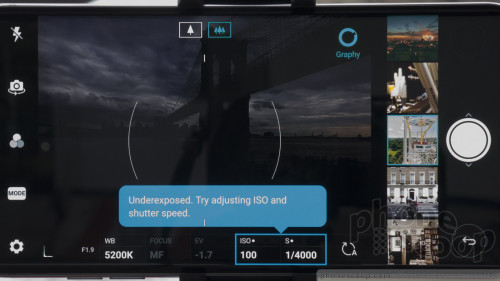 Graphy mode
But if you want to explore other aspects of manual mode, LG has an interesting new feature called Graphy to help you out. It shows a variety of sample photos taken by professional photographers. Tapping one loads up the manual settings used to take that photo. So they're kind of like presets for manual mode. Often, they'll result in an over- or under-exposed shot. When that happens, the V30 smartly detects it and shows a helpful pop-up telling you how to fix it by changing the ISO and/or shutter speed. Graphy is a nifty idea, although I'm not sure how useful it will really be for most people.
If you had the V20, you might have become used to the second screen at the top. You might have read that LG moved this functionality to a floating bar on the home screen. That's not the whole story. They've also put a version of it on the always-on display feature.
Further, they've added new options to customize the always-
on display. You can now choose any photo to appear there. You can make it a selfie if you want to make it really easy to tell whose phone is who's when you're picking them all up from the dinner table.
The rest of the interface is similar to what LG did with the G6. You can choose to have an app drawer or not, and there are themes. It has LG's touch, but they haven't ruined any of the things you might like about standard Android.
Resembles the S8???
I'm curious, but wasn't the G6 revealed before the S8? Then it's mentioned the V30 looks like an evolution of the G6 except with the curved glass on the sides. Doesn't it then seem that the S8 amd S8+ actually resemble the G6? You make it sound as if LG ripped off Samsung's design?
The G6 and S8 both have curved glass backs and tall screens that minimize bezels. These are driven mainly by advancing glass technology (the availability of Gorilla Glass 5) and advancing display technology. If there are other design similarities, the...
(continues)