Review: Apple iPhone 8 Plus
Hardware Software Wrap-Up Comments 2
If you're interested in learning absolutely everything there is to know about what's new in iOS 11, please be sure to read our full review of Apple's latest operating system here. In this review, we cover Siri, messages, maps, the App Store, Do Not Disturb, Apple Music, screenshots, files, and the new Photos app.
Lock Screen
iOS 11 makes a mess of the lock screen as far as I'm concerned. The lock screen provides access to three basic things.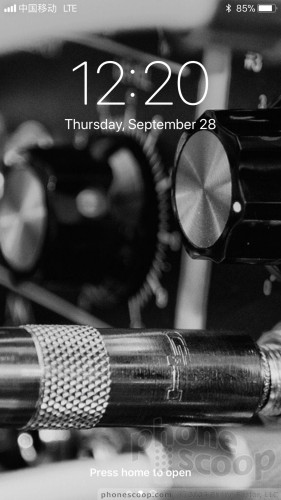 First, notifications. New/missed notifications appear front and center, with a clock above. Swipe down from the top to see a preview of additional recent notifications for a few seconds. Swipe up on the preview — or the blank lock screen — to see all of your current notifications in a big scrolling list. The clock stays at the top, and this is sort of an alternate mode for the lock screen. There's no way to hide the list of notifications without unlocking the phone or putting it to sleep, which is probably fine, but it doesn't feel right.
Second, you can swipe to the left to see the widgets screen. The iOS 11 widget screen lets you customize dynamic content, such as your calendar, music, photos, and so on. It's easy to manage, but I question just how useful it is. While you can see snippets of information, such as news headlines, you still have to unlock the phone to access any of it.
Third, you can swipe right from the lock screen to access the camera.
Everything about the lock screen described above is exactly the same for the notification shade when the phone is unlocked. While this new consistency sounds nice in theory, it's very disorienting and doesn't always make sense. Rather than float on top of your grayed-out home screen, the notifications shade covers the entire screen from top to bottom, so you can see all the missed calls and notifications. Why you'd put the camera as a sideways swipe from the notifications shade, I have no idea.
The iPhone does not include anything resembling an always-on or ambient display, though you can send notifications to the lock screen.
On the security front, the iPhone 8 Plus carries over the Touch ID fingerprint reader. Touch ID is a great bit of technology and one of the quickest, most reliable fingerprint readers in the market. If you're not down with biometrics, you can opt for a 4-digit PIN, a 6-digit PIN, or an alphanumeric password. I recommend you stick with Touch ID, as it is the simplest and fastest method for securing and unlocking your iPhone. You can use Touch ID to quickly authenticate Apple Pay and iTunes Store purchases, as well.
Home Screens
More than a decade after the debut of iOS, the home screens of iOS 11 look and behave in almost the same way. As always, apps placed on home screen panels still snap up and to the left into a self-forming grid. Four apps of your choice are always accessible from the dock at the bottom of the screen. I'd love to see the iPhone 8 Plus, with its larger screen, accommodate five apps in the dock, or five apps across in the Home Screen, but no such luck. Folders can contain dozens of apps, and you can populate nearly unlimited home screens with apps.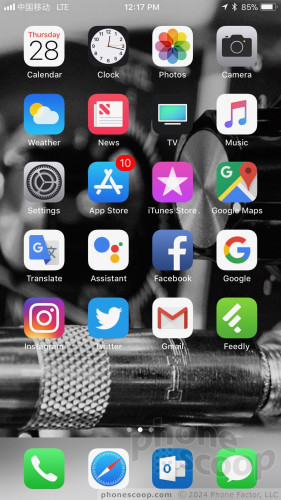 The Settings area grows each year, but a search tool helps. The overall organization and usability is about the same as always. It's a cinch to adjust wallpapers, ringtones, alerts, and other custom behaviors. iOS allows you to tweak font and icon sizes, too. The accessibility options are plentiful.
It's a shame that Apple hasn't brought split-screen multitasking to the iPhone yet.
The iPhone 8 Plus offers 3D Touch, which means the screen recognizes light touches as distinct from more firm presses. A hint of vibration lets you know you've activated a 3D Touch action.
Firm presses made on the home screen call up an action menu of potential secondary options. On the Twitter icon, for example, you can start a new direct message, new Tweet, or perform a search. Apple's Messages app lets you start a brand new message, or respond to one of the last three people who messaged you. In general, these action menus let you skip a few steps. To be honest, I often forget 3D Touch is even a thing on the iPhone.
iOS 11 revises the Control Center. It's still accessed via swiping up from the bottom of the screen, but it now has more controls that can be customized and moved around.
The iPhone 8 Plus has Apple's new A11 "bionic" processor with M11 motion co-processor and 3 GB of RAM. That's an extra 1 GB compared to the smaller model.
How fast is the A11? Crazy fast. The processor makes mincemeat of most tasks. It chews through compute-heavy apps, such as augmented reality, without breaking a sweat. In terms of real-world performance, that means apps open quickly, apps download from the App Store rapidly, and so on. That doesn't mean performance was awesome across the board, as iOS 11 is still pretty buggy. I did see some odd stutters and animation goofs on the 8 Plus that I am going to attribute to Apple's sloppy code.
Camera
The camera app opens in an instant.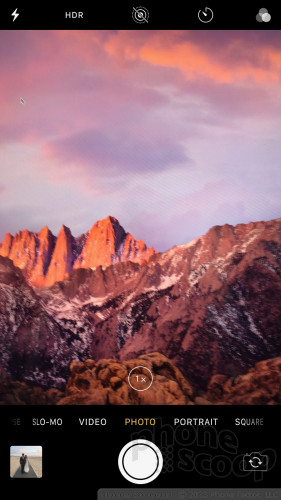 The iPhone camera offers a handful of basic shooting modes: normal, panorama, portrait, and square for pictures, plus normal, slo-mo, and timelapse for video. All seven of these are accessed by swiping the viewfinder sideways from one mode to the next. It can be bothersome to swipe your way through all the modes from one end of the chain to the other.
Several small controls are always visible. They let you select from nine filters, set the timer, turn Live Photos on/off, or toggle the flash through on/off/auto. The controls for HDR, which used to appear here, have been moved to the settings. HDR is on by default.
Like the 7 Plus last year, the 8 Plus includes two cameras. The main camera features a 28mm lens at f/1.8 and the secondary camera features a 56mm lens at f/2.8. A little "1x" button appears in the viewfinder. Tap the "1x" button to instantly zoom in to 2x magnification, with full resolution and sharpness. Technically, the button causes the camera to switch from from the wide-angle lens to the telephoto lens. Apple's software seamlessly switches the camera from one lens to another to provide a great zooming experience. You can also use an on-screen dial to adjust digital zoom up to 10x.
The most significant and unique feature available to the iPhone 8 Plus (and later the iPhone X) is the new advanced lighting tools when shooting in Portrait mode. Portrait mode makes use of both cameras to enhance pictures of people by blurring the background so the subject stands out. This basic effect is often referred to as "bokeh" and it has been around for years now.
The new lighting effects allow you to easily switch between five different scenes, including natural, contour, studio, stage, and stage mono. Each produces slightly different results. For example, natural gives you a soft look with warm skin tones, while the stage and stage mono options highlight just the subject's face and do away with the background almost entirely. These are some fancy-pants, artistic modes to help you pretend you're a studio photographer. I found them fun to experiment with and I enjoyed the results. If you find yourself taking pix of people more than anything else, you really need to check these modes out.
The iPhone 8 Plus also shoots Live Photos. Live Photos capture a short video clip along with each still picture. When Live Photos is turned on, the iPhone automatically captures 1.5 seconds of video before and after you actually press the shutter button. The result is a combined still image / video clip that includes motion and sound. Apple's Live Photos are *still* too difficult to share to platforms other than Apple/Facebook.
The iPhone's camera is slowly becoming more complicated to use. The original iPhone was praised for its simple, effective camera interface. Those days are long gone.
The iOS 11 camera on the iPhone 8 Plus is the most advanced Apple has ever offered. The good news here is that, thanks to the A11 bionic processor, the camera is faster than ever.
Photos/Video
Apple says the iPhone 8 Plus has a larger, faster 12-megapixel sensor with deeper pixels and optical image stabilization for the main f/1.8 lens. The secondary sensor also has a 12-megapixel sensor and telephoto lens for zooming and Portrait mode. These work together with the A11 processor and a new image signal processor.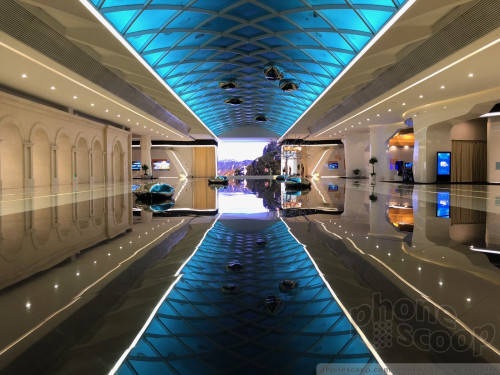 The iPhone 8 Plus takes some of the best photos you'll find on a mobile phone. Daytime shots look great. You'll see sharp focus, excellent exposure, and rich colors. I was very pleased with the way the 8 Plus performed during a week-long trip to China.
I did notice a small quality difference when switching to the telephoto lens, particularly in low light situations, as its slower f/2.8 aperture isn't as on the same level as the main lens.
Nighttime shots have very little grain. In fact, I was surprised by how clean some of the nighttime cityscapes I captured appear in my results.
The 7-megapixel selfie camera, which has a screen-based flash, also does an excellent job. Snapchat and Instagram lovers will be very happy with the selfies produced by the 8 Plus. Most shots were well-exposed, sharp, and free of grain and other noise.
The iPhone 8 Plus can shoot at a variety of resolutions and speeds. The big additions this year are support for 4K at 60fps for smoother ultra high-def, and 1080p at 240fps for even slower, sharper slow-motion. The results are stunning.
Truly, Apple has done a fantastic job with the 8 Plus cameras.
The 8 Plus can and will probably replace your entire photo/video rig; it can handle tons of scenarios and is good enough for your most demanding events.
One thing worth noting: iOS 11 introduced a new photo compression format called HEIF. Apple's own macOS High Sierra 10.13 supports HEIF, but Windows machines do not. You may not be able to access and/or use images generated by the iPhone 8 Plus if you're using older or non-Apple equipment.