Review: LG Glimmer
Body Basics Extras Video Wrap Up Comments 11
Is It Your Type? Body The Three S's
Jun 6, 2008, 8:12 AM by Eric M. Zeman
LG has crafted a classy Saturday night phone with a touch screen interface. The Glimmer succeeds at being above average--but not superlative--at most tasks.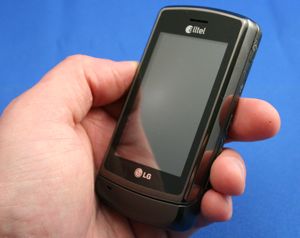 This hefty piece of hardware from LG offers the combined benefits of a touch screen user interface with the convenience of an ordinary 12-key keypad. It's also compact, attractively styled, and powerful. What's not to like?
Time to reprand this
Well i think this needs a new name on it like Verizon.
Not for a while... because even though Verizon just bought Alltel, Alltel still has a few months or so of being the only network with the phone. And, seeing as Verizon doesn't technically own it all until this Fall I think you will just have to wait. ...
(continues)