Anker Soundcore Debuts New Earbuds, Including Specialty Models
Article Comments
Oct 3, 2022, 7:00 AM by Rich Brome @rbrome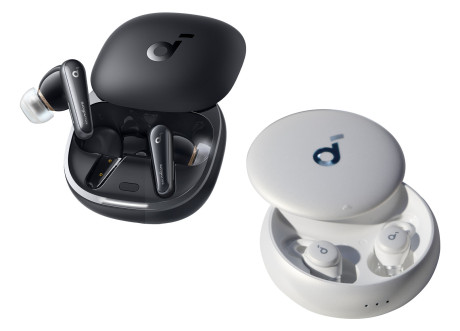 Anker's Soundcore brand has three new models of true wireless earbuds, including the feature-packed Liberty 4 as well as models tailored for sleep and gaming.
The Liberty 4 have a stick design similar to the Liberty Air 2 Pro or AirPods, but incorporate an impressively long list of features for buds that run just $150. Most notable is a heart rate sensor, but features also include Spatial Audio, personalized ANC (active noise cancelling), Hi-Res Audio, LDAC support, and Bluetooth 5.3. Soundcore's ACAA 3.0 Coaxial Acoustic System puts dual drivers (9.2mm + 6mm) in each bud for better sound quality. Each bud has three mics. The buds themselves last for up to nine hours, and the wireless charging case offers 28 hours of total playtime. With ANC enabled, the buds last for up seven hours on one charge. They're available directly from soundcore.com today for $150, and via Amazon in two weeks.
The new Sleep A10 are ultra-tiny for all-night comfort. They can block up to 35dB of noise (passively) while tracking your sleep. Adaptive noise masking delivers customizable, smart white noise. A customizable alarm clock function can wake you slowly. The buds last for ten hours straight, and the charging case adds 40 hours. They also double as standard Bluetooth earbuds for any audio. They're available now for $180.
Anker also previewed the upcoming VR P10 gaming earbuds (not shown). They can work as standard true wireless Bluetooth earbuds, but can also use a proprietary protocol to connect to a dedicated USB dongle for lower-latency audio than is possible with Bluetooth. Additional details are to be announced.
No messages