Review: LifeProof Aquaphonics 10
Article Comments 3
Jun 16, 2017, 9:30 AM by Eric M. Zeman
The Aquaphonics 10 from LifeProof is a waterproof, rugged Bluetooth speaker meant to accompany you on all your outdoor summer activities. Whether it's rocking in the backyard or jamming on the beach, LifeProof says its Aquaphonics series can handle it all. We put the AQ10, LifeProof's mid-range offering, to the test to see what its limits truly are.
Advertisements article continues below...
Background
Summer is here and that means it's time to party! I love spending the warmer months of the year outdoors, whether it's relaxing on my own deck, hiking through the woods, or burning myself on the hot sands of the shore. Life demands a soundtrack, and so do I. That's why I carry headphones or a Bluetooth speaker pretty much everywhere I go.
Affordable Bluetooth speakers are easy to come by thanks to dozens and dozens of options from brand-names and no-names alike. Outdoor activities dictate a tougher breed of boombox. Some Bluetooth speakers are rugged, some are waterproof, and some are both rugged and waterproof. The Aquaphonics 10 from LifeProof falls into this latter category.
LifeProof makes its bread and butter by designing and selling ultra-tough phone cases. You've probably seen them at your local carrier store. The Aquaphonics series is a newer foray for the company into audio gear. Given its tough-as-nails heritage, LifeProof makes some lofty claims about the strength of the AQ10's chassis — not to mention just how long it can sit at the bottom of your local river before you need to get out the fishing net.
Here are the results of our testing.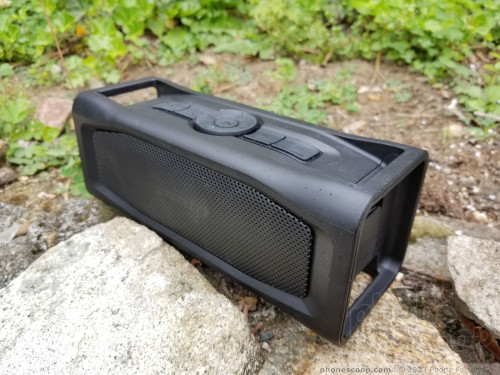 Hardware
The AQ10 is a rather boring-looking Bluetooth box. It comes in "obsidian sand" (black) or "laguna clay" (tan). The latter has more personality as far as I am concerned. It measures 8.5 by 3.2 by 3.3 inches and weighs in at 1.7 pounds. The AQ10 is basically a rectangle that's the size and shape of the bricks I use to line my pool platform.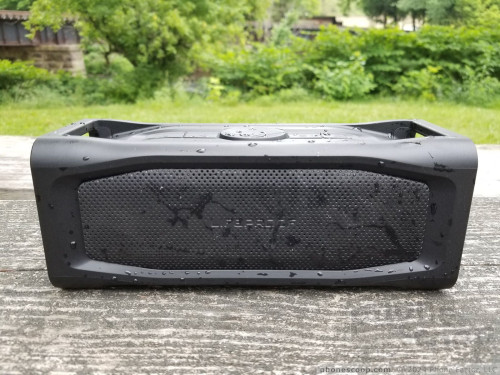 The speaker is made entirely of hardened plastics. It has an industrial look and — thanks to exposed cross beams that form four of the sidecap edges — it's somewhat similar to the JLab Crasher XL that I reviewed late last year. Competitors JBL and Ultimate Ears have far more "fun" speaker designs. The AQ10 does look really tough, which I guess is more the point.
Most of the buttons are on the top surface. I like the oversized rubber controls, as they're easy to find by feel. The play/pause and volume buttons are merged into a single, large circle in the middle of the control panel. The volume controls, positioned at 12 o'clock and 6 o'clock on the circle, require a lot of effort to push. You have to really want to turn the music up or down. The play/pause button in the middle of the circle is much softer. It has a nub so your fingers know when they've reached it. The Bluetooth and back buttons are to the left of the center circle, and the forward and source buttons are to the right. All four of these buttons have well-defined ridges on the front and back edges, and a contoured shape in between. The buttons offer fantastic action.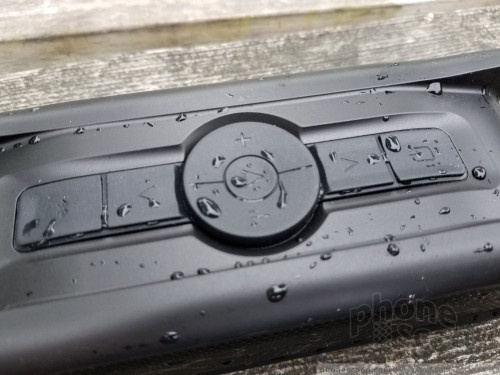 The front and back surfaces of the AQ10 are each covered by a perforated metal grate. The grates appear strong, but I imagine they could be dented without too much effort.
You'll find the power button on the left end of the speaker. Like the other buttons, it's made of heavy-duty rubber. You need to hold it down for about 3 seconds to get it to do anything. Four tiny, tiny LEDs below the power button let you know approximately how much battery life is left. These lights are barely visible even in the dark.
There's an unusual lock switch beneath the power button. When locked, the AQ10 can't be turned on. This can prevent against accidental battery drain. If the AQ10 is already on, setting the lock switch prevents anyone from messing with the controls. When locked, you can't adjust volume, turn it off, skip tracks, etc. This is a feature you don't see on speakers very often and I like it.
A big hatch on the right end of the AQ10 protects the ports, of which there are three. It's no problem at all to pull the hatch open, but be sure to seal it up firmly in order to maintain waterproof integrity. The ports includes a USB out for powering your phone or other accessory, a 3.5mm input jack for plugging audio devices directly into the speaker, and the proprietary charge port. I'm going to have to slam LifeProof for this proprietary port. Nearly every other portable Bluetooth speaker on the market uses USB — a common standard — for charging. Relying on a proprietary port means people are beholden to LifeProof should they lose the included charger. That's a major detractor as far as I'm concerned and LifeProof should know better.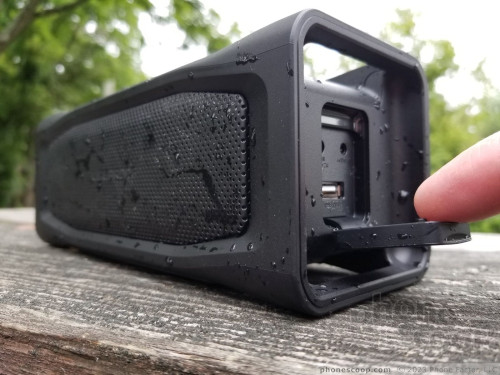 LifeProof hid a dry box in the underbelly of the AQ10. Nearly the entire bottom panel pulls back to reveal a small compartment protected by rubber cushioning and a watertight seal. The space is perfect for keys, your credit cards, hotel room key, or driver's license. What a great idea!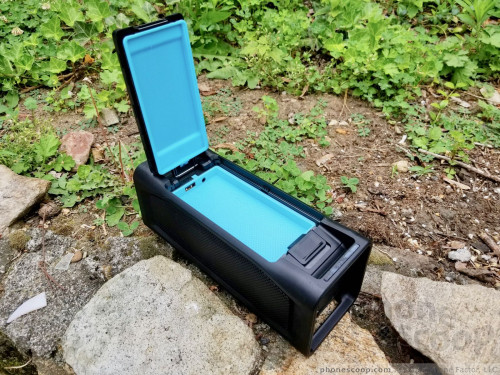 The drybox also has its own USB power port and 3.5mm audio input jack. In theory, you could stick a music player in there, plug it in, and keep it totally safe. So it's too bad LifeProof gimped it. Hardly any music players will fit in the shallow space. If they will, the cables won't. Seriously, an iPod Nano and iPod Shuffle might fit (does anyone even use those anymore?) Anything bigger than those is a big fat nope. I certainly couldn't find any phones small enough to fit. The USB and 3.5mm ports are positioned such that it's hard to fit cables in at all. The dry box built into the speaker is a totally neat concept that falls short in the AQ10. (It's probably more functional on the larger AQ11, but that doesn't help us here.)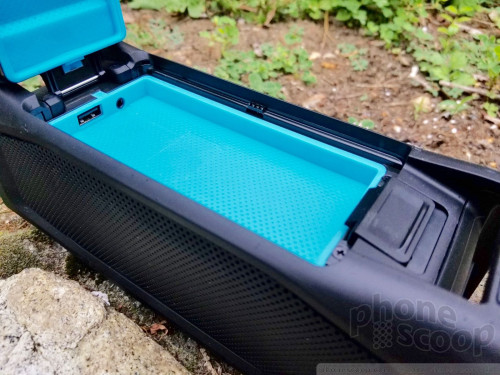 The lock switch and dry box help the AQ10 stand apart from the crowd at least a little bit, but the design is rather ho-hum when it should be Rattle'n'Hum. I like the crossbars that support the four corners. They're awesome spots to attach a bungee for carrying the AQ10. I can totally see the AQ10 strapped to the bow of a kayak. (It's too bad LifeProof didn't think to include a bungee or strap in the box.)
Performance
A long press of the dedicated Bluetooth button puts the AQ10 in pairing mode. The process is straightforward: find the AQ10 in your phone's list of available Bluetooth devices and you're good to go. The speaker remembers up to 8 phones.
The source button lets you cycle the AQ10 from the Bluetooth radio to the side-mounted 3.5mm input jack and the dry-box jack.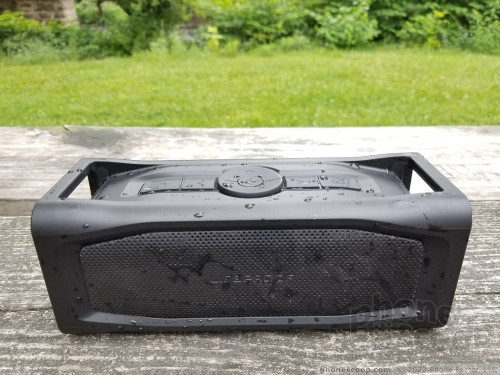 LifeProof won't tell me what the AQ10's Bluetooth range should be, but I can tell you what it is: 40 feet. If your phone travels more than 40 feet away from the speaker, the connection will drop. I'd prefer to see the range stretch to 100 feet, as it does on so many competing speakers. Once connected, the AQ10 held onto any phone in range. Music streamed from devices in range never dropped nor stuttered, not once. That's good.
Music quality is pretty poor. Yeah, I know: bummer. The AQ10 has a single driver of unknown size/wattage. It fires in one direction, which means you need to place the AQ10 carefully in order to really spread the sound depending on the space you're working with. Many competing outdoor speakers have circular designs that are better at dissipating sound over wide areas.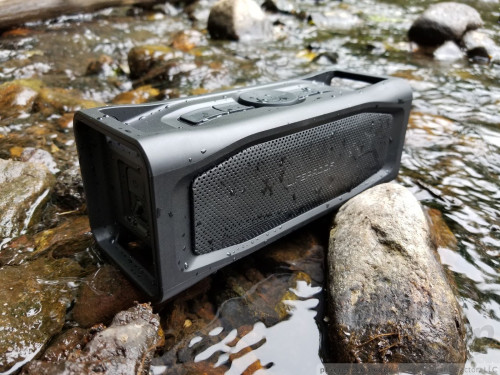 The AQ10 absolutely cannot handle bass of any kind at all. With the volume set to about mid-way, the AQ10 speaker collapses into fits of flubby distortion. It's really, really bad. I tried using my phone's EQ to fix it. I tested music with the EQ perfectly flat, and with the bass turned down as far as possible, and the AQ10 still crapped the bed when it came to bass response.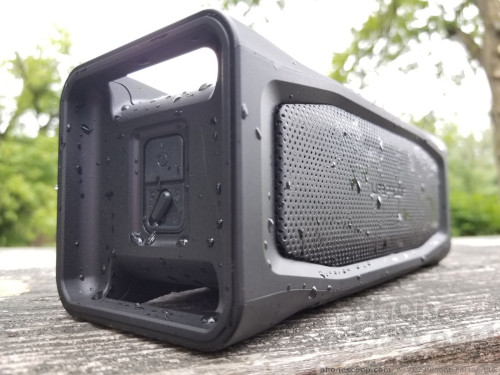 Ignoring the bass, the AQ10 can't handle loud volume either. I mean, you can easily fill a good-sized living room with sound, but the AQ10 is supposed to be an outdoor speaker. In that respect, it fails. I tried to use it for a backyard party I had over the weekend and the speaker struggled to fill my deck and surrounding areas with sound. When I cranked it all the way up all I got was a shrill, trebly mess that hardly resembled music at all. I used multiple music apps, multiple phones, and even several tablets, all with the same result. You won't find any improvement by using the 3.5mm input jacks. I've heard much, much better speakers at less than half the price of the AQ10. It's a shame, really.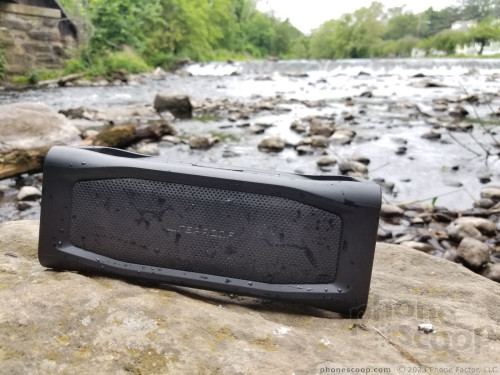 On the plus side, battery life is great! LifeProof rates the AQ10 at 13 hours for Bluetooth playback and it easily exceeded that on several occasions. The two USB-out ports allow you to charge up to two other devices while using the AQ10. That's all good news.
The AQ10 is fairly rugged. LifeProof says it can handle drops from 1.2 meters (4 feet), but not onto what. I dropped it on my Trex deck, wooden floors, grass, sand, concrete sidewalks, and my asphalt driveway all from waist height. It came away unscathed. I think that covers it.
It floats. Not only can the AQ10 handle rain, sprays, and spills, it will float on top of water. Moreover, in the unlikely event that it somehow sinks, the speaker can sit in four feet of water for 30 minutes without suffering any damage. I let the AQ10 float in my pool for a while and I put it in the local river with a rock on top. It lives up to LifeProof's waterproof claims. You don't have to worry about the AQ10 drowning.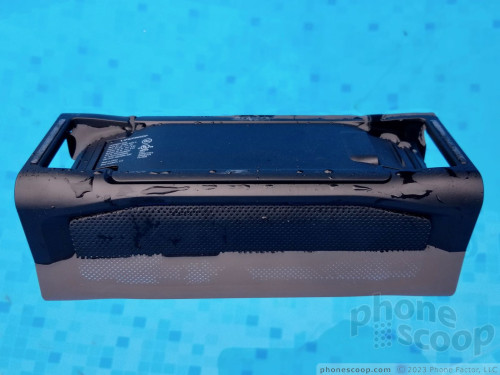 Discussion
There's not much to discuss. The Aquaphonics 10 is a bit boring to behold, but it is rugged and waterproof. It fully lived up to the marketing claims made by LifeProof. Very few Bluetooth speakers float. Battery life is excellent, the dry box is a neat idea, even if it's too small, and the Bluetooth range is acceptable.
I can't forgive the AQ10's crummy sound. It's just not there. Seriously, the bass response is about the worst I've heard from any modern speaker. It can't handle R&B, metal, rock EDM, or anything with a significant amount of bass. Acoustic music wasn't too bad.
A speaker needs to be a good speaker before it is anything else. If it isn't a good speaker, then I don't care how waterproof or rugged it is. Worse, the AQ10 costs a whopping $200. It's not worth it. Buy something from JBL, Ultimate Ears, or JLab instead.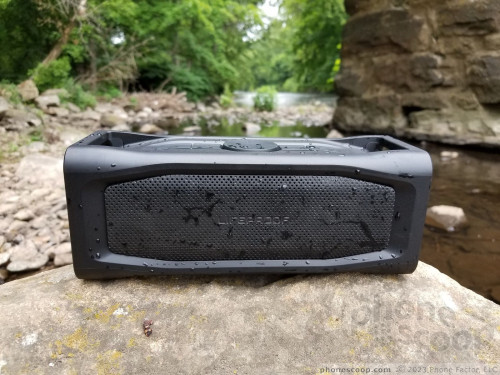 I'm Officially Old
When I was young, nobody wanted A speaker—everyone wanted stereo. Later on, everyone wanted the next level—surround sound. Can today's bluetooth speakers be paired together to create wireless stereo? Mono, regardless of volume or clarity, is a step backward, in my opinion.
Lots of today's best speakers can be paired for stereo sound. For example, the Ultimate Ears Boom and Megaboom, most of the JBLs, as well as the JLabs I looked at earlier this year. They typically support up to 8 connections so you can spread the spea...
(continues)