Review: JLab Audio Crasher XL Bluetooth Speaker
Article Comments
Nov 29, 2016, 4:05 PM by Eric M. Zeman
The Crasher XL is a heavy-duty, waterproof Bluetooth speaker from JLab Audio. It boasts an attractive industrial design, killer battery life, and huge amounts of powerful sound. Here is Phonescoop's in-depth review.
Advertisements article continues below...
Intro
The Crasher XL from JLab Audio is a rugged, waterproof Bluetooth speaker that pumps out a serious amount of sound. Whether you need a portable speaker for outdoor adventures or simply want to spread tunes to more rooms around your house, the Crasher XL is an affordable option.
Background
Smartphones allow us to tap into just about any song we want at any time. Bluetooth speakers are a great way to bring the boom, but not all of them are suited to outdoor use. Water-resistant speakers that are ruggedized make for excellent outdoor travel companions or backyard buddies and there are many from which to select.
JLab Audio's Crasher XL is such a product. The speaker boasts a metal enclosure, toughened plastics, and an industrial look. JLab hopes the Crasher XL's huge volume output will help the speaker stand apart from the competition.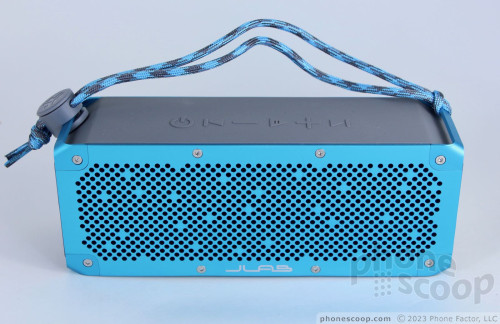 Hardware
The Crasher XL is a serious hunk of hardware. JLab went with a metal-clad, masculine look. The speaker's front and rear surfaces are covered with thick aluminum panels. Exposed screws complete the industrial design. The Crasher XL comes in an oceanic blue or gunmetal gray. The blue color has a bit more personality than the gray, though that's not saying much.
At 8 inches long and more than 3 inches tall, the Crasher XL is bigger than many competing products. At 1.5 pounds, it's also heavier. The rectangular shape has hard, sharp edges. Comparing the Crasher XL to a brick is fair game in my book, as I wouldn't want this speaker bonking me on the head. The size, weight, and shape make it less portable than cylindrical options from UE and JBL. I found the sharp edges were unfriendly to my favorite backpack, but it will stand resolutely on flat surfaces.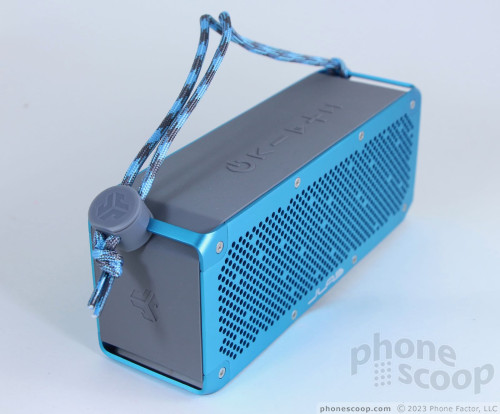 The metal panels sandwich a hardened rubber center block where all the magic happens. The rubber has a soft-touch feel to it. It can handle bumps and bruises, but you could easily mark it up with a rock or other sharp object.
All the controls are on top. From left to right, you have six buttons: power, skip back, volume down, play/pause, volume up, skip forward. It's not the best layout. I often accidentally skipped a track when I meant to raise the volume and vice versa. I do like the buttons' soft-yet-firm action, though it is often hard to tell them apart by feel.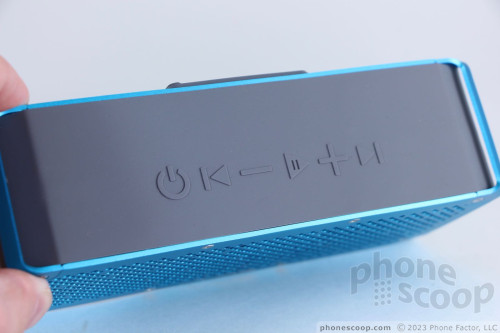 The ports are on the rear panel. A soft rubber flap seals up the microUSB port and 3.5mm auxiliary input. There's no power-out USB port, which means you can't use the XL to charge your phone. The ports are protected by a raised metal rim. The rubber flap embeds itself tightly in the depression formed by the rim and gaskets plug up the holes to prevent water ingress.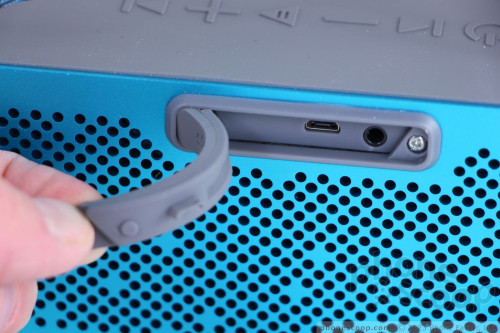 Speaking of which, JLab says the Crasher XL is rated IPX6 against water. It can definitely handle being splashed. I set it in the shower for a while and it came out all the cleaner for it. It also shrugged off some rain.
On the right side, you'll note a small threaded opening. This is a standard one-quarter-inch screw input so the Crasher XL can be mounted on a tripod. It took about three seconds in some sand for this opening to be crammed with enough sand to make it all but useless.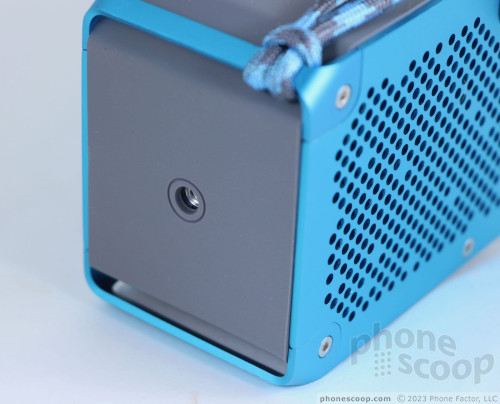 JLab included a short cord with the Crasher XL that you can weave around the metal crossbars to form a makeshift carrying handle or loop for hanging.
There's no question the Crasher XL is a heartier speaker than other devices in the market that are at or near the same price point. I wish the buttons were laid out differently and the Crasher XL was a little less awkward to carry around, but it can handle some abuse and doesn't mind getting wet.
Performance
The Crasher XL includes three drivers and pumps out 30 watts of sound, according to JLab. That's a lot for such a small speaker. The central driver measures 1.75 inches and covers higher frequencies, while the outer two drivers measure 2 inches and cover lower frequencies. JLab says the XL has two "passive subwoofers", which basically means the larger two drivers are ported to improve bass response. Each of the three drivers puts out 10 watts of sound.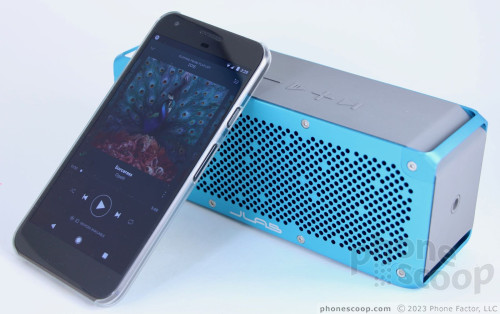 If you're interested in raw power, the Crasher XL has plenty of it. The speaker is one of the loudest I've tested. It easily filled my entire backyard with sound, and in fact was loud enough so I could hear it standing on the other side of my home. The Crasher XL provides enough volume even for a school cafeteria or church.
The Crasher XL may kick out some serious power, but it's far from the highest quality sound. The speaker prioritizes bass and the result is a thick, muddy color to music that I didn't care for. I tested the speaker from various phones, apps, and connections. I adjusted EQ curves everywhere I could. While I was able to make a small impact in dialing back the bass, the Crasher XL is simply tuned in a manner that pushes more bass than treble. I prefer a more balanced, cleaner sound that has clearer high frequencies. The Crasher XL sounds okay, but not great. If you like skull-kicking amounts of bass, then maybe the XL is exactly what you're looking for. (JLab offers a mobile app, but it's meant for JLab's headphones.)
The speaker includes Bluetooth 4.0 and profiles for stereo music playback and speakerphone calls. I made a couple of calls through the speaker and, just as with music, the sound is very loud and boomy. The pairing process is rather straightforward and a blinking blue light lets you know what mode the speaker is in when connecting. I was disappointed to learn the Crasher XL only supports connections up to 30 feet, rather than 100 feet like some competing models. In real-world testing, I found the speaker was apt to drop the connection right around 40 feet, though it begins to get choppy once you move past 30 feet. As long as you stay in range, the speaker does a good job of maintaining the connection.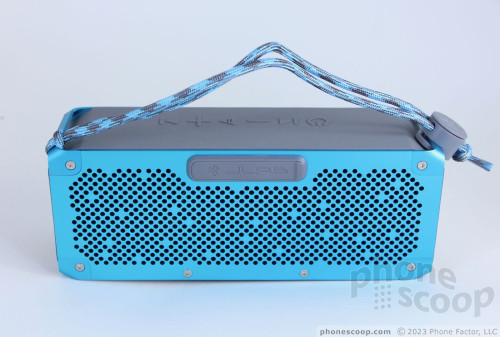 If you could tear open the Crasher XL (you can't) you'd find a 5,200 mAh battery. It's rated for 13 hours of playback, but that's if you keep the volume at modest levels. The Crasher XL managed to run for close to 14 hours at indoor volumes, but with the volume cranked up it tended to run out of juice in about 11 hours. It takes a full six hours to charge the battery. The speaker can probably outlast even your most epic party.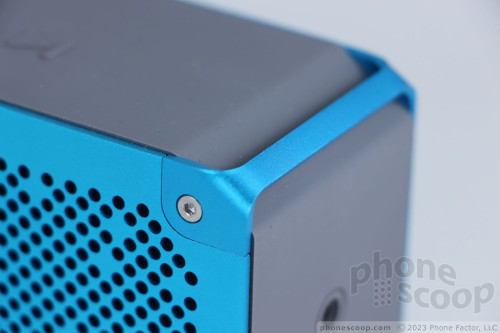 Discussion
JLab Audio's Crasher XL is a decent Bluetooth speaker that sacrifices the best-possible sound for the loudest-possible sound. Music is bass-heavy and often lacks clarity in the middle and high-end of the spectrum, which bums me out.
The industrial design is ruggedly appealing. The slabs of metal that form the front and rear surfaces are hardcore with their drilled holes and exposed screws. JLab did a fine job sealing up the speaker so it can sit poolside without a care in the world. It lives up to its waterproof rating. I imagine it sitting in a workshop or garage and fitting right in with the tools. I have no complaints about the battery life. I wish the XL could handle longer-range Bluetooth connections, but the quality of connections was fine.
At $99, the Crasher XL is competitively priced. It delivers plenty of power for outdoor and indoor activities, alike. If you want better sound, you're going to have to pay more (and you'll get less volume.) If you value volume over clarity, the JLab Audio Crasher XL is the heavy-duty speaker for you.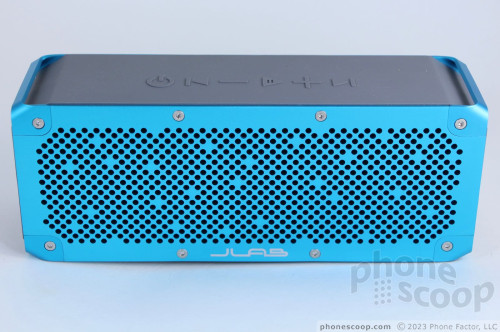 No messages