Review: ZTE Blade X MAX for Cricket Wireless
Hardware Software Wrap-Up Comments 1
Jun 14, 2017, 7:30 AM by Eric M. Zeman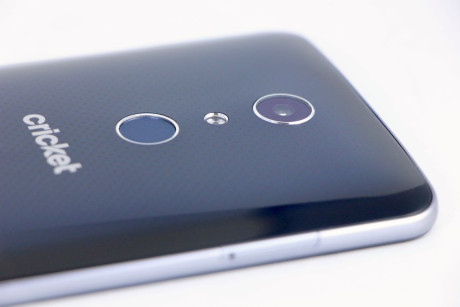 ZTE Blade X Max
ZTE's latest Android handset for Cricket Wireless is the monstrous Blade X Max. This beast of a smartphone offers a whopping 6-inch screen, all-day battery life, and a compelling software experience. If you're in the market for an entertainment-focused TV replacement, the ZTE Blade X Max may be what you need. Here is Phone Scoop's in-depth review.
Advertisements article continues below...
Is It Your Type?
ZTE's Blade brand continues its march into the U.S. market with the Blade X Max, a massive smartphone sold by Cricket Wireless. This huge slab of a handset includes a 6-inch screen, Android 7 Nougat, fingerprint reader, and other modern conveniences. If you want a portable movie theater in your pocket, the Blade X Max is worth a look.
Body
ZTE is going big. The only home it's going to is (hopefully) yours. The company has trotted out no fewer than seven smartphones with screens measuring 6.0 inches, and the Blade X Max is the latest of these over-sized phones. This strategy is paying dividends. The company has enjoyed a nice jump in U.S. sales because it knows people want big screens on the cheap.
The Blade X Max is outrageously big, and yet ZTE was able to do enough with the design so the size isn't the only thing you notice. The front panel is made of 2.5D curved glass that's pleasantly rounded along all the outer edges. It merges nicely with a polycarbonate frame that wraps around the four sides. I like the metallic look to the frame, even though it isn't actually metal. The back panel is where all the real action is. The plastic material is curved gently from the central axis toward the side edges, meaning the phone is thicker in the middle than it is near the sides. ZTE picked a deep blue shade for the rear panel which fades to black just as it reaches the edges. It's a nice look. Chrome accents add some visual pop. Any use of color stands out these days, given the preponderance of black, gray, and white phones.
This phone stands 6.5 inches tall and sits more than 3.25 inches wide. These dimensions make it one of the biggest phones in the market; it's a handful. When I try to use it one-handed, my thumb can reach perhaps 25% of the display. There's no avoiding two-handed use with this beast, no matter how small or large your hands are. This phone is a borderline pain to carry around. It fills up my pockets. You're going to need a purse or cargo shorts (damn the fashion police!) this summer to cart the Blade X Max to and from all your adventures.
I like the all-glass front of the X Max, which feels great under your thumb. The all-plastic chassis and rear panel could feel a lot better. ZTE slathered a super-thick, lacquer-like finish on the rear shell and it comes across as slippery and slimey at the same time. It's quick to collect smudges and grime, leaving it feeling and looking gross.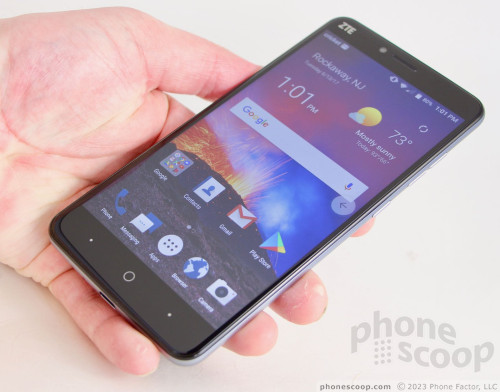 The phone is not rugged and is mostly put together well. I noticed only one small gap between the rear panel and the polycarbonate frame on the bottom of my review unit. The phone's size and weight give it gravitas that exceeds the in-hand experience.
Perhaps the X Max would be smaller if ZTE could get the bezels under control. The X Max sports huge bezels above and below the screen, and thicker-than-I'd-like bezels along the side edges as well. The bezels are a bit blacker than the display itself, which makes them stand out even more. You might call it bezelful.
ZTE's typical trio of capacitive controls are lined up below the screen. The home button is a small circle and the back and multitask buttons are just small dots. All three light up and vibrate when touched. They're easy enough to use.
ZTE positioned the screen lock button and volume toggle on the right edge of the Blade X Max. They stand out visually thanks to a brighter color than the surrounding chassis. The physical profiles are excellent and both buttons are a cinch to find. The screen lock button has a rough texture to help differentiate it from the toggle. Travel and feedback is perfect. The buttons each offer distinct action with an audible click. You'll find the SIM tray tucked into the left edge. The tray also accommodates a microSD memory card. It's easy to use as long as you have a paperclip or SIM tray tool handy.
Some people will be happy to learn the X Max has a standard 3.5mm headphone jack on top and a USB-C port on the bottom.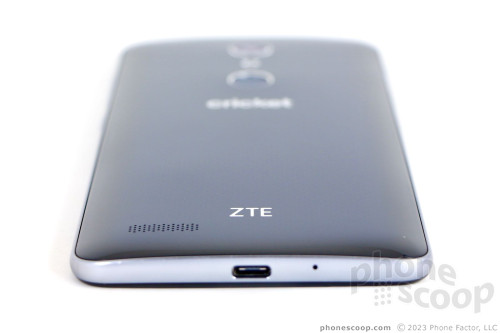 The rear panel is glued on, so don't expect to pull it off in search of the battery. Like many of today's phones the fingerprint reader and camera module are small circles separated by an even smaller LED flash. The fingerprint reader is indented a bit and the camera module sticks out a bit, which makes them easy to tell apart by feel. Both are rimmed in chrome. The Cricket and ZTE logos are painted on in white. The rear panel's shiny finish makes it practically sparkle.
I think people who specifically want a big-ass phone will be plenty happy with the ZTE Blade X Max. Some may be taken aback by the sheer size of it. It's not for everyone, but ZTE managed to put together a solid piece of hardware in the X Max.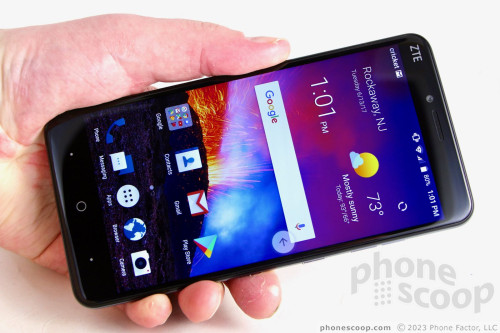 Screen
The 6-inch LCD panel offers full HD resolution. (I was worried for a hot minute that ZTE would cheap out and stick a 720p screen on the X Max. Thank goodness it didn't.) The screen is very, very nice. It's bright, colorful, and accurate. Pixel density could be better, but I'm not really complaining all that much here. The phone is not a VR candidate, but it handles most other content with aplomb. The X Max offers a huge space for watching video or multitasking on two apps at a time. The glass is somewhat prone to collecting fingerprints, which makes outdoor viewability more difficult than I'd like. Viewing angles are good, though, with minimal change in brightness and color.
Signal
Cricket is owned and operated by AT&T, which means the Blade X Max runs on AT&T's LTE 4G network. I tested it around the New York City area and found it performed on par with other Cricket-branded phones.
It's important to know from the outset that AT&T gimps Cricket handsets to maximum mobile data speeds of 8 Mbps. In that respect, the X Max held onto AT&T's LTE network everywhere I took it and was able to hit those maximum speeds. Bottom line: the X Max performed as quickly as Cricket allows it to. I didn't run into any trouble streaming music over the network, but watching YouTube videos via LTE was a bit herky-jerky. Browsing the web and social media apps was smooth.
The phone connected nearly all calls on the first dial and only dropped one during my review period.
Sound
I'd call the ZTE Blade X Max a decent phone for holding conversations. The earpiece is neither as clear nor as loud as I want it to be, but it suffices on most occasions. For example, I had no trouble maintaining calls at home and in other quiet spaces, such as an office with a closed door. I had a harder time hearing calls in public spaces, such as coffee shops and city streets. Calls in the car were very hard to hear. The speaker was prone to distortion when set all the way up. People said I sounded very far away when I spoke to them via the X Max.
The speakerphone delivers an equivalent performance. It's average in every way. You'll find it works well when you're in private spots, but it suffers when you're out in the world. It's really hard to hear in a moving vehicle.
Ringers and alert tones could be better, though they managed to get my attention when necessary.
Battery
ZTE stuffed a large 3,400 mAh battery into the large Blade X Max. The result? A phone that lasts all day and then some. Despite the IMAX-sized screen, the Blade X Max doesn't need that much power to push it from breakfast to bedtime — and the included battery is enough to get the job done. I consistently found the battery had 20% or more capacity left at the end of the day. I was able to go about my business all day and not worry. I appreciate that.
The phone includes the basic Android battery saver tool, which can be set to come on automatically or toggled on/off whenever you need. It helps a little bit.
The X Max supports Quick Charge 2.0 and the included charger will power it up relatively quickly. The phone does not support wireless charging.
Bluetooth, GPS, NFC, WiFi
The X Max's Bluetooth radio functions well enough. The phone paired with a range of Bluetooth accessories, including headsets, speakers, and computers. The device delivered average quality calls through headsets and my car's hands-free system. Music sounded just okay via Bluetooth speakers.
No NFC. Bummer.
Together with Google Maps, the X Max was able to field my general location in several seconds. It took closer to 10 seconds to truly lock down my exact location, and accuracy was never better than about 25 feet. That's pretty good. Google Maps worked well as a driving navigation tool, but it sometimes lagged my real location when traveling at highway speeds.
The WiFi radio worked very well.
Trouble with YouTube
I just bought a ZTE Blade Max about a week ago, to replace my Samsung. One thing I've noticed, for being a "media replacement," it has trouble on YouTube. It keeps buffering after about a minute of play, then it looses the screen. I have sound, but nothing on the screen. I have to exit, then reload, the app to get the picture back. I tried adjusting the settings to "auto" in the app, but it still does it. I have Uverse as my ISP. Any suggestions?