Review: ZTE Blade X MAX for Cricket Wireless
Hardware Software Wrap-Up Comments 1
Lock Screen
The Blade X Max's lock screen helps you manage incoming notifications like most other Android phones. It has a basic "ambient display" that will briefly turn on when you have incoming notifications. That's pretty much all it does.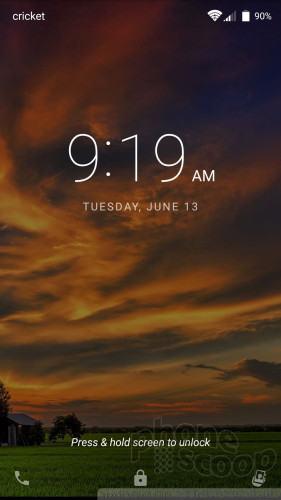 Press the home or lock button to wake the display, and see the clock and notifications. The lock screen provides a large clock near the top of the screen, but it's hard to read on light wallpapers because the font is too thin. Notifications are broken down by app and listed in chronological order underneath the time/date. As always, you can adjust the privacy of notifications.
AD article continues below...
The X Max offers PIN, pattern, password, or fingerprint options for securing the phone. Training several fingerprints takes only a few moments and I found the reader was usually fast enough for unlocking the phone.
You can use the fingerprint reader as a shortcut button to take photos as well as answer calls if you want. These options are buried in the security menu.
The X Max supports the Android Smart Lock function, which will keep the device unlocked when it senses trusted devices, locations, and voices. These all worked as they should.
Home Screen
Good news. The Blade X Max runs Android 7 Nougat with user interface that's fairly close to stock Android as created by Google.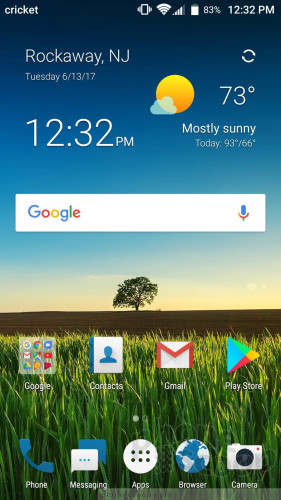 The home screen panels and app drawer function much like they would on a standard Android handset, but have their own look and feel thanks to ZTE's fonts and colors. Three home screen panels are active out of the box, but these can be customized however you wish. In other words, feel free to change up wallpapers, app shortcuts, and widgets to suit your preference.
The settings menu and Quick Settings shade both rely on Google's design. This makes them a breeze to use. I like that you can rearrange the Quick Settings panel however you wish. The app drawer has a transparent background, but otherwise it also uses the standard behaviors.
The capacitive keys below the screen are back, home, multitask, but you can swap back and multitask if you're used to the Samsung layout.
The Blade X Max also includes ZTE's Mi-Pop tool. Mi-Pop takes the form of a small floating circle on the screen. You can plop the circle anywhere on the screen you prefer. A quick press of the Mi-Pop button takes you back a screen. A long-press and slide to the left calls up three other options (home, menu, multitask). Mi-Pop is supposed to improve one-handed use and may be beneficial to some people. It's not for me, and it's off by default.
The Blade X Max has a Snapdragon 425 processor under the hood. This chip falls in the bottom half of Qualcomm's mid-range processors. This 1.4 GHz quad-core engine with 2 GB of RAM does a decent job keeping the Blade X Max moving smoothly. Performance was quick most of the time. I didn't encounter any trouble with everyday app usage.
Camera
The quickest way to open the camera is to rapidly press the lock button twice. (You'll have to enable this feature via the settings menu.) You may also use the lock screen shortcut or the standard home screen icon. The lock screen shortcut will specifically only open the camera in selfie mode. There's no way to change this. At least the app opens quickly.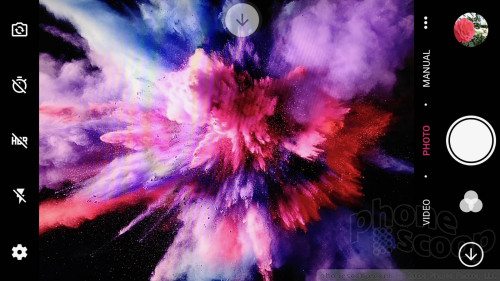 The viewfinder includes a handful of toggles for some features (settings, HDR, timer, flash, camera switcher) on the left and separate buttons for the camera and video camera on the right. The Blade X Max has six shooting modes: auto, video, manual, panorama, time-lapse, and multi-exposure.
The manual mode is great for people who want to take a little more control. It allows you to adjust shutter speed, white balance, ISO, exposure, time-lapse intervals, and focus. The manual mode includes an always-on visual tool to help ensure the shot is level.
The multi-exposure mode lets you take two pictures and overlay them in a handful of different ways to create a single image. This mode takes practice in order to get good results. This feature has appeared on ZTE phones consistently over the last year.
The settings menu is a straightforward set of screens that's really easy to use. It's too bad there are hardly any significant ways to adjust the camera's behavior.
The selfie camera includes a beautification tool that reduces blemishes and wrinkles. I like that it has a sliding scale for adjusting just how fake you want to look. The selfie cam also has a smile-trigger setting.
The Blade X Max's camera is relatively straight-forward to use. Most people will figure it out in a snap. My one real complaint is that the camera app nearly always defaults to selfie mode. This is incredibly frustrating when you're in a hurry to capture something. I've seen this on ZTE phones before and find it aggravating to no end.
Photos/Video
The Blade X Max's main camera has a 13-megapixel sensor and it holds its own for a phone at this price point.
I thought most pictures I took with the X Max were very good, even if they don't explode off the screen. Focus, white balance, and exposure were typically accurate. That means you should get usable photos the majority of the time. I did see a bit more grain in low-light images, but it wasn't awful. The flash does well with exposure when you're shooting at close distances. Pictures shot in bright sunlight were best. The X Max did have trouble focusing up close (see the red flowers).
The 5-megapixel selfie cam does a pretty good job. You can see in the sample here that my face is in focus and properly exposed, while the background is soft and underexposed. It's a neat effect that works well — as long as you're not trying to snag the Eiffel Tower or some other landmark in the background. Taking selfies indoors is more problematic and you're likely to see gobs of grain.
You can capture video up to full HD if you want to. The X Max takes clean, well-exposed video.
I wouldn't use the X Max for vacations or other important events, but it's totally fine as an everyday camera.