Review: HTC U11
Hardware Software Wrap-Up Comments 3
Edge Sense
One of the U11's hallmark features is called Edge Sense. HTC describes Edge Sense as a way to "intuitively interact with your smartphone to make your life easier." I don't know about easier, but you can definitely interact with the U11 by giving it a hand hug.
Edge Sense
Edge Sense
The phone has pressure sensors buried in sides of the phone (hence the name.) The sensors are placed just below the phone's waistline, or just below the side buttons. In order to use Edge Sense you'll need to learn how to properly squeeze the phone and set up defined actions for those squeezies. For example, you can dial in how hard the U11 must be squeezed in order for Edge Sense to work. This is vital. If you set the pressure too low, you can accidentally trigger Edge Sense just by holding the phone firmly.
Advertisements article continues below...
What can Edge Sense do? The default action is to launch the camera. Since a double-press of the screen lock button also launches the camera, you might want to set Edge Sense to do something else, such as launch Google Assistant, launch pre-selected apps (like email), take a screenshot, turn the flashlight on/off, etc.
If you really want to get crazy, you can turn on and define advanced squeezing actions, such as short squeezes and squeeze-and-hold gestures. These allow you to create a total of three possible actions when squeezing the phone. Other options include visual feedback (blue bars that appear on the side of the phone when squeezed) and haptic feedback. I prefer the latter.
Does this all work? Sure, Edge Sense does exactly what HTC's marketing materials claim: you can squeeze the U11 to take select actions. It's novel, to be sure, but not the sexiest selling point ever. Edge Sense works through cases and gloves, which is a nice bonus.
Sense Companion
Another novel feature offered by the U11? Access to Google Assistant, Amazon Alexa, and HTC's Sense Companion. The first two are known entities. I love Google Assistant, find it amazing, and use it every single day. Amazon Alexa, too, is a powerful voice tool. Google Assistant can do a lot more than Alexa can, and Alexa is tied somewhat to Amazon's services. Still, if you like talking to Assistant or Alexa, the U11 allows you to do so whenever you wish.
Sense Companion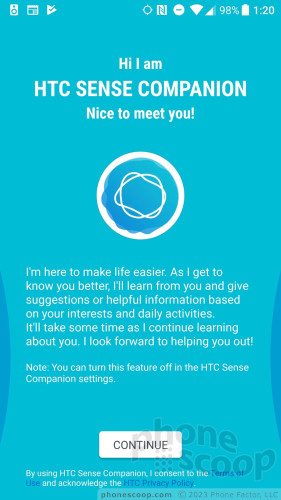 Sense Companion
Sense Companion is HTC's spin on the device-side assistant and it's not nearly as good as the competition. You'll need to activate the service, walk through some basic settings, and give it permission to offer suggestions. Over time, Sense Companion will tell you when there's traffic, warn you about upcoming calendar events, record and display your fitness data and such. It's not voice activated like Assistant and Alexa, so you have to interact with it more directly.
After using it for a week, it hardly offered me any suggestions at all and I found it to be mostly duplicative and useless given the availability of Google Assistant and/or Amazon Alexa.
Lock Screen
The U11 runs Android 7 Nougat with HTC's Sense user interface on top.
Lock Screen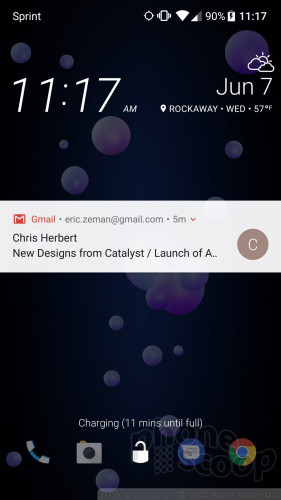 Lock Screen
The lock screen shows the clock, notifications, and shortcuts whenever the lock or home buttons are pressed, the screen is tapped, or the sides are squeezed. I like that the clock includes the weather details for your current location.
The Quick Settings panel is accessible from the lock screen, as is the full notification shade where you can respond to notifications and more. These act as any stock Android phone might. The lock screen shortcuts, of which there are five, mirror whatever apps you've set in the home screen dock.
The U11's front-mounted fingerprint sensor is easy to train and easy to use. You may instead opt to use a PIN, pattern, or alpha-numeric password. The U11's sensor is on par with the fingerprint readers on G6 and Galaxy S8+. It's definitely quick enough to be used as your primary unlocking method.
Home Screens
HTC's Sense interface skin allows for an incredible amount of customization on the U11. While it sticks to the core Android framework, HTC has given U11 owners plenty to tweak.
Sense Home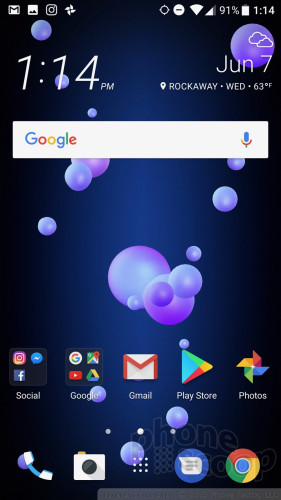 Sense Home
The home screen panels are fully customizable by end users and hold plenty of apps, shortcuts, and widgets.
Blinkfeed, HTC's social newsreader, is active as the left-most home screen panel of the U11. You can use it to generate a feed from Twitter, Facebook, and a handful of third-party news sources. One extremely annoying thing: Blinkfeed contains ads. If you choose to swipe over to Blinkfeed, chances are the first thing you see will be an advertisement. This is not the homescreen experience I want. You can disable some ads, but the switch is buried pretty deep in the settings. You can also disable Blinkfeed completely, which is what I typically do on HTC phones.
HTC left the Quick Settings panel alone, meaning it looks and acts like stock Android, but the company gave the settings menu its own fonts and colors. These core tools are easy to access and use.
The app drawer offers a lot more flexibility than the stock Android version, as it allows users to arrange apps alphabetically, in custom order, or via most-recently-used. It also lets people change the size of the grid. I wish the app drawer scrolled smoothly; instead, it jumps vertically between full pages. The app drawer does include a search tool and supports folders.
The U11 includes a handful of pre-installed themes. The themes can be tweaked with various accent colors, wallpapers, keyboards, icons, fonts/sizes, and on and on. HTC's Freestyle themes — fully customizable — are available, as well. You have to create an HTC account to download the coolest stuff.
The U11 is powered by the Qualcomm Snapdragon 835 with 4 GB of RAM. This is the same flagship processor found in the Galaxy S8+ and it does a fantastic job. The U11 ran smoothly with no issues whatsoever. All of the apps opened swiftly, screen transitions were liquid-like, and the phone rarely got warm. The 835 easily chewed through some basic virtual reality content via Google Cardboard.
Camera
It's kind of silly how many ways you can launch the camera. Options include a loving hug via Edge Sense, a double press of the screen lock button, the lock screen shortcut, and the home screen icon. The camera opens in a blink, but defaults to whichever shooting mode you used last. In other words, if you recently captured some sweet hyperlapse action, the U11's camera will launch in hyperlapse mode when you next give it a squeeze.
U11 Camera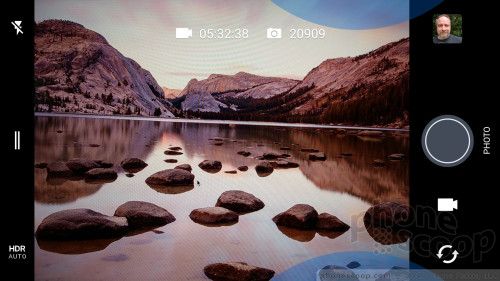 U11 Camera
The camera app is identical to the one we saw on this year's U Ultra from HTC. A few settings are available along the left edge. The U11 has separate buttons for snapping pictures and capturing video. This means you don't have to change modes to record video, and you can easily take pictures while recording video.
When using the standard camera mode you can quickly set the flash and HDR to on, off, or auto. If you want to do more, swipe open the little drawer on the left side of the screen. This reveals all the Photo modes (normal, Zoe, panorama, pro), Video modes (normal, time lapse, slow-motion), and Selfie modes (picture, panorama, video). Grouping the shooting modes this way really simplifies the interface, but it takes a lot of scrolling to find the mode you want. I wish they were available on a single screen.
The auto shooting mode lets you control the flash and HDR and that's about it. The Pro shooting mode gives you control over white balance, exposure, ISO, shutter speed (up to 16 seconds), and focal points. The sliding tools for adjusting these are straightforward. I love that you can save three custom Pro shooting modes as presets. This is totally cool. Pro mode also allows you to capture RAW images, which offer more potential for fixing exposure and white balance after the fact.
The Zoe mode takes a combination of pictures and video lasting about three seconds. This feature has been around for a while.
The dedicated selfie mode includes HTC's beautification filter, several countdown timers, and a screen-based flash that first checks white balance and then fires the shot. These all help get that perfect selfie.
Once you learn to navigate the app, the camera is quick and light on its feet. The U11's Snapdragon 835 does its job and pushes the camera along swiftly. It feels fast all the time. Even HDR shooting is rapid.
Photos/Video
The HTC U11 has a 12-megapixel sensor with 1.4-micron pixels, optical image stabilization, PDAF (phase-detection autofocus), and an aperture of f/1.7.
This phone takes fantastic pictures.
The U11 delivered crisp, colorful images with a high degree of accuracy. Focus is incredibly sharp throughout. The U11 captured perfectly accurate colors. Images below such as the pizza boxes and balloon are spot-on. Exposure is handled well when shooting in normal mode, as well as with HDR set to auto. The amount of detail the stone wall / trees photo below is excellent considering how bright the wall was and how dark the trees were when I shot the photo. The U11 has a really, really, really good camera.
The selfie camera is solid, but not as impressive as the main imager. It has a 16-megapixel sensor and flash. Exposure is decent, as is color accuracy, but you can see in the sample below that focus is a bit soft. I love the panorama selfie mode, which lets you take super wide-angle selfies.
The video camera delivers near flawless video. It's able to capture 4K video, but you'll probably be best served by sticking to normal 1080p HD. The video I shot was sharp, colorful, and just about perfectly exposed.
You can absolutely use the HTC U11 as your main picture and video device on most occasions. It is on equal footing with phones such as the Galaxy S8+ and G6.