Hands On with the HTC U11
Article Comments
May 16, 2017, 2:00 AM by Rich Brome @rbrome
updated May 16, 2017, 2:04 AM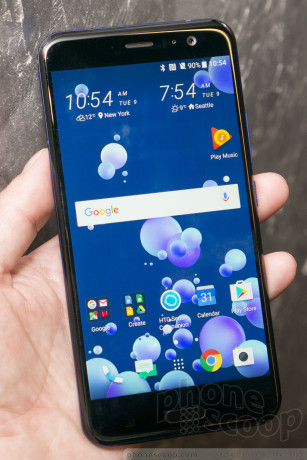 The HTC U11 is the company's true flagship phone for 2017. It fills the Goldilocks spot in HTC's U series: better than the U Play, but smaller than the U Ultra, while also replacing last year's HTC 10. It has unique features like shortcuts triggered by squeezing the phone, noise-canceling earbuds, and full support for both Amazon Alexa and Google Assistant. It's covered in sexy curved glass on both the front and back, and comes in several eye-catching, color-shifting hues. It has all of the power and features you'd expect from a flagship today, including a Snapdragon 835 processor. What's it like in person? Read on for our hands-on first impressions.
Advertisements article continues below...
HTC's "liquid surface" design language is based on glass that has been formed into 3D curved designs. This first appeared on the U Play and U Ultra earlier this year, with their curved backs. But now the U11 is here to complete the U series and take "liquid surface" one step further, with truly curved glass on both the front and back.
It's probably no coincidence that this reminds me of the 3D curved glass covering the Galaxy S8, and the back of the LG G6. These all use Corning Gorilla Glass. (Whoever at Corning is in charge of selling curved glass is probably buying a yacht right about now.) On the U11, it's Gorilla Glass 5 on the front, and Gorilla Glass 3 on the back.
Although the curved glass is very sexy, the overall shape is somewhat plain. There are no curved joints where glass meets metal (as on the Galaxy S8), nor does the screen have rounded corners or a taller aspect ratio. So HTC is almost keeping up with the trends this year, but not quite. The U11 doesn't even have the distinctive "tail" where the glass curves around the USB-C port on the other U series phones. Set aside the curved glass, and it's still just the same plain slab phone shape you've seen a thousand times.
But what sets the U series apart from the competition are the colors. Photos don't do them justice. The Sprint version will come in either Sapphire Blue or Brilliant Black. The blue is a very deep, striking shade of blue. The black has other layers of color in the glass that can cause it shimmer green or copper in certain types of light. This isn't your father's "black" phone; it really is something different, and something you need to see in person, and in different types of light.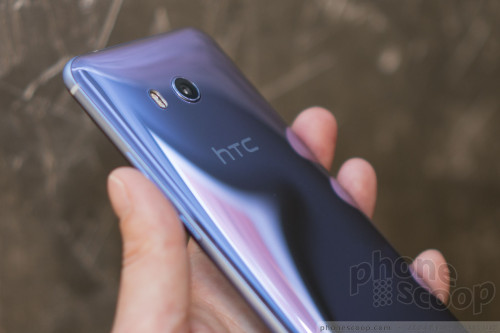 The unlocked version will come in those two colors plus "Amazing Silver", a shiny pale blue with lavender undertones. It can look silver and colorless at some angles, then a rich blue with purple accents when you tilt it. It's a fascinating color that manages to be both understated and flashy, and strikes a perfect balance between masculine and feminine.
When HTC talks about its "optical spectrum hybrid deposition" technology as something special for creating these colors, it's not marketing hot air; they really have done something unique, and it's impressive.
As strong as the latest Gorilla Glass is, (and it is,) it's still glass. Putting glass on every corner is risky, which is why I give HTC credit for including a snap-on clear plastic case in the box. Without it, not only does the phone feel fragile, but fingerprint smudges are an issue.
The U11 is not only lovely to look at, it's lovely to hold as well. The glass-and-metal design feels comfortable and luxurious. It's very well-made. You'll find perfect metal buttons on the right, and a USB-C port on the bottom. That just about sums up the design; it's elegantly simple. On the practical side, it's rated IP67 for water-resistance, which means it can survive a drop into shallow water (not just a splash of rain).
The size and weight feel very middle-of-the-road for this kind of phone. I found it neither too large nor too heavy, nor too thick.
It does have a larger footprint than the HTC 10, though. I would prefer it weren't so wide, but that's a design decision HTC committed to when it chose an LCD screen and a 16:9 aspect ratio, along with a curved glass front. Either an AMOLED screen (which can be curved to match the glass) or a 2:1 aspect ratio would have helped make the phone not quite as wide.
A few truly unique features set the U11 apart.
The first is what HTC calls "Edge Sense", which is exactly what you might have guessed from HTC's teasers: the U11 responds to a hand squeeze. Fortunately, HTC hasn't tried to get too clever with this feature. (Past attempts have been finicky, at best.) You can only do two actions: short squeeze and long squeeze. Each action is a shortcut a function, which you can customize. For example, you can set a short squeeze to launch Instagram, and a long squeeze to activate the flashlight.
Edge Sense relies on physical pressure sensors, (as opposed to capacitive,) which means it works through cases and gloves, and even when the phone is wet. You can calibrate it to respond to the amount of pressure you prefer using a well-designed settings screen that makes the process a bit like a game.
Second, there's what's called "dual wake words". The U11 has four microphones, and one of those is listening at all times. What's new is what it's listening for, which can be both "OK Google" and "Alexa". So at any time, you can choose which assistant you want to talk to, say the appropriate wake word, and give a command or ask a question.
As soon as you say the wake word, all four mics perk up, to help the U11 hear your command perfectly no matter how close you are, or how the phone is situated.
The ability to talk to Alexa without first launching an app (or even unlocking the phone) is exciting enough, but to also have full access to the Google Assistant at the same time is truly a first. You'll probably see this feature in more phones as the Snapdragon 835 chip becomes more widespread, but for now, HTC has something special.
Well, technically not "for now"... since full Alexa support won't be come at launch, but rather with a software update soon after.
There is no 3.5mm jack. To make up for this, HTC includes some quite advanced USB-C earbuds in the box. This is yet another feature that sets the U11 apart. The earbuds include SONAR calibration, which is now automatic. They also include active noise cancellation, a first for in-box earbuds. This is possible because of the advanced capabilities of USB-C. These special earbuds have an extra microphone just for the active cancellation feature, and rely on the phone for the audio processing. The active cancellation feature is proprietary, but everything else is based on industry standards, so you should be able to use other USB-C earbuds if you like, and these earbuds should work with other phones. HTC also includes a 3.5mm adaptor in the box.
Also on the sound front, the U11 has the same basic speaker setup as the HTC 10, with high tones coming from the upper speaker, and lower tones coming from the lower speaker. HTC has tweaked this to sound more balanced when held in landscape orientation, and there's also a special "theater" mode that switches the two speakers into true stereo mode.
The specs are mostly what you'd expect from a flagship this year, including a 5.5-inch display with Quad-HD resolution. (That's great for VR, although it won't work with Google Daydream because it's LCD and not AMOLED.) The processor is Snapdragon 835, which is the best of the best. It's aided by 4 GB of RAM, which should be quite adequate. (A 6 GB version is also available, if 4 GB makes you nervous.) The 64 GB (or 128 GB) of storage can be expanded with memory cards.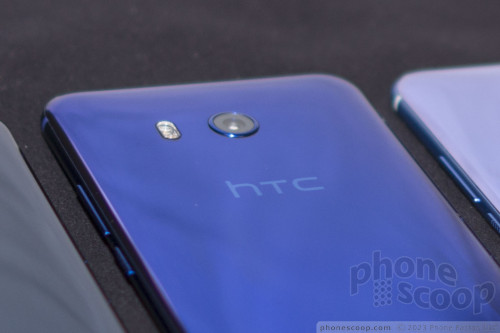 The 12-megapixel main camera is UltraPixel 3 with an improved f/1.7 aperture and OIS. It supports long exposure and RAW mode. The front camera is 16-megapixel and has an UltraPixel mode that combines sensor pixels to create high-quality low-light photos.
It supports "Gigabit LTE" with LTE Cat. 16, as well as HPUE for Sprint. In other words, data speeds should be as good as it gets. The unlocked U.S. version supports Verizon, AT&T, and T-Mobile. It supports LTE bands 12, 13, and 66, so it has full support for Verizon and T-Mobile, at those same crazy speeds. It lacks bands 29 and 30, though, so you won't get 100% of the coverage and speed possible with AT&T.
You'll also find support for NFC, Quick Charge 3.0, dual-band Wi-Fi, motion gestures, and of course there's a fingerprint reader on the front. It has robust support for sharing media, including DisplayPort (wired) as well as DLNA, Miracast, Chromecast, and, yes, even Apple's AirPlay.
The only real disappointment on the spec sheet for me is the 3,000 mAh battery. Now that matches the Galaxy S8, but other phones like LG G6 offer larger batteries. So much of actual battery life depends on the processor and HTC's software, though. We look forward to reviewing the U11 to see how much life HTC can eke out of 3,000 mAh.
The software is the same as what we've seen on other HTC phones of late. It's Android 7 with HTC's handsome tweaks to the appearance. It comes with Sense Companion, which is supposed to learn your usage patterns and make intelligent suggestions. The camera app has an intuitive interface and powerful features like auto-HDR, RAW support, and long exposures for creative night shots and light painting.
The HTC U11 seems to be a solid entry from HTC, offering just enough that's unique and interesting to keep HTC in the flagship game. You can pre-order it today. The Sprint version will ship June 9th, and the unlocked version some time in June.
No messages