Review: Blu Studio Selfie
Article Comments
Dec 24, 2015, 1:00 PM by Eric M. Zeman @zeman_e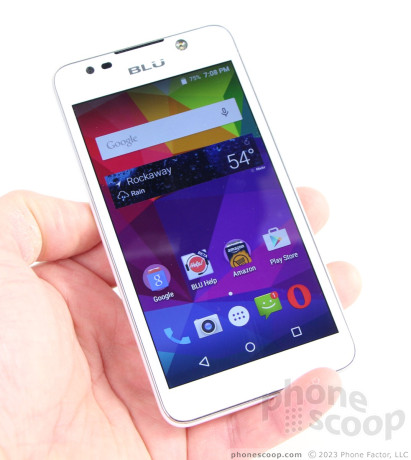 The Studio Selfie marks Blu's first real push into the U.S. market. This inexpensive Android phone features surprisingly good materials and build quality, reasonably good performance, and a stock Android experience. The Studio Selfie is sold unlocked and works with the LTE networks of T-Mobile and AT&T. It's a bargain for those who prefer the unlocked life.
AD article continues below...
Hardware
Is It Your Type?
As the name implies, the Studio Selfie targets those who love to take self portraits. The Selfie is sold unlocked, but is the first phone from Blu to be certified for use on T-Mobile's network (including band 12 LTE for expanded coverage with T-Mobile's "Extended Range LTE".) This inexpensive Android smartphone covers the basics and doesn't stray from its direct approach. If you're looking for a spare handset, or have decided it's time to give your pre-teen his or her first phone, the Blu Studio Selfie is a reasonable option.
Body
The Blu Studio Selfie's design and build are impressive for a $99 handset. Many phones that play in the sub-$100 space are cheap and flimsy feeling. The Selfie is legit. It may be a simple phone, but it gets simplicity right.
The Selfie reminds me a bit of the first iPhone, if you combined it with a mid-range Lumia handset from Nokia. The shape is plain. I like the rounded edges and metal accent that defines its face. Our review unit is white, but the Selfie comes in black and gold, too. The rear surface is perfectly flat, which means it's easy to use when placed on tables or other flat surfaces. The single piece polycarbonate shell wraps gently around to form the sides, eliminating seams that might otherwise catch your skin. The shell has a matte finish, which I appreciate. It contrasts well with the glossy front.
The Selfie is what passes for normal these days when it comes to size. It has a 5-inch screen and rather thick bezels surrounding the display. It is slim and light enough to be comfortable to hold and use. I had no trouble reaching the phone's controls, though I suppose people who have small hands may find it a wee bit too big.
I'm surprised by the strength and rigidity of the Selfie. The phone is assembled tightly and feels quite solid. You'd never guess its price by touching it.
Blu rimmed the Selfie in chrome. The rim is just a bit higher than the glass itself, which will help protect the glass when the phone is placed face down. Blu's logo is emblazoned in chrome above the screen, where it's nestled between the user-facing camera and huge front flash.
The black volume toggle and screen lock buttons — located on the right edge — stand out visually by contrasting with the white shell. Physically, the buttons are a bit flat for my tastes, but the action is good. The headset jack is on top, the microUSB port is on the bottom. There are no controls on the left side of the phone.
Small holes drilled across the rear surface hide the speakerphone. Blu's logo is set in raised type and I often felt it with my finger when I had my hand in my pocket. The flash, camera, and (another) microphone hole are stacked atop one another where most cameras are positioned. It's quite easy to remove the rear shell thanks to a thumb notch in the lower corner. The battery is removeable, and in fact must be pulled in order to insert either a SIM card or microSD memory card. I appreciate that the Selfie includes a memory card slot, but I'd rather not have to yank the battery to swap cards.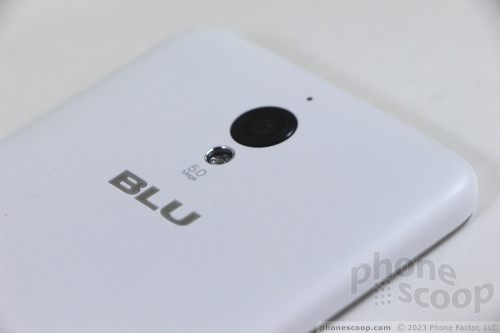 In all, the Blu Studio Selfie is perfectly good inexpensive piece of hardware.
Screen
Blu couldn't reach the $99 price point without making some hard choices. The 5-inch LCD panel has just 854 by 480 pixels. Screens are one of the costliest components of any smartphone, and the Selfie's is no doubt inexpensive. My eyes are completely and utterly spoiled by full HD and quad HD screens. I can see pixels all over the place on the Selfie's screen, viewing angles are rather poor, and the lack of oleophobic coating means the glass is quickly marred by fingerprints and other grime. Still, it's not a terrible screen and it certainly suffices given the price of the phone. I was able use it outdoors with no problem.
Signal
This is important: the Selfie has been approved to run on T-Mobile's network in the U.S., complete with support for Band 12 LTE. (Not many unlocked phones have band 12, and those that do are often barred from using T-Mobile's band 12 network.) That means the Selfie offers the full LTE experience available from T-Mobile. Like all Blu handsets, the Selfie is sold unlocked. It also supports AT&T's LTE network, including band 17. I tested the phone on both AT&T and T-Mobile's networks in and around New York City and found it to perform on par with other phones from AT&T and T-Mobile. The phone maintained a network connection at all times and never dropped or missed calls. It was able to hold a call at highway speeds, and the Selfie delivered solid data performance when browsing the web. The Selfie's radio does its job.
Sound
Call quality is mediocre. The earpiece produces just barely enough volume for use in regular spaces, like at home or the office. Loud spaces will easily drown it out. Voices sound mostly clear, but I didn't care for the timbre overmuch, which left me a little cold. Those I called through the Selfie said I didn't sound all that great. The speakerphone is pathetic. It feebly burps out scratchy sound that is hard to hear in quiet spaces. I couldn't hold a conversation in my car at all through the speakerphone. Ringers and notifications always managed to get my attention and the vibrate alert is adequate.
Battery
If you're thinking the 2,000 mAh battery seems a bit small, I'm right there with you. The saving grace here is the display. With fewer pixels to worry about and keep lit, the Selfie doesn't require as much power as a phone with an HD screen might. On average, the Selfie still had about 25% power left at the end of the day when used lightly. More intense use meant the battery was down to single digits by bedtime. It just barely gets the job done.
The Selfie includes the system-level battery saver tool from Google. You can turn it on manually, or set it to kick on automatically when the battery reaches 15% or 5%. It helps a little bit.
Bluetooth, GPS, NFC, WiFi
The Selfie pairs easily with other Bluetooth devices. I was able to connect it to my PC, car, headsets, speakers, and other phones. Calls sent to a mono headset were atrocious, but music pushed to a wireless speaker sounded pretty good.
The Selfie doesn't have NFC, but the WiFi performed admirably.
The GPS radio talked to Google Maps well enough. I thought the Selfie was a bit slow to locate me (over 10 seconds), but accuracy was good at about 20 feet. Google Maps wasn't very snappy, possibly due to the phone's slower processor. Still, it worked for navigation.
Software
Lock Screen
The Selfie has a rather simplistic lock screen experience.
Press the screen lock button to wake the display. You'll be greeted by the time/date with notifications listed beneath. You can select how revealing the notifications are. For example, I set the Selfie to show me that I have new text messages, but not to display who the message is from nor its contents.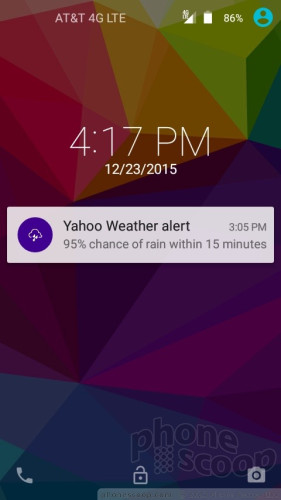 There are no fancy tapping or other gestures to wake the screen. Only the lock button turns it on/off. You can choose a PIN, pattern, or password to lock the phone, or leave it exposed. There are no advanced locking mechanisms, such as a fingerprint reader.
As always, you can jump to the phone or camera via lock screen shortcuts at the bottom. I appreciate that you can access and use the Quick Settings panel from the lock screen.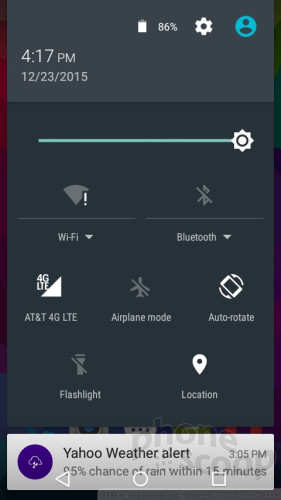 Home Screens
Blu was smart to leave the Android 5.1 Lollipop platform unmolested. I'm always happy to see stock Android when booting up a phone for the first time.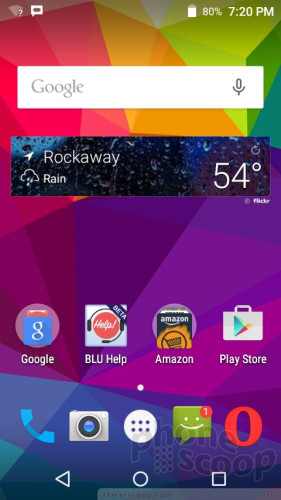 With Lollipop forming the core home screen experience, the Selfie can be customized at will with app shortcuts, widgets, and so on. The app drawer is arranged alphabetically. You can't customize the app drawer, but you can slap folders onto the home screens if you wish. The Quick Settings panel and system settings all behave as expected for a Lollipop phone. Blu didn't dress any of it up and I'm happy to report it all functions just fine.
The Selfie isn't going to set GeekBench on fire, but it performs smoothly enough that I didn't notice any real hiccups. The phone has a 1 GHz quad-core Snapdragon 210 processor with 1 GB of RAM. Apps open swiftly and screen transitions were seamless. About the only thing I disliked was the length of time needed by the Selfie to download and install apps from the Play Store. Updates were painful.
Camera
The Selfie has a decidedly simple camera application. There's no camera button, so you need to open the app directly. There's a shortcut on the lock screen if you're in a hurry.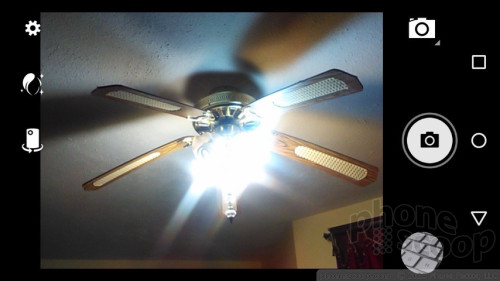 The tools are simplistic. The main shooting modes include auto, panorama, and video. There's a beautification feature that is best put to use when taking selfies. It allows you smooth out wrinkles and hide blemishes, but I find the results look pretty gross and unrealistic.
Thankfully, the Selfie lets you tweak a fair number of settings. For example, you can select image size/aspect ratio, whether or not the burst shot is on, as well as futz with exposure, focus, and red-eye reduction. The phone supports touch-to-focus, but you still have to press the shutter button to capture images. I wish it had HDR.
The camera app is quick enough. I was worried it would be sluggish, but those fears were unfounded. It opens quickly, focuses in a blink, and saves images in a snap.
Photos
The Selfie has two 5-megapixel cameras. The front-facing camera delivered consistently superior shots when compared to the rear-facing camera. Don't ask me how.
Having a flash facing users is truly helpful for taking selfies at night and/or in dark spaces. I was concerned the flash might blow out the image, but it often delivered just the right amount of pop to help get the image in focus and reduce grain.
Speaking of grain, all the images I took with the Selfie include a fair amount of noise. More to the point, I thought focus was a bit soft. Exposure and color are accurate most of the time, but the lack of sharp focus degraded image quality more than I would have liked.
The Selfie suffices if you're taking everyday shots, but I would not trust it for important events that require good results.
The same goes for the video camera. The Selfie captures video at 720p. There are no fun video modes, such as timelapse or slow-motion (though you can download apps that duplicate these features if you wish). I was not impressed with the video results at all. You can score some usable footage when outdoors in daylight, but indoor footage is almost universally crummy. Focus, exposure, and color are decent, but there's a ton of grain and noise in the end results.
It's not good enough to replace stand-alone gear, but I wasn't expecting it to produce professional results.
Blu Stuff
There's no carrier bloatware, but Blu did stick a few extra apps on the Selfie. To start, the Blu Help app is on board, which can be used to seek out answers to any usability issues that might crop up. The Selfie also includes a few Amazon apps, an FM radio, TouchPal 2 (keyboard software), and the Opera browser. You cannot delete any of these, which is a shame. The Selfie has just 8GB of internal storage and only 3.5GB of it is available to end users. In other words, a memory card is more or less mandatory if you want to carry around large games or a real music collection. Fortunately, memory cards are quite cheap these days.
Wrap-Up
The Blu Studio Selfie is a perfectly respectable little phone. It doesn't have a flashy design or kitchen-sink features, but it delivers a core smartphone experience at a great price.
I genuinely like the simple hardware because it's well-made. I wish the screen had a few more pixels and wasn't so prone to collecting grime, but it performs well enough for this class of device. With support for LTE from both AT&T and T-Mobile, the Studio Selfie is a flexible handset. It did a good job at connecting calls and surfing the web on both networks, but call quality was a bit off. Battery life just barely manages to earn an "adequate" rating from me.
The stock Android user interface performs as expected. There are no surprises with the Studio Selfie. For a phone that's focused on capturing those pensive, solo moments, the Selfie's camera could do a bit better. It is acceptable, but not great by any stretch of the imagination.
Would I recommend the Blu Studio Selfie? Sure, if you want a basic Android phone and like the $99 price, it gets the job done.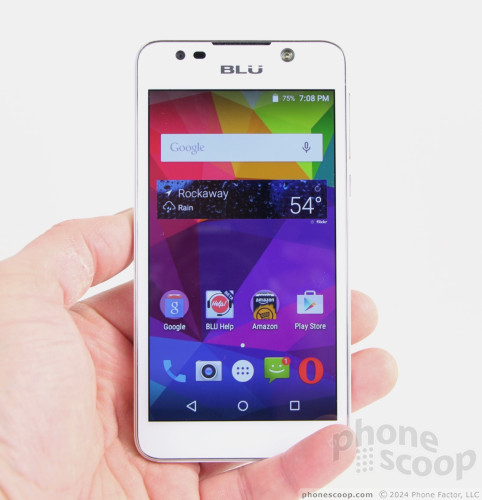 No messages