Hands On with the Blu Studio Selfie for T-Mobile
Studio Selfie LTE Studio Energy 2 Vivo Air LTE Comments
Oct 16, 2015, 9:00 AM by Rich Brome @rbrome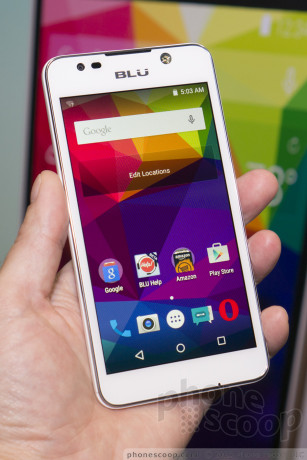 Blu is a fast-growing name in the U.S. phone market. To date, they've focused on selling unlocked phone to be used with T-Mobile and MetroPCS. Now, for the first time, they are offering phones officially certified by T-Mobile, that will be sold by official T-Mobile dealers. This is increasingly important for good LTE service with T-Mobile. The Studio Selfie is the first such phone. We spent some time with it, as well as the incredibly thin Vivo Air and Studio Energy 2 with its massive battery. Read on to find out what they're like in person.
Advertisements article continues below...
Most of Blu's phones to date have had only 3G, or only the most basic support for 4G LTE networks in the U.S.. They haven't supported all of the LTE bands necessary for full coverage and roaming. That's made us hesitant to cover or recommend Blu phones in the past. Also, Blu phones haven't been tested for hearing-aid compatibility, something required of phones sold by carriers.
The Studio Selfie is the first Blu phone to change all of that with its support for LTE band 12, and T-Mobile VoLTE certification. That makes this the first Blu phone to receive full LTE coverage and speed on T-Mobile (or Metro), while also complying with FCC regulations that ensure your ability to place a 911 call reliably. And not only is it tested for hearing aids, it's rated M4/T4, the best rating a phone can have. All of this makes us much more comfortable covering and possibly recommending this phone.
Blu's first round of phones were generic, with a low price being the main selling point. Now, they're expanding to more interesting phones, like a high-end phablet, a super-thin phone, a massive-battery phone, and... a selfie phone.
The Studio Selfie is a $99 Android phone. The "Selfie" part refers to the beefy front camera with its own warm-tone LED flash. But that's pretty much its only claim to fame. It's otherwise a very generic affordable Android phone.
The 5-inch screen is perfectly average. It's not going to impress on sharpness or viewing angle, but I've certainly seen worse. It's a decent display for most people, and for this price range.
The cameras are roughly what you might expect in a $99 phone. The 5-megapixel front camera is decent for a front camera, as one would hope for a phone with Selfie in its name. The 5-megapixel rear camera might actually be worse than the front, which is unusual in any phone. That's based on very limited time with it, but the rear camera certainly did not impress in some quick tests.
The design of the body is above-average for this price range. The front glass fits into its chrome frame nicely. The front has a high-quality appearance to it. The rest of the phone has a rare design that reminds me a bit of the more affordable Lumia phones, with a removable plastic shell that wraps around the sides. It has a very nice soft matte finish that feels nice, makes it easier to grip, and resists fingerprint smudges (to a certain degree.) It's a nice design.
The side keys are a bit flat and flush, but they're comfortable to press and work well.
The software on the Studio Selfie is pretty much standard Android; Blu doesn't customize Android in any meaningful way. The camera is based on the standard Android camera app, but with a friendly options menu and, of course, and enhanced selfie mode.
Affordable Android phones keep getting better, but few reach the $99 price point and offer something extra like good LTE and a decent front camera with flash. This looks like a contender in its price range. We look forward to reviewing it.
No messages