Hands On with the Blu Studio Selfie for T-Mobile
Studio Selfie LTE Studio Energy 2 Vivo Air LTE Comments
The Studio Energy 2 is an affordable Android phone with a really, really huge battery. 5,000 mAh of juice is hiding in this bad boy.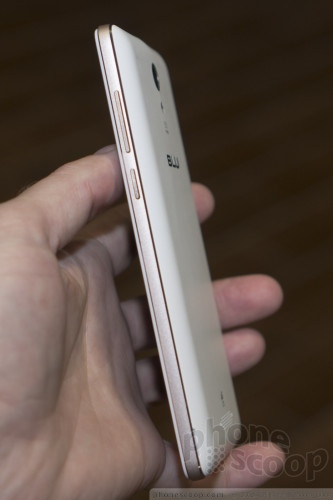 The design is somewhat premium, with an attractive glass front and a metal frame around the sides. The metal frame looks good from a few feet away. But if you look closely, you'll see gaps between the metal and the plastic. This is not actually the injected-plastic design you'll find on higher-end phones from Apple, HTC, and others. But it's a good-enough imitation to fool most of your friends.
Advertisements article continues below...
The back is rubbery plastic that bulges out to contain the huge battery. The curve of the back plate combined with the warm material make this phone comfortable to hold in spite of its relative thickness.
The side buttons here are thin and sharp, but do work well.
The key feature, of course, is the huge battery. It's big enough to not only power phone for quite a while, but to charge other devices as well. Blu has configured the phone so it can do that, and includes the necessary cable in the box. That's a nice feature. (Huawei has done this on some of its phablets as well.)
The Studio Energy 2 doesn't have band 12, but it does have band 17. That makes this phone better suited to AT&T's network. It lacks band 5, but that's not critical in most places. This phone should provide decent LTE service on AT&T.