Hands On with the Blu Studio Selfie for T-Mobile
Studio Selfie LTE Studio Energy 2 Vivo Air LTE Comments
Blu claims the Vivo Air LTE is the thinnest LTE Android phone in the country. After handling one in person, I certainly believe it. It's not the kind of thin you need to measure. Just pick one up, and you'll know. It's impossibly thin and light. "Air" is more than just marketing here, or riding Apple's coattails; Blu engineers really earned the "Air" title with this one.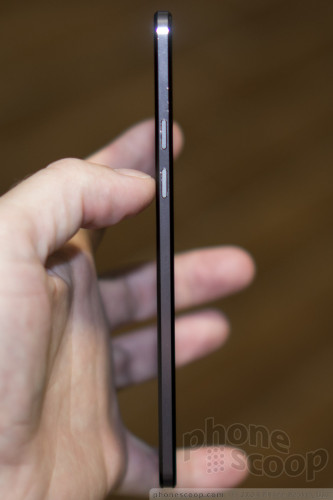 The frame is metal and the front and back are both glass, much like an iPhone 4. But this almost half as thick. Yes, seriously, if you stacked two of these phones together, they would be within one millimeter of the thickness of an iPhone 4. That's insane.
The metal-and-glass design lends it a high-quality feel, although that feeling is offset a bit by the extreme light weight. There is something to be said for the quality feeling of a weighty hunk of metal in your hand.
The buttons are thin and not super comfortable to use, but they work well and look good doing it.
The phone comes in black and white. The all-glass design is a fingerprint magnet, and that shows like crazy on the black version. Fingerprints are far less noticeable on the white version.
Note that the Vivo Air LTE doesn't have band 12, so while it will get basic T-Mobile LTE service, it won't get the full LTE coverage and speed of a phone with band 12. It also lacks band 17, so we wouldn't recommend it for AT&T if you care about decent 4G LTE service. If you're fine falling back to 3G at times, this phone does make quite a style statement.