Review: Microsoft Lumia 950
Hardware Software Wrap-Up Comments 1
Lock Screen
The Lumia 950 runs Windows 10, which we reviewed in depth here. If you want to learn all there is to know about the new platform from Microsoft, I suggest you give it a read.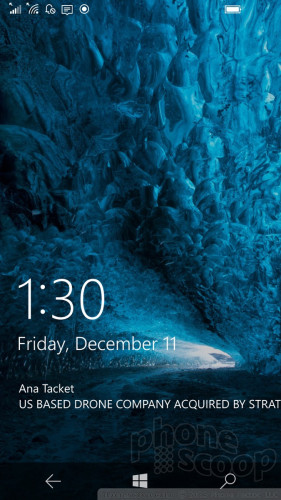 The Windows 10 lock screen is very useful and I like it. It always displays the time and date in large, white text on the black background. Microsoft calls this feature the Glance screen. It means you don't have to touch the phone to check the time. You can add certain types of notifications to the lock screen if you wish. I have the 950 set to show the most recent email in my inbox, but you can have it display the most recent text message, next calendar appointment, missed calls, and so on. With email selected, I can see who sent the last message and the subject line.
Advertisements article continues below...
A quick press of the screen lock button will wake the screen. The time and notifications remain in place, but you'll see your background wallpaper, the status bar at the top, and several other notifications (simple badge counts) at the bottom of the screen. You can choose whether or not the Action Center is accessible from this screen. The Action Center opens up access to certain controls and more in-depth notifications.
The Lumia 950 does not have a fingerprint sensor, so you need to use a standard PIN or password to secure it.
Or, you can get all high-tech and use your iris to unlock the phone. The 950 has iris-recognition software for biometric security. It takes several moments to train the sensors to read your iris, and once it does the phone will automatically unlock if it recognizes your eyes. The retina scanner doesn't work if you have glasses, but I was able to use it with contact lenses. It works, but it's not very speedy.
Home Screens
The behavior of the Windows 10 Start screen is almost identical to that of Windows 8.1. You can arrange the Live Tiles into three columns, and the tiles are available in small, medium, and large sizes. Many of the Live Tiles update automatically with content and notifications, while others are just app icons. Users have control over how transparent the tiles are, which lets you see more or less of the background wallpaper you've picked. The Start screen can be infinitely long, and supports folders, too.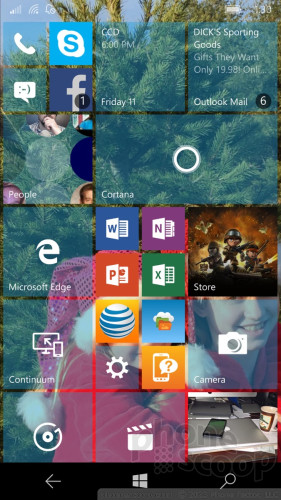 The full app menu is still a long list of apps sorted alphabetically. If you have a bazillion apps, using the search bar at the top is the quickest way to find what you want.
Notably, the system settings have been completely overhauled in Windows 10 and are much more user friendly. The settings are broken down into fewer groups and each group clearly spells out what controls are tools are within. I like the new fonts and colors here, as well.
You can make all the typical adjustments to the phone, such as wallpapers, colors, themes, ringers and alert sounds, and so on. It's all fairly easy to digest.
As far as performance is concerned, the Lumia 950 is a bit buggy. Though Windows 10 Mobile has been "released" officially, Microsoft is still pushing out updates to most core apps on the phone to improve stability. It's not overly buggy, but it is enough that you'll notice. Apps crash every so often, or pause a bit. In this case, I blame the software and not the six-core Snapdragon 808 processor and 3GB of RAM. The phone could/should be performing faster, and hopefully will over time.
Camera
A quick press of the dedicated physical camera button launches the Lumia Camera application in a jiffy. The app itself is largely carried over from older Lumia handsets. Microsoft changed the fonts and reorganized the UI a tiny bit, but it otherwise offers the same basic toolset and functionality that are available to other Windows Phones.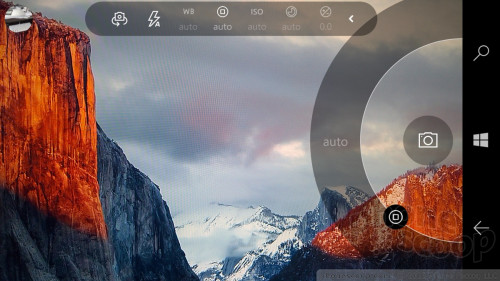 The camera user interface is cinch to use thanks to its plain arrangement. A small strip of options lets you switch to the front camera, turn on the flash, or turn on Rich Capture Mode. (This mode purports to do a better job of getting accurate exposure, focus, and color.) The app also includes full manual controls. You can manage white balance, exposure, ISO, brightness, and focus all on your own. For knowledgeable users, the manual tools can lead to much more creative results.
The camera includes several Lenses, which are software add-ons for the camera. One of those pre-installed is Lumia Selfie. If you want to snag the best-possible self portrait, this mode gives you the tools to get it done right. It includes a timer and some quick editing tools, such as cropping and mirroring, so you can make adjustments before sharing to social networks.
Swiping your finger up zooms in and swiping down zooms out. You can press the screen to lock in focus, but you have to use the shutter button to capture images. I like that there are separate software buttons for video and pictures, which makes it possible to snap still photos while recording video. You can also customize the behavior of the physical camera button to record video, fire a burst, or simply capture a picture.

This is a fine camera app. It performs well and offers a solid set of tools for creative imaging.
Photos
The 950 has a 20-megapixel sensor and can capture images in a variety of resolutions and aspect ratios. You have to select the 4:3 aspect ratio to access the full 20-megapixel count, as the 16:9 aspect ratio is cropped to 16 megapixels. Of note, the Lumia Camera can capture RAW images at 8 megapixels side-by-side with standard JPEGs. RAW images offer more post-production options with respect to editing and manipulation. You can't access the RAW files directly on the phone itself, but you can export them and tweak them in Photoshop.
The 950's camera is quite good. I was pleased with the majority of images taken in bright and low light. Focus is sharp, and exposure and white balance are accurate. I have absolutely no complaints about the camera, which goes toe-to-toe with the iPhone 6s, Galaxy S6, and V10.
Most people will be able to use the 950 as their main camera. The same is true when shooting video.
The 950 can capture up to 4K (UHD) resolution, but you'll probably be best served by sticking to 1080p. The footage I captured looked great, with excellent focus, color, and exposure.
The 5-megapixel selfie cam does a solid job, too. Results show a bit more grain, but that's fairly typical for a front-facing camera. You can always touch up your selfies with the Lumia Creative Studio app, which offers advanced editing tools.
If Microsoft got one feature right with the Lumia 950, it's the camera.
AT&T / Microsoft Stuff
AT&T kept the bloatware to a minimum. There are only 11 AT&T-branded apps preinstalled on the Lumia 950. They are the usual assortment of services, such as Address Book, Family Map, Locker, Navigator, Ready2Go, and YellowPages. Thankfully, you can delete them if you wish.
Microsoft's Office productivity suite is on board, and includes Word, Excel, PowerPoint, OneNote, and OneDrive. The apps have been fully revised for Windows 10 and are excellent for making quick edits or creating new documents. OneDrive automatically syncs everything so your files are accessible from anywhere. The utility of these apps cannot be understated. They're fantastic. The same goes for Outlook, and the Edge browser.
The 950's biggest trick is Continuum, which is the ability to plug into a desktop monitor or HDTV and have the phone act like a full Windows PC. Continuum requires a lot of little gadgets (cables, more cables, keyboard, mouse, TV, etc.) but does deliver what it promises. You can use the 950 like a regular computer where you'll have access to all your apps, files, and other content. The Continuum kit, sadly, costs an extra $99.