Verizon Brings WiFi Calling to iPhone Via Message+ App
Article Comments 4
Oct 16, 2015, 7:21 AM by Eric M. Zeman
updated Oct 16, 2015, 7:23 AM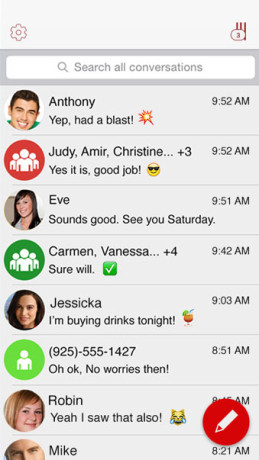 Verizon Wireless updated its Verizon Message+ app for iPhones, adding the ability to make phone calls over WiFi. In order for WiFi calling to work, Verizon iPhone owners will need to switch on the advanced calling function of their phone. WiFi calls can only be completed via the Verizon Message+ app. Using the native iOS dialer still passes calls through Verizon's cellular network. The app also adds electronic gifting, improved media search, and scheduled messaging for sending texts at specific times/dates. WiFi calling is available to the Apple iPhone 6, 6 Plus, 6s, and 6s Plus. Verizon hasn't said if or when it might make WiFi calling available to Android handsets. The Verizon Message+ app is free to download from the iTunes App Store. Verizon's offering trails that of its competitors. AT&T launched WiFi calling last week, while Sprint and T-Mobile have offered the feature for about a year. WiFi calling is useful for making calls when cellular network coverage is poor.
kludge
So it's not seamless. PITA.
Is there a Way to make WIFI calls without the integration of the messages by using this app?
Wi-fi calling
Lets be very factual here. Tmobile has offered wifi calling for the better part of 7 years on all phones except iphone. Iphone wifi calling well over 2 years since they got the 5s.