Review: ZTE Axon Pro
Hardware Software Wrap-Up Comments 2
Aug 10, 2015, 2:00 PM by Eric M. Zeman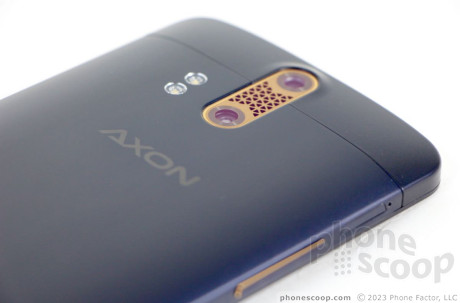 ZTE is looking to tempt would-be flagship buyers with the Axon Pro, an unlocked, premium Android smartphone with good looks and killer specs. Did ZTE manage to dial in the right combination of features and performance? Find out in Phone Scoop's full report.
Advertisements article continues below...
Is It Your Type?
The ZTE Axon Pro is no overstocked Asian handset; ZTE developed it specifically for the U.S. market. That means it supports a wide range of LTE bands for U.S. carriers — which is not something all unlocked phones can claim. The ZTE Axon Pro is for those who like to ignore convention and tread their own path. This handset, only available online, is sold unlocked at full price. You're not going to stumble upon it in a carrier store; you have to want it. It offers a near-premium experience for hundreds less than today's flagships. That doesn't necessarily mean it's the best deal.
Body
The Axon Pro is a high-end handset from ZTE, making it one of the most capable devices the Chinese manufacturer has released in the U.S. It boasts an upscale appearance, a compelling spec sheet, and a price tag that won't make your eyes pop out of your head.
Axon Pro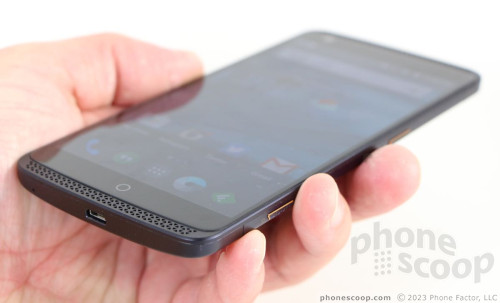 Axon Pro
ZTE went big. The Axon Pro is about the same size as an iPhone 6 Plus. It has a personality all its own thanks to some interesting design choices. I'd call the appearance a wee bit busy. The phone's large, slab shape is crisscrossed with lines, shapes, and patterns — especially across the back surface. The Axon Pro gives off a premium vibe, but you can tell it's not quite as premium as the handsets it is competing with, such as the Samsung Galaxy S6.
Our review unit is blue, but the Axon Pro is also being sold with gold and silver finishes. The blue is an attractive shade, though it is almost indistinguishable from black. The Axon Pro also includes black elements in the design, and makes liberal use of copper-colored accents on the buttons and around the camera module.
This phone will require most people to use two hands to operate it smoothly. My thumb can only reach about half the display when the phone is gripped normally; I found myself holding it in one hand and pressing at the screen with the other. It borders on heavy at more than 6 ounces. ZTE made the phone slim enough (9.4mm) so that dropping it into your pocket is fairly easy. Smaller people who wear tight jeans may find that it doesn't fit as well. Build quality is decent, but I've seen better.
The Axon Pro's face features a large glass plate bookended by grilles that are built into the frame. The glass doesn't sit flush with the grilles, and its edges are easy to feel with your finger. The grilles have a diamond-shaped pattern cut into them that makes them stand out a bit visually. ZTE decided to use off-screen Android controls, so there are three capacitive buttons below the display. The circular home button pulses on and off and acts as a notification light. The other two capacitive keys are little more than dots. They work well, but aren't the easiest to find unless you're looking at the phone.
On the Axon Pro's left side you'll find the volume toggle and SIM card tray, and on the right you'll find the screen lock button and shutter button for the camera. The three buttons have minimal profiles, but travel and feedback are solid. The copper accent makes the keys visible from an arm's length so you know where to find them. The USB port is on the bottom edge of the phone, and the headset jack is on the top.
The Axon Pro's back surface has lines running all over the place. The blue panel that covers about three-quarters of the back surface cannot be removed. Two black plastic panels join the blue metal panel with one at the top and one at the bottom. The seams where the panels meet are not the best I've seen. I understand the plastic panels are to ensure wireless signals can pass through the phone, but they cheapen the overall look of the device and could have been incorporated in a more seamless way. Worse, the back surface is easily scuffed up.
The camera module will not be ignored. The module has an elongated shape and is formed by a copper-colored, diamond-patterend piece of metal. It jumps out at you. Twin LED flash bulbs are positioned to one side of the camera.
The Axon Pro does not have a removable battery, nor does it support removable storage, which may be deal-breakers for some.
While I respect what ZTE was trying to do with the Axon Pro's design, I don't think it quite pulled it off. ZTE tried a bit too hard and it shows. It's a lot like a movie set. It looks great on film, but up close you can see just how thin the veneer really is.
Screen
The Axon Pro's display measures 5.5 inches across and it includes 2560 by 1440 pixels (Quad-HD). It's a really nice screen. Brightness levels are off the charts. You'd do well to set it at about 30% or 40% and leave it there. Anything brighter than that and you're going to start blinding people. You'll have no problem using this phone outdoors. Text, images, and icons looked incredibly smooth with no obvious pixels visible anywhere. Color accuracy is solid, and contrast is good, too. Viewing angles are excellent. I have no complaints about the display.
Signal
ZTE sells the Axon Pro unlocked and it supports the GSM/LTE networks of AT&T and T-Mobile. We tested it on AT&T and came away impressed. The Axon Pro performed as well as any unlocked handset I've ever used on AT&T. The phone was quick to connect to LTE and only dropped to HSPA a few times in areas where coverage is poor. The phone made all calls on the first dial. It missed one when I was in a moving car, but didn't drop any. Data speeds were inline with what other devices can muster on AT&T's LTE network. The Axon Pro had no trouble streaming Spotify over the network, nor interacting with social media accounts, nor the Play Store when it came time to update my apps.
Sound
The Axon Pro is a reasonably good voice phone. Calls come through the earpiece loud and (mostly) clear. Set to maximum volume, I was able to hear calls in the majority of places I took the phone. Coffee shops and city streets had nothing on the Axon Pro. The quality of calls was a little bit of a mixed bag. I'd say 60% of the time they were good, and 40% of the time they were so-so, sounding a bit muffled. People said I sounded very good when speaking through the Axon Pro.
The speakerphone isn't quite as impressive. The volume reaches good-enough levels when set all the way up, but quality takes a little dive with more distortion and muddier voices. I was able to maintain conversations in a moving car, but just barely.
Based on the twin-grille design on the front of the Axon Pro, you might assume it has stereo speakers. It does not, and that's a shame.
Instead, the Axon Pro has two sound circuits and Dolby Audio processing software on board. These spring to life only when you plug headphones into the Axon Pro. The Axon Pro manages to produce good quality music playback. It ships with a pair of JBL headphones, but of course it's compatible with your earbuds of choice.
Battery
The Axon Pro's 3,000 mAh battery is sealed inside. It does a commendable job of delivering a full day of battery life. The phone typically lasted from breakfast to bedtime on a single charge with some power to spare at the end of the day. As always, I kept the various radios on at all times, and was sure to stream video and audio via LTE and WiFi. About the only thing that produced a noticeable impact on battery life was recording video, which is a battery drain for most phones.
The Axon Pro has the basic Android battery saver tool. You can choose to turn it on manually or automatically. All it does is limit background processes.
Bluetooth, GPS, NFC, WiFi
I didn't have any trouble pairing the Axon Pro with a handful of different Bluetooth devices, including mono and stereo headsets and PCs. I tested some calls in my car, and the quality through the hands-free system was pretty good. Volume was excellent, in fact, but clarity could have been better.
For all the noise ZTE makes about the Axon Pro's high-end audio experience, boy did it mess up with the Bluetooth radio. For reasons unknown to me, ZTE gave the Axon Pro the A2DP stereo Bluetooth profile, but not the high-quality aptX music profile. That means music does not sound as good as it could through my best Bluetooth speaker. Another shame.
The GPS, NFC, and WiFi radios all functioned without issue. The phone was able to locate me in Google Maps swiftly and accurately; it paired with other Bluetooth devices easily with a tap of the ol' NFC; and browsing the web was quick via my home WiFi network.
They forgot Verizon
Just like 99% of the China phone companies, they are short sighted and only make GSM compatibility. Verizon and Sprint are CDMA. With the new Verizon plans, there is an incentive to BYO phone to the Prepaid side. This is because nice phones now cost $600 on the pay monthly plan. No more $100-200 deals.

So, why would these manufacturers ignore 50% of the US market?
Not Quite a Waste
While my first impression is this is a wasted effort by ZTE on further reflection, it's not. This could be a part of a larger push to get flagship phones into the hands of consumers for less money. That said, it doesn't seem like that good of an effort.