Review: ZTE Axon Pro
Hardware Software Wrap-Up Comments 6
Lock Screen
ZTE did a good enough job with the lock screen experience and notifications. It's not the fanciest or most feature-rich set-up I've seen, but it works well and is simple to control.
Lockscreen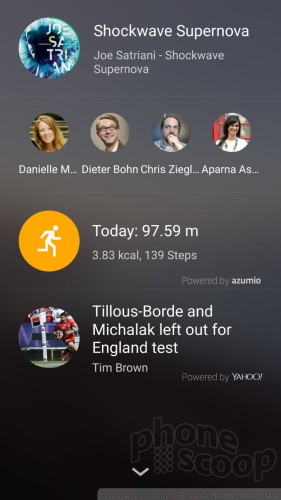 Lockscreen
A quick press of the screen lock button turns on the screen, where you will see a large clock and a list of your notifications. The clock is easy to read, and the notifications are broken down into sensible groupings, such as emails, text messages, fitness data, and so on. If you don't secure your phone, you can go straight from lock screen notifications to the associated app. If your phone is locked, you'll need to enter your password/PIN before you can open and/or respond to lockscreen notifications.
AD article continues below...
The lock screen also provides a shortcut to the phone app and a shortcut to the camera app.
Home Screen
The Axon Pro runs Android 5.1.1 Lollipop with a light-touch interface skin from ZTE. The home screen panels and app drawer have their own, slick appearance thanks to ZTE's fonts and colors, but the settings menu and notification shade are the stock Android versions. ZTE offers users a handful of themes for customizing the look a bit, as well as a selection of transition animations to choose from. It's a pretty basic set-up and one any seasoned Android user will be familiar with.
ZTE shot for the moon and bestowed the Axon Pro with an octa-core Snapdragon 810 processor. The 2GHz engine and 4 GB of RAM ensure that this phone is blazing fast. It feels incredibly light on its feet and never once got bogged down or laggy. Performance is top notch.
Camera
The Axon Pro has a camera button, but you can't use it to launch the camera. This is silly. There's a shortcut on the lock screen, and a normal icon on the home screen, but the camera button literally only functions as a shutter release. That's dumb, ZTE, really dumb. Thankfully the camera app starts very quickly.
Camera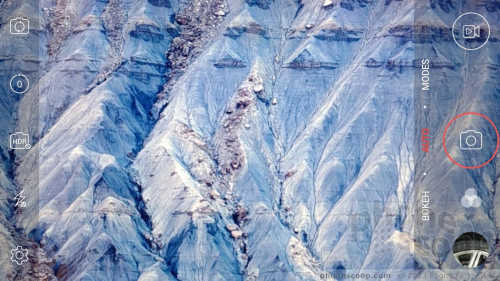 Camera
The camera app is overly busy. There are buttons, icons, and text all over the place. It includes a handful of toggles for some features (HDR, flash, selfie cam) and separate buttons for the camera and video camera. The full settings menu is almost unreadable because it is too transparent on the screen. This becomes problematic when you're shooting outdoors.
The Axon Pro has a handful of shooting modes: manual, interval, multi-exposure, slow motion, panorama, sport, and bokeh. Most of these are self-explanatory, but let's talk about multi-exposure and bokeh for a second.
Multi-exposure does pretty much what the name implies: you take two pictures and mish-mash them together in a handful of different ways to create a single image. For example, you can take two images and simply pair them together in a collage (side-by-side one another). Or, you can take one picture, move the camera and take another picture, and have the two layered on top of one another. The layers vary in their degree of transparency depending on which of the multi-exposure modes you select (there are six multi-exposure shooting modes).
Multi-exposure produces some of the most unique images I've seen from a smartphone, but it's complicated and you really have to practice in trial-and-error fashion to get the hang of it.
MultiExposure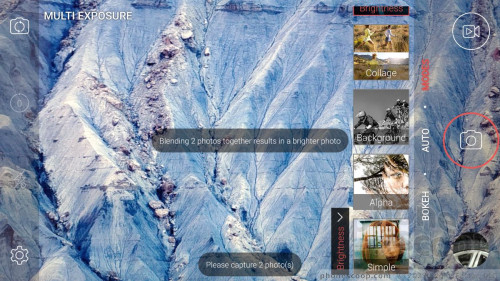 MultiExposure
The bokeh effect has been available in select smartphones for years and lets people play with the focal point before and after the image is taken. Like HTC did with the One M8 in 2014, ZTE gave the Axon Pro a secondary camera to help capture depth-of-field information. That means the bokeh effect produces more genuine, 3D-like images rather than simply dialing things into and out of focus as found on single-lens phones. Bokeh mode is not the easiest tool to use on the Axon Pro, however, because it asks users to adjust the aperture by number, (f/1.8, f/2.0, etc.) which is a technical element about photography that most people probably don't understand. In other words, there's a distinct learning curve for most people.
The camera is feature rich, of that there is no doubt. Thankfully, you can easily launch it and fire away in Auto mode and never touch the advanced functions. People who like to exercise their creative muscles can have some fun with the Axon Pro's camera as long as they don't mind spending some time climbing the learning curve.
Photos/Video
The Axon Pro has a 13-megapixel main camera and an 8-megapixel selfie camera. The main camera produces mostly good images, with occasional great ones. I saw a handful of problems from time to time, the most prevalent being poor white balance and incorrect exposure; focus was almost always sharp. The Axon Pro tended to underexpose some shots to the point of losing detail (look at car examples). Evenly-lit subjects didn't present any trouble, but as soon as you start shooting in a high-contrast environment (like outdoors with lots of sun/shade) the Axon Pro began to struggle. The Moto G — which costs half as much — does a better job.
As for the results of images shot using the various effects, your mileage will vary tremendously.
I was generally quite pleased with the Axon Pro's selfie camera. You can see excellent focus, exposure, and white balance in the examples below (but please ignore the stupid look on my face). Taking selfies outdoors with plenty of sunshine isn't much of a challenge for the Axon Pro, but it performed well in darker environments, too.
Selfie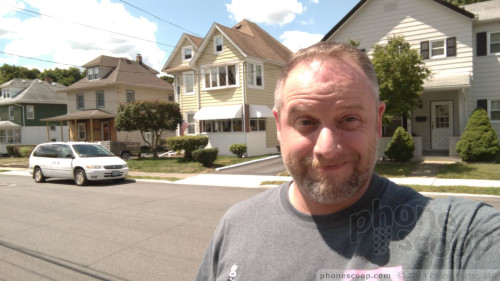 Selfie
The Axon Pro can shoot video up to 2K resolution, but you'll be best served to stick with good old 1080p HD. As with the still camera, the Axon Pro's video camera delivered good focus, but I saw some inconsistencies with white balance and exposure.
If you have something important to take pictures or capture video of, use dedicated equipment.
ZTE Stuff
ZTE apps are kept to the bare minimum on the Axon Pro. The Dolby Audio app is one you might want to futz with if you like to exert more control over the sound of your music. I'd ignore ZTE's Mi-Moment app in favor of OneNote or EverNote (which are better at cross-platform/device syncing). The Argus app performs well enough as a basic fitness tracker, but you may be better off with Google Fit or an app that accompanies a fitness band/device.