Review: ZTE Axon Pro
Hardware Software Wrap-Up Comments 6
ZTE hopes consumers would rather spend $449 on the Axon Pro than $649 (or higher) for handsets like the One M9, G4, or Galaxy S6. In this case, the price point accurately reflects the value you're getting. The Axon Pro is a good high-end smartphone, but it only offers about three-quarters of the performance you can get from today's better-known flagship phones.
Certainly some people will find the Axon Pro's design appealing, but I think it could be cleaner and better assembled. The screen is excellent, battery life is quite good (and beats some of today's most expensive phones,) call quality was decent enough, and the phone performed well on AT&T's network. The Android operating system is quick and fluid and the customization options are excellent. I respect what ZTE attempted to do with the camera, but the UI is a bit over-wrought and the performance isn't quite where I want it to be.
Would I recommend the ZTE Axon Pro? That's a tough call. Selling unlocked handsets directly to consumers means you have to compete on price. At $449, there are myriad other smartphones that deliver as-good an experience for less, such as the Alcatel OneTouch Idol 3 and Moto X.
AD article continues below...
The ZTE Axon Pro is a fine phone, but it's not the best phone for the money.
Axon Pro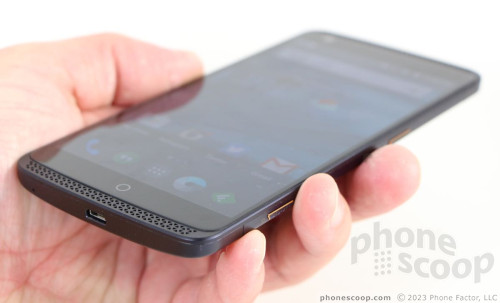 Axon Pro