Review: LG Tribute 2 for Boost Mobile
Hardware Software Wrap-Up Comments
Editor's Note: Because the Tribute 2 runs software identical to the Volt 2 and G Stylo — both sold by Boost Mobile — some portions of the text below has been carried over from those earlier reviews. However, Phone Scoop fully evaluated all features of the Tribute 2.
Lock Screen
The lock screen is a vital entry point into our smartphones. Some are better equipped to deliver short, useful bursts of information than others. LG's lock screen treatment is solid.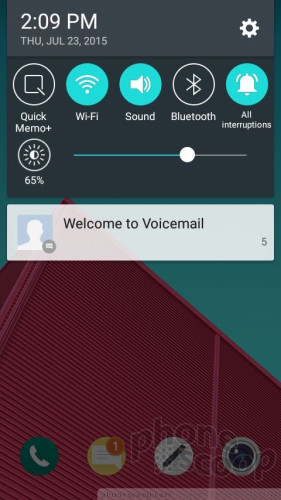 Advertisements article continues below...
Whether you just want to check the time, or see who sent that recent message, LG lets you wake the phone by tapping the display twice (called KnockON). This will show the clock, incoming notifications, and provide access to four apps of your choosing. The clock is hard to see. It's small and near the top of the screen. Notifications, which appear in shaded windows under the clock, all but obscure it. Some of the shortcuts (which run along the bottom of the screen) include their own alerts, such as the number of unread emails or messages. Notifications can be dismissed from the lock screen if you want. Tapping them opens the associated app. If you do absolutely nothing, the Tribute 2's display will turn off after about 30 seconds. That's plenty of time to check the time and your notifications.
Alternately, you can wake the phone with a special pattern of taps called Knock Code. Doing so bypasses the lock screen and takes you to the home screen. You'd use Knock Code instead of a PIN or password to safeguard your handset.
Home Screens
The Tribute 2 runs Android 5.1 Lollipop with LG's light-weight skin on top. The home screen, app drawer, and settings tools all behave just the same as on the Stylo, Volt 2, and other handsets released by LG this year. Perhaps the most notable aspect of LG's UI skin is the flexibility it grants users in customizing the app drawer, which supports large and small icons, and multiple ways to arrange them. The best part? LG lets you easily delete unwanted apps.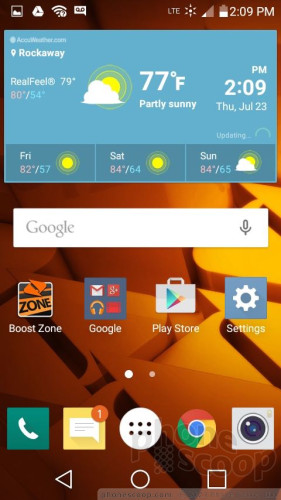 Things unique to LG include its QuickMemo tool. It is available from the notification shade. This tool takes a screenshot and lets you mark it up with text or shapes, and share it.
Neither LG's EasyHome home screen option nor LG's QSlide apps are included.
As far as performance is concerned, the phone has a 1.2 GHz quad-core Snapdragon 410 processor. That's a step up from the Snapdragon 400 in last year's phone. Together with 1 GB of RAM, it generally did a good job. I saw some sluggishness at times, but it wasn't too bad.
Camera
The camera app is identical to the Volt 2's camera app, which means it has fewer features than seen on other LG/Boost handsets, like the G Stylo.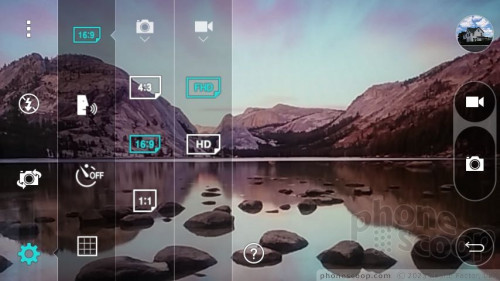 The Tribute 2 doesn't have a physical camera button., but you can launch it from the lock screen or with a double press to the volume-down button on the back of the handset. It opens relatively fast.
The T2 has a single shooting mode: auto. That's rather limiting. Four quick action buttons appear on the left: settings, flash, user-facing camera, and menu. These buttons cannot be customized. There are separate buttons for the camera and video camera, so you can easily snap stills while filming video.
The T2 doesn't have many advanced modes or features, such as panorama or HDR, which is disappointing. Most phones have these features. It also lacks the burst shooting mode found on the Volt 2 and G Stylo. You can choose 1080p or 720p HD video capture. The selfie camera does include LG's "Say Cheese" voice-activated shutter.
Despite the lack of features, I found the T2's camera software to be relatively quick to focus and snap photos. It stores them in a blink and brings you immediately back to the shooting screen.
Photos/Video
The Tribute 2 has a 5-megapixel main camera and a VGA selfie camera. I was somewhat pleased with the quality of pictures captured by the main camera. The Tribute 2 managed to set exposure and white balance accurately most of the time. If it had trouble with anything, it was focus. Indoor shots, in particular, were incredibly soft. They were also disastrous in terms of grain. Images captured outdoors showed sharper focus and some grain, but the noise was much less noticeable.
The selfie camera doesn't impress. I can't say I was expecting much from a VGA shooter, but the amount of grain was still disappointing. Focus was often soft, but at least exposure and white balance were on point. Backlighting caused a lot of glow across the photo.
The Tribute 2 can capture either 1080p or 720p HD video. The footage I captured in 1080p mode looked just OK. The video camera software was better able to manage focus when compared to the still camera, which is expected.
Both the camera and the video camera are passable for everyday shooting, but just barely. I'd use dedicated photography or videography gear for vacations or important occasions.
Boost Stuff
The Tribute 2 has just 8 GB of internal storage, and only 3.6 GB of that is available to users. In other words, a memory card is more or less essential if you plan to shoot a lot of pictures or listen to a lot of music.
Most carriers like to cram their handsets full of bloatware. Boost added plenty of its own apps and services to the Tribute 2, including 1Weather, AirG, Boost 411, Boost Music, Boost Wallet, Boost Zone, Gadget Guardian, Messaging+, NBA Game TIme, NextRadio, Scout, and Uber. Of these, perhaps Boost Zone is the most useful, as it allows people to manage their accounts. The Messaging+ app is a more robust way to manage SMS convos. You can uninstall most of the apps listed here, but not all of them. Even if you do, you won't recover that much storage space.