LG Debuts Four Mid-Tier Devices
Article Comments 2
Feb 22, 2015, 9:41 PM by Eric M. Zeman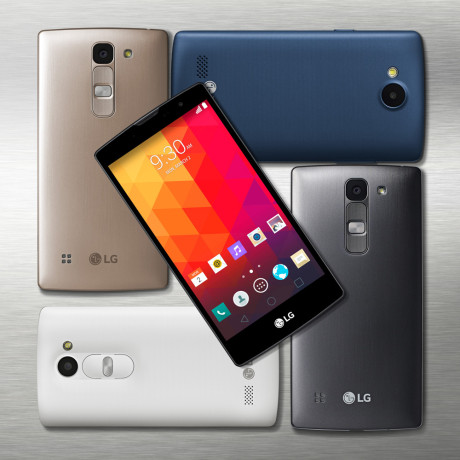 LG today announced four new smartphones that target the middle of the market. The devices will run Android 5.0 Lollipop with LG's user experience, and are named the Magna, Spirit, Leon, and Joy. Shared features include 1.2GHz quad-core processors with 1GB of RAM, and 8GB of storage. The Magna and Spirit have LG's rear-positioned button array and a slight curve to them, which LG says helps the devices fit better in the hand. The Leon and Joy are normal slab-style handsets. The devices will be sold in a mix of 3G (HSPA+) and 4G (LTE) configurations. The LTE handsets will have metallic rear covers while the 3G ones will have plastic rear covers.
Magna: The largest of the four handsets has a 5-inch HD display, 8-megapixel main camera, 5-megapixel user-facing camera, and 2,540mAh battery
Spirit: The Spirit has a 4.7-inch HD display, 8-megapixel main camera, 1-megapixel user-facing camera, and 2,100mAh battery.
Leon: The Leon has a 4.5-inch FWVGA display with an 8- or 5-megapixel main camera, a VGA user-facing camera, and a 1,900mAh battery.
Joy: The smallest of the quartet has a 4-inch WVGA display, 5-megapixel main camera, VGA user-facing camera, and a 1,900mAh battery. Some variants may ship with an 4GB of storage, 512MB of RAM, and Android 4.4 rather than Android 5.0.
LG said all four handsets will begin shipping globally to select markets this week. The company did not specify if any of the smartphones will be sold by U.S. network operators.
Why even bother?
They waste so much time and money into phones that no one really wants. It's simple really - make a bang-for-buck device like the Moto G, then have a flagship phone like the G3, and there you go. Costs are down, and you don't have a bunch of useless mid to low tier phones that just won't sell to warrant the cost.

It's the same realization Samsung had - they simply pumped out too much crap, and hoped that it stuck; rather it simply displayed to them that only the GS5 and Note devices were actually selling in significant ways - and the others were just fillers and basically a waste of time.
Especially a 4GB device. 8GB is almost impossible to have anything as it is.