Boost Mobile Scores LG Volt 2 and Tribute 2
Article Comments
Jun 29, 2015, 11:22 AM by Eric M. Zeman
updated Jun 29, 2015, 11:24 AM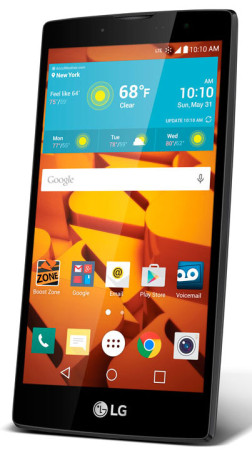 Boost Mobile today announced the LG Volt 2 and LG Tribute 2, updates to two of last year's big sellers for the prepaid carrier. Both devices share several hardware features, such as LG's signature rear-placed buttons, 1.2 GHz quad-core processors, LTE, Bluetooth, and WiFi. They also boast similar software, such as Android 5.1 Lollipop with LG's Knock Code, QuickMemo, and selfie camera tools.
Volt 2: The second-generation Volt (pictured) improves the screen from a 4.7-inch qHD display to a 5-inch 720p display. The main camera has an 8-megapixel sensor and the front camera has been improved from 1.3 megapixels to 5 megapixels. It has a 2,540mAh battery.
Tribute 2: The less expensive of these two handsets keeps the screen at 4.5 inches, but improves resolution from 800 x 480 pixels to 854 x 480 pixels. The 5-megapixel main camera, VGA front camera, 1 GB of RAM, and 8 GB of ROM are carried over from last year's phone. It has a 1,900mAh battery.
The LG Volt 2 and Tribute 2 are available from Boost's web site beginning today. The Volt 2 cost $149.99 and the Tribute 2 cost $99.99.
Boost (Volt 2) »
(Tribute 2) »
No messages