Review: Kyocera Hydro Life for T-Mobile / MetroPCS
Article Comments 1
Dec 8, 2014, 4:00 PM by Eric M. Zeman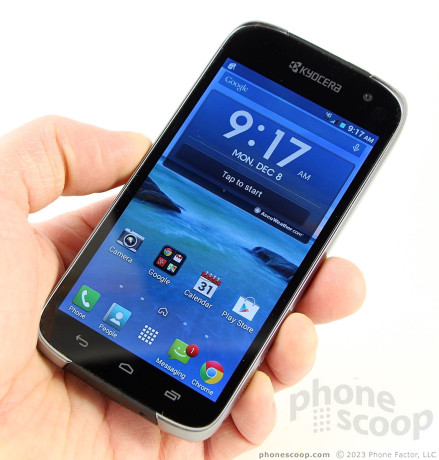 The Hydro Life is an affordable waterproof handset from Kyocera that offers all the power of Android in a compact package that goes where you go. Here is Phone Scoop's full report.
Advertisements article continues below...
Form
Is It Your Type?
The Kyocera Hydro Life is custom-built for people who want an inexpensive smartphone that's also waterproof and somewhat rugged. If you're an active person and want a device that can accompany you on your outdoor adventures, the Hydro Life is a good place to start.
Body
The Hydro Life is a compact and low-cost handset with features sure to appeal to the outdoor set. This water-friendly phone can go where you go. Despite its semi-rugged build, the Hydro Life is still svelte enough to take out for a night on the town thanks to its modern design.
Thanks to black glass, chrome accents, and matte plastics, the Hydro Life is surprisingly attractive for a tough phone. Rugged devices often go overboard with chock-o-block dimensions and blunt designs. The Life eschews those in favor of a more modest, toned-down look. Think of it as Jean-Claude Van Damme in a suit rather than Arnold Schwarzenegger in fatigues. Kyocera did a good job with the Hydro Life and gave it some interesting lines to give it a small amount of visual pop.
I wouldn't call the materials premium, but they are strong. The phone doesn't feel cheap in the slightest. I like the semi-textured back surface, which I found helped me keep a tighter grip on the phone. The seams all fight tightly and the Life is assembled well.
It's becoming more and more difficult to find small smartphones. Many of today's devices have screens measuring between five and six inches, which pushes their dimensions into pocket-stretching territory. Thanks to its smaller screen (4.5 inches), the Hydro Life is close in size to something like the iPhone 5 in terms of height and width. This makes it really easy to hold and use. My thumb had no trouble reaching the entire display. The phone should fit into most every pocket without trouble, though its 11mm thickness makes it somewhat chubbier than other handsets.
The black glass on the front is more prone than others to collect fingerprints, but I like the feel of it under my thumb. The Life uses three capacitive control buttons below the screen. They work perfectly. The screen is surrounded by a thick chrome band that forms most of the side edges. This band creates a lip around the glass that sticks up a bit. This protects the glass when it is placed on a flat surface. I didn't find the rim objectionable, as they sometimes can be.
The volume toggle is placed on the left side of the phone and it's not that great. The profile is barely enough to help your thumb find it, and travel and feedback are disappointing. There are no buttons along the right edge. The screen lock button is on top, alongside the headphone jack. It's easy to find and use, and the travel and feedback are about perfect. The USB port is tucked into the bottom edge. The Life doesn't have a physical camera button.
Kyocera gave the Hydro Life a removable rear cover. It takes some effort to pry off and snap back on, thanks in part to the gasket that helps protect the innards from water. The battery is removable. The SIM card tray and memory card slot are stacked upon each other. You need to pull the battery to access both.
As noted, the Life is waterproof and semi-rugged. I dropped it into the tub for a while and held it under running water. It's not meant for deep-sea diving, but if you're out running on a trail and drop it into a creek or puddle, you're going to be all right. The phone can handle drops from about a meter onto most surfaces. I tested it on my driveway and it survived unscathed. I wouldn't use it as a hockey puck, though, or purposely toss it down your street.
In sum, it's a solid little phone that offers a nice combination of good looks, practical usability, and protection from mild abuse.
Performance
Screen
The pocket-friendly Kyocera Hydro Life has a screen measuring 4.5 inches across the diagonal. It has 940 x 540 pixels, which is referred to as qHD resolution. This size and resolution combination work well. Icons and graphics look sharp, but small text had noticeably rougher edges. Colors look good and the screen is bright enough for outdoor use. For example, I had no issue at all snapping pix or checking maps when outside. Viewing angles are quite good, with no color shift and no brightness drop. For a device of this class, the Life's screen is more than adequate.
Signal
One major bummer about the Hydro Life is that it doesn't support LTE 4G. It is limited to T-Mobile's HSPA+ service for data. It still shows a "4G" symbol in the status bar, but it's not LTE. Even so, data speeds on HSPA+ were generally fast enough for most purposes. Uploading photos, for example, didn't feel slow or sluggish, nor did updating social networks, or streaming music over the network. The phone connected calls on the first dial and never dropped or missed any while I used it. Performance was even across the board, whether signal conditions were strong or poor. I'd call the Hydro Life somewhat above average when compared to other devices I've tested in T-Mobile's network in the metro NYC area.
Sound
Like many Kyocera handsets, the Life uses the company's Smart Sonic Receiver technology. This is made obvious by the Life's lack of a traditional earpiece speaker above the screen. The technology eliminates the need for an earpiece and instead uses vibrations to transmit sounds directly to the eardrum. Placing the phone in contact with the general area of the ear — even when wearing a helmet — is supposed to create clear sound even in very noisy environments.
As with other Smart Sonic Receiver devices from Kyocera, I experienced the worst results in quiet places. I didn't think the volume was anywhere near good enough while sitting in my silent office with the Life cranked all the way up. I could hear much better if I put on a helmet. Further, I had no problem at all hearing calls when in a noisy mall. The quality of calls — both on the sending and receiving sides — was decent but a little thin sounding.
The Life uses a traditional speaker for speakerphone calls. It works best when the device is placed flat on a hard surface, such as a desk or table. The quality was average for a phone on T-Mobile's network, and volume was pretty good. Ringtones and alerts were able to get my attention from several rooms away, and the vibrate alert is quite strong.
Battery
The Hydro Life has a 2,000 mAh battery and it's good for a full day's use. The smaller, mid-resolution screen, entry-level processor, and lack of LTE all help keep battery life in check. The Life includes Kyocera's MaxiMZR and Eco Mode tools to help you further improve battery life; they do help.
MaxiMZR analyzes the data usage and can limit the background data consumption of certain apps (such as email or Facebook) to help conserve power. The tool takes at least a few days to learn how you use your apps. Eco Mode helps refine the Life's power consumption by shutting down predetermined services once the battery reaches a user-defined percentage. For example, Eco Mode could be used to turn off automatic email fetch once the battery drops below 20%.
I'm completely confident that most people will be able to use the Hydro Life for a full day between charges.
Basics
Menus
Android 4.3 is the operating system aboard the Life. Kyocera has only tweaked the appearance in a minimal way, adding some of its own services here and there while retaining the basic functionality shared by most Android handsets.
The lock screen offers four shortcuts. A button appears in the center of the screen. Simply drag it to the phone, camera, messaging, and home screen icons that encircle the button and away you go. The notification shade is accessible from the lock screen as long as you don't use a lock. The camera is always accessible from the lock screen.
The notification shade doesn't include toggles for the radios, but you can get to them via the Quick Settings tool. The Life's notification shade isn't overly busy, though like other recent T-Mobile handsets it includes a strip that shows your voice, messaging, and data consumption.
The Life has five home screen panels out of the box. You can adjust the home screens however you see fit. The main app menu is a grid of apps that can be viewed as an alphabetical grid or a custom grid, but not as a list. You can put apps into folders in both the app menu and the home screen. There's also a "re-do" button that undoes all your app menu customizations.
The settings tools are stock Android in terms of layout, but are dressed up with icons and colors unique to Kyocera. The Life lacks Kyocera's Starter Mode, but has an app called MagniFont that will increase the text size within select apps (think browser, email) to ridiculous sizes.
The Life has a quad-core 1.2 GHz Qualcomm Snapdragon processor under the hood and I'm afraid it doesn't provide quite enough power for the phone. I've tested dozens of other devices with this chip from Qualcomm, but none were as sluggish as the Hydro Life. You can clearly see the phone pause between actions and stutter from time to time when using it.
Calls and Contacts
The phone dialer includes tabs across the top offering access to the number pad, call log, and contacts. The dialer itself is nice and big, and the in-call tools are dead simple to use. For example, the speakerphone has a distinct on/off switch that makes it especially easy to use.
The contact app includes its own tabbed setup, which offers access to groups, favorites, and all your contacts. Individual contact cards hold lots of data and sync seamlessly with pretty much any account you care to use. Neither of these apps has any surprising new features.
Messaging
The Kyocera Hydro Life offers only the stock Android messaging apps. That means Gmail, email, SMS, Hangouts, and Google+. Once you sign into your Google account, you'd do well to use the latest version of Gmail, which handles Outlook/Hotmail, Yahoo, and other email services all in a single app. It's really nice.
You can use either the traditional Android messaging app for SMS or Google's Hangouts app. After months of using Hangouts on various phones, I've decided it's not mature enough to handle SMS and IM duties together. You're probably best served using the boring-but-functional messaging app for SMS. Of course, there's always WhatsApp and dozens of other alternatives in the Play Store.
Neither Facebook nor Twitter is pre-installed, so you'll have to download them from the Play Store yourself.
Extras
Media
By now, Android users should be accustomed to the Google Play Store and its separate apps for listening to music, watching movies, reading books/magazines, and so on. These apps have all been updated with Material Design and given new features recently, so they're worth checking out. The Life also includes a basic MP3 player for side-loaded content.
T-Mobile TV is the only non-Google media app aboard the Hydro Life. It offers a limited selection of streamed TV shows and other video content. I've found it doesn't perform all that well without LTE.
Camera
The Life uses the same camera software we saw on the Hydro Vibe earlier this year. The app launches quickly from the lock screen.
All the controls for the camera are lumped in the right edge of the screen. The camera includes separate buttons for capturing photos and capturing video. Two buttons may take up more space than one, but it makes it easier to capture snapshots when recording video. There's a strip next to the shutter buttons that contains some basic tools for switching mode and scenes, as well as altering white balance and controlling the flash. The modes include normal, color effect, burst, panorama, smile shutter, and HDR. Scenes include auto, portrait, landscape, night portrait, night landscape, and action. These modes and scenes are all fairly typical for modern smartphones and function as expected.
In order to adjust more behaviors, you need to select the full settings menu. This expands another control strip across the bottom of the screen and provides access to resolution/quality controls, as well as autofocus and metering behavior, the timer, blink detection, storage location, review period, and so on. The one thing I don't like is that all these items are represented by a little icon with no text. You have to press them in a trial-by-error fashion to figure out what all the little buttons do. This is frustrating the first few times around.
I found the camera app to be just a hair slow when it comes to focusing and taking images. In other words, I wouldn't be surprised if you missed shots here and there.
Pictures
The Life has a 5-megapixel camera and it's pretty darned crummy. Focus was often soft, the camera had problems with exposure, and grain always seemed to be present. The only thing the Life did consistently well was capture accurate white balance — as long as the flash is off. The flash, which is feeble at best, turns everything yellow. The Life's camera may suffice to prove to your friends that you encountered a moose on the trail, but I'd use a real camera for important stuff.
Video
The Life can capture 720p HD video. The results were, on average, less awful than those produced by the camera. I mean, you'll be able to shoot video of a bear in the woods, but you'd have to be way too close to the bear to see any detail. It's passable for casual needs, but again, use dedicated video equipment if you value the results.
Gallery
The Life offers both the legacy Android gallery app and the newer Photos gallery. At this point, the older app is being retired in favor of the Photos app. Use whichever you prefer, as they both offer a decent amount of control over pictures. You can use either to edit and share images, as well as organize them. Photos has more tools, though, and makes it a snap to automatically store things online.
Apps
There are a handful of T-Mobile-branded apps on board, as well as useless extras. You'll find Amazon, Lookout, MyT-Mobile, T-Mobile Name ID, T-Mobile TV, and T-Mobile Visual Voicemail. Most of these cannot be deleted, but there's still a fair amount of storage left on the Life for your own apps and content.
Bluetooth
The Life's Bluetooth radio didn't give me any trouble as far as connecting to other devices was concerned. It paired with phones, PCs, headsets, and my car without issue. I was not impressed with the quality of calls send through my car's hands-free system, but volume was decent. Music sounded good via Bluetooth (although it lacks aptX support for truly top-quality music.) I was able to push files between devices with no hiccups.
Browser
The Life comes with Google's Chrome browser, which does a fine job of rendering web sites. Speeds on T-Mobile's HSPA+ network don't match those of LTE, but I still thought the Life did OK when it came to surfing the web. It's certainly a capable browsing handset.
Clock
The Life's clock is a digital display that shows up when the phone is woken from sleep. I like that the white, digital numbers are big and bold. This makes it easy to read at arm's length.
GPS
Google Maps is the only navigation software on board, but it works well. The GPS radio located me quickly and accuracy was usually within about 40 feet. The slower processor and data speeds impacted how swiftly Maps was able to update the landscape as I drove or panned around; it was a tad slow.
Wrap-Up
Kyocera did a reasonably good job with the Hydro Life. The hardware is quite solid — and not just because the phone is waterproof and semi-rugged. I like the overall appearance, and the phone is well put together.
As far as the basics are concerned, the screen is decent, signal performance solid, voice quality acceptable, and battery life excellent. Kyocera covered its bases with the essential suite of Google-made communications apps, which all function well (especially since Google has updated most in recent weeks).
The phone stumbles a bit when it comes to extras, though, with the camera rating poorly. The Life may offer plenty of ways to buy and consume content, but the slower performance of the processor impacts the experience a bit.
When you consider who this phone is for — and, more to the point, what it costs — then these shortcomings aren't as severe. Right now, MetroPCS is selling the Hydro Life for $29 (after rebate). It's hard to argue with any phone that costs so little. In other words, if you need a basic smartphone that performs well when it comes to the essentials, there's no better bargain than the Kyocera Hydro Life.
Been using this phone a couple months now
I bought this phone a few months ago, I'm using the MetroPCS version. At $50 and the specs it has I thought it was a bargain, and I'm not disappointed. It is the best phone they offer around that price, and at $30 now I highly reccomend picking it up.

Qualcomm Snapdragon 200 processor (I'm surprised its called the 200, the msm8212 snapdragon 200 has 4 Cortex A7 cores at 1.2GHZ and it's the Adreno 305 graphics. Its really a snapdragon 400 like in a majority of midrange phones) CPU-Z and other sites can confirm

1.5GB Ram
8GB internal storage, but only 5 available for user.
The 5MP camera takes alright pics, good lighting they turn out better
2MP front camera, about same quality as rear

The screen looks nice, colors are bright and l...
(continues)