T-Mobile and MetroPCS Score Waterproof Kyocera Hydro Life
Article Comments 4
Aug 4, 2014, 9:47 AM by Eric M. Zeman
updated Aug 4, 2014, 10:24 AM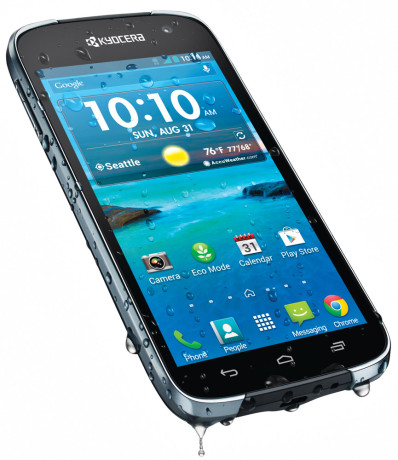 T-Mobile and MetroPCS today announced the Kyocera Hydro Life, a new semi-rugged and waterproof Android smartphone. Like many of Kyocera's handsets, the Hydro Life is for customers who need a robust phone that can survive the trials and tribulations of an active lifestyle. It is certified to mil-spec 810G for protection against drops and shock, and IP57 for protection against dust and water damage (submersion in up to 3 feet of water for up to 30 minutes). The phone has an impact-resistant 4.5-inch qHD display that Kyocera says has a non-slip finish. The Hydro Life is powered by a 1.2GHz quad-core Snapdragon processor with 1.5GB of RAM and 8GB of internal storage. The phone includes a 5-megapixel main camera and a 2-megapixel selfie camera. The Hydro Life packs Kyocera's Smart Sonic receiver for improved phone call audio, as well as Kyocera's EcoMode and MaxiMZR tools for managing the 2,000mAh battery. The phone supports Wi-Fi and T-Mobile's Wi-Fi calling service, as well as Bluetooth 4.0, and T-Mobile's HSPA+ network. The Kyocera Hydro Life runs Android 4.3. It will be available to T-Mobile customers at Walmart stores beginning August 8 for $125. It will reach MetroPCS stores on August 29.
Eric do you know if this takes Big, Micro, or Nano Sim?
I would think since its entry to mid level maybe Big sim / who knows?
This might not be a flashy in the pants phone but
With 1.5 gb ram and 8 gb internal storage and at least 2 mega pixel selfie camera its an ok mid range decent water proof phone. With T-mobile mentioning that they are implementing the 700 A block spectrum and will release capable devices either late Q3 or early Q4 I might just snag this for this low price. I was going to get a S4 or S5 off 3rd party Craigslist or FB groups yeah people look at your local city for FB sales groups that is the new thing. However, I live in Houston which will be among the 1st cities to have the new 700 A block spectrum in place. My current phone is over 2 years old and this new phone could hold me over until the 700 A block phones are released.
You beat me to it! That was going to be my EXACT post too. Calling the camera a "selfie camera" I agree is really stupid, just like the term "Phablet", and several other terms used to describe smartphones.

Just like the term hashtag is ridiculou...
(continues)