Review: Kyocera Hydro Life for T-Mobile / MetroPCS
Form Performance Basics Extras Wrap-Up Comments 1
Dec 8, 2014, 4:00 PM by Eric M. Zeman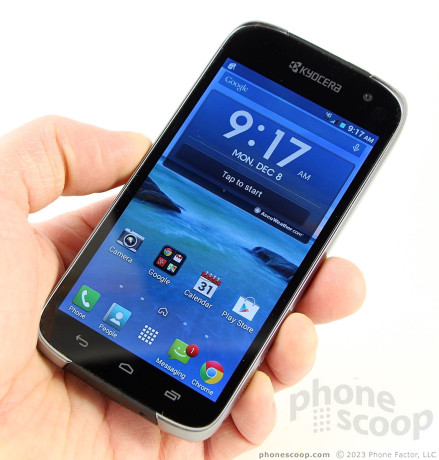 The Hydro Life is an affordable waterproof handset from Kyocera that offers all the power of Android in a compact package that goes where you go. Here is Phone Scoop's full report.
Is It Your Type?
The Kyocera Hydro Life is custom-built for people who want an inexpensive smartphone that's also waterproof and somewhat rugged. If you're an active person and want a device that can accompany you on your outdoor adventures, the Hydro Life is a good place to start.
Body
The Hydro Life is a compact and low-cost handset with features sure to appeal to the outdoor set. This water-friendly phone can go where you go. Despite its semi-rugged build, the Hydro Life is still svelte enough to take out for a night on the town thanks to its modern design.
Thanks to black glass, chrome accents, and matte plastics, the Hydro Life is surprisingly attractive for a tough phone. Rugged devices often go overboard with chock-o-block dimensions and blunt designs. The Life eschews those in favor of a more modest, toned-down look. Think of it as Jean-Claude Van Damme in a suit rather than Arnold Schwarzenegger in fatigues. Kyocera did a good job with the Hydro Life and gave it some interesting lines to give it a small amount of visual pop.
I wouldn't call the materials premium, but they are strong. The phone doesn't feel cheap in the slightest. I like the semi-textured back surface, which I found helped me keep a tighter grip on the phone. The seams all fight tightly and the Life is assembled well.
It's becoming more and more difficult to find small smartphones. Many of today's devices have screens measuring between five and six inches, which pushes their dimensions into pocket-stretching territory. Thanks to its smaller screen (4.5 inches), the Hydro Life is close in size to something like the iPhone 5 in terms of height and width. This makes it really easy to hold and use. My thumb had no trouble reaching the entire display. The phone should fit into most every pocket without trouble, though its 11mm thickness makes it somewhat chubbier than other handsets.
The black glass on the front is more prone than others to collect fingerprints, but I like the feel of it under my thumb. The Life uses three capacitive control buttons below the screen. They work perfectly. The screen is surrounded by a thick chrome band that forms most of the side edges. This band creates a lip around the glass that sticks up a bit. This protects the glass when it is placed on a flat surface. I didn't find the rim objectionable, as they sometimes can be.
The volume toggle is placed on the left side of the phone and it's not that great. The profile is barely enough to help your thumb find it, and travel and feedback are disappointing. There are no buttons along the right edge. The screen lock button is on top, alongside the headphone jack. It's easy to find and use, and the travel and feedback are about perfect. The USB port is tucked into the bottom edge. The Life doesn't have a physical camera button.
Kyocera gave the Hydro Life a removable rear cover. It takes some effort to pry off and snap back on, thanks in part to the gasket that helps protect the innards from water. The battery is removable. The SIM card tray and memory card slot are stacked upon each other. You need to pull the battery to access both.
As noted, the Life is waterproof and semi-rugged. I dropped it into the tub for a while and held it under running water. It's not meant for deep-sea diving, but if you're out running on a trail and drop it into a creek or puddle, you're going to be all right. The phone can handle drops from about a meter onto most surfaces. I tested it on my driveway and it survived unscathed. I wouldn't use it as a hockey puck, though, or purposely toss it down your street.
In sum, it's a solid little phone that offers a nice combination of good looks, practical usability, and protection from mild abuse.
Been using this phone a couple months now
I bought this phone a few months ago, I'm using the MetroPCS version. At $50 and the specs it has I thought it was a bargain, and I'm not disappointed. It is the best phone they offer around that price, and at $30 now I highly reccomend picking it up.

Qualcomm Snapdragon 200 processor (I'm surprised its called the 200, the msm8212 snapdragon 200 has 4 Cortex A7 cores at 1.2GHZ and it's the Adreno 305 graphics. Its really a snapdragon 400 like in a majority of midrange phones) CPU-Z and other sites can confirm

1.5GB Ram
8GB internal storage, but only 5 available for user.
The 5MP camera takes alright pics, good lighting they turn out better
2MP front camera, about same quality as rear

The screen looks nice, colors are bright and l...
(continues)