Review: Helio Fin
Article Comments 9
Sep 5, 2007, 11:47 PM by Eric Lin
Helio's first flip phone washes up on shore. Is there a shark in the water or did someone's surfboard crack on the rocks? With Video Tour.
AD article continues below...
Form
Is It Your Type?
Walking into the Helio store in Palo Alto, it came to our attention that although we've taken lots of pictures and video of recent Helio handsets, it's been over a year since we've reviewed one in-depth.
The Fin is Helio's first attempt at America's favorite form factor - the flip. It is based on Samsung's Ultra series platform like AT&T's A717 or Sprint's M610, but could a little Helio magic make the Fin stand out the way so many of their other phones do?
Body
When you first look at the Fin, it looks like a blue A717. It has the same basic shape - the same familiar shape as almost all Samsung clamshells and sliders, only smooshed so it's thinner and larger. Though it cuts an impressively thin figure, make no mistake, the Fin is a large phone. It about the same size as Motorola's new RAZR 2.
The Fin has a few styling changes from the A717 other than the color. There is a small lip on the flip that makes a nice perch for the tip of your index finger when you're holding the Fin while it's open, and something to rub your finger along when the Fin is closed. Helio always seems to incorporate something into every phone to occupy your hands.
Opening and closing these new large, thin flip phones is not nearly as fun as sliders or more compact clamshells, so this little ledge provides something to keep one of your hands busy. There top half of the flip has a nice beveled edge, and there's another bevel on the keypad where it meets the top half, which makes opening the Fin a bit easier. However, flipping up that huge lid is not exactly effortless.
When you pop the Fin open, you do so with confidence. There's a satisfying thunk after you get the flip about 2/3 of the way open and then it snaps into place. Popping it shut is just as confidence inspiring, and all that surface area makes a big thwack sound as the halves meet.
The Fin feels solid open or closed. It has a high quality fit and finish with no apparent weak spots or squeaks. It also has a quite a heft to it for its size, which emphasizes the feel of quality.
The front, like the other Ultra flips, has a small OLED screen at the top of the phone. On the Fin this screen seems to be covered with a mirror-like coating that makes it look cooler, but also makes it unusable outdoors. Centered above it is a 3 Megapixel camera - an upgrade from the 2 MP shooter on its brethren.
Helio has moved the memory card slot to underneath the battery. Though this means the card is not easily swapped or removed, it did allow Helio to give the Fin a thinner profile.
Although the Fin's edges are beveled, they are not rounded. This combined with the Fin's rather large outline makes it sit rather awkwardly in the hand when it is closed. You can feel all the hard edges against your palm. However it is not uncomfortable when it is open, since it is so thin you wind up holding it on your fingertips.
Keyboard
As on other Ultra series handsets, the Fin has a totally flat keypad. The numbers are not separated from each other with anything but space - there is not even a line to divide one key from another let alone anything tactile. There is a small plastic ridge that separates the D-pad from the rest of the keys, but it is imperceptible. There's really no way to know you're on a key, or what key you're on other than guess based on position of your finger. This works surprisingly well with the numbers, but not so much with the navigation keys.
It's also very difficult to tell that you've hit a key. There's no satisfying click or pop to the keypresses. Combine guessing whether you've pressed a key with guessing what key you're on and you have a texting disaster on your hands. Navigation, however, wasn't quite as bad.
Three S's
Screen
The internal QVGA screen is crisp and bright, and finally one of the first Helio screens that is easy to read outdoors, even in bright sunshine. The external OLED screen, which should normally be bright and easy to read in all light conditions is impossible to read outdoors. There appears to be some reflective coating over this screen that is not used on other Ultra series phones that decreases outdoor legibility. Indoors, the external display looks very bright.
Signal
Even when in modest coverage, the Fin holds on to a signal well and continues to show 5 bars. In weak coverage areas, the Fin displays anywhere from 0 to 2 bars but still manages to make clear calls. It passes the vault test this way showing no bars but still making clear calls even in the farthest corner.
Getting online is significantly less reliable. In good coverage, it is not a problem and the phone connects over EV-DO easily. In spotty coverage areas sometimes the Fin will connect over EV-DO, but it will spend a long time deciding between 1xRTT and EV-DO. Other times it will just settle on 1xRTT and or it may not even grab a data connection at all.
Sound
The Fin is loud enough that you can hear it ring in all but the noisiest environments. It wasn't a problem to hear it on noisy train platforms, but we missed a few calls out at some noisy bars. The mediocre vibrate function on it was partially to blame. Unless the Fin is in a tight pocket, you don't feel it much.
On calls, it's easy to hear conversations, even with the volume only turned halfway up. Calls are not only plenty loud, but also sound clear.
Battery
Like most CDMA phones, the Fin can live on standby forever, but if you plan to use the Fin at all, you'll need to recharge it every day. If you barely use the Fin you might get two full days of use out of a charge, but we averaged about 1.5 with just moderate use. This is not the type of phone you can forget to charge.
Basics
Menus
The Fin uses Helio's custom interface. The home screen can be customized to display a variety of clocks, and calendars like most phones. However it can also run Helio On Top (HOT) - an application that displays news feeds and other RSS-based tidbits without having to fire up any applications. It's always there whenever you open the Fin.
The two soft keys offer access to the main menu and the contact list, while each direction on the D-pad adds a shortcut to a different application.
The main menu is a circle of icons. You can navigate around either using the traditional up down left right system you would use on any grid based menu, or by continuously pressing in any single direction on the D-pad. As you cycle around the main menu icons, each soft key takes you to the two most commonly used selections for that application, while pressing select takes you to each application's main menu.
The look and feel of each application is different, which can be somewhat confusing. The Messaging application and Browser are distinctly different from any of the others, while many of the other applications look somewhat similar. Many have different fonts in different sizes and different color schemes.
The applications that look alike have remained largely unchanged since Helio's first phones, while the Browser and Messaging apps were totally revised for the Ocean - Helio's flagship released this spring - accounting for the disconnect.
Despite the different looks of each application, navigating within them works relatively consistently except in the Browser, which is totally different from any other application - on a Helio phone or any other phone.
Though the new unified inbox works surprisingly fast, the same cannot be said for many of the other more power hungry applications. Buddy Beacon is about the slowest we've seen it on any Helio phone and many other applications feel groggy.
Calls / Contacts
All calling shortcuts work as you would expect them to. When in a call, the right soft key is mute and the left key opens the options menu. Curiously the first choice is to make the mic louder, the second turns on speaker phone. No one ever asked us to speak up, so we're not sure why turning the mic up is the first option.
Although Helio's online contact manager can hold much more data, the Fin only can use 5 phone numbers, 1 email address and birthday per contact.
Sorting through contacts is difficult, and difficult to explain. You cannot search from the home screen like you can on the Ocean. Instead you hit the Contacts softkey and are taken to a search box. There you have to triple tap your contact's name and the matching ones are weeded out. But there's a problem - the system searches for a match anywhere in the name, including in the middle of a word, and then sorts those results alphabetically. It does not give any preference to matches that fall at the beginning of a name. For example if you're searching for Lewis Miner and start typing "Le" names likes Karen Ableton and Danielle Steele will both show up first because they have an "le" in their names. This becomes more annoying the more contacts you have.
Messaging
The Fin is the second phone to use Helio's new unified inbox. This is a one stop shop for text, MMS, email and IM. It is set up as a list with a separate entry for every type of protocol. Each item in the list is two lines, one to tell you which it is, and another to tell you how many new and read messages are waiting for you. The text on this list is in a smaller font than nearly anywhere else on the phone so that you can see most of the list without scrolling.
To centralize things a bit, you can choose to be alerted to incoming messages in a unified alert window, which shows a summary of the messages and allows you to read or delete them. In addition to text and MMS, the inbox supports email and IM from AOL, Yahoo! and Windows Live. You can stay logged in to any of these services even when the phone is in standby or you are using another application, so you can always receive new IMs and emails. The Fin also can check your Gmail or Earthlink email account, but this must be done manually, new messages are not automatically received on the phone.
Staying logged in to IM on the Fin drains the battery quickly if your friends message you with any regularity. The same does not seem to be true for the push email from these same providers. The push email is fast and reliable. For example, Yahoo! mail works faster and more consistently than it does on the iPhone.
Just like reading messages, sending messages is done from within that particular service's entry. However there are entries in the main menu for new text / MMS or email messages.
Extras
Music
Fire up the music player from the keypad and it scans your phone and memory card for any songs it can play and then shows you a main menu sorted by artist, album, songs and more.
From there you can play through songs in a chosen list, or you can check off as many songs as you want and create a playlist of your own. Songs are listed and played in alphabetical order. Other than choosing "random" the only other ways to sort songs is by date or file size, not by track number. As far as we can tell, there is no way to play songs in track order.
Once playing, the Fin cannot do anything else, even returning to the track list stops playback. There are "sound effects" which are not exactly equalizer settings, but bass boost and settings that change stereo separation. Another feature the player has that's typically found on portable stereos is an A/B repeat, which lets you loop a section of a song and play it over and over.
Camera
The 3 Megapixel camera is definitely one of the centerpieces of the Fin. There is a dedicated camera key next to the D-pad. Pressing it quickly will open the camera menu, while holding it for just over a second launches the viewfinder. This takes about 4 seconds total as it takes 3 seconds every time you launch the viewfinder, even if you've just snapped a picture.
The Fin uses the Samsung camera application, the same as we've described in our Blast review and elsewhere. Like the others, there are shortcuts to most functions using the numeric keypad. And like other phones that use this viewfinder, only a few of these shortcuts are marked on the interface. You have to guess at the rest.
The Fin's slow speed is most noticeable throughout camera use. It's not just launching the viewfinder that takes a while. Press the select key to snap a picture and it's not taken until a full second later, even though the camera isn't using that time to focus or do anything else that we can tell.
If you have the camera set to auto-save pictures, you'll then have to wait another 3 to 4 seconds to return to the viewfinder. Or you'll be shown the review screen after about a second. From the review screen you can use or send the photo, or you can upload it using Helio Up.
Helio up lets you maintain a web gallery on Helio's server, but it can also be set to automatically send all your pictures on to Flickr and your video to YouTube.
Gallery
There are two separate galleries, one for pictures stored on the phone and a second for pictures on the memory card. We're not sure why these are separated since they are both exactly the same. The main view shows 9 thumbnails, and only keeps those 9 thumbnails in memory. So every time you scroll to another page of pictures, even if you've already been to it before, you have to wait for the thumbnails to appear. This gets very tedious if you take lots of pictures, which you will want to, because the camera on the Fin is great.
Once you've selected a picture, you can copy or move it, send it by email or MMS, or send it to Helio Up. You can also go to the editor which lets you apply all sorts of effects to the picture. In addition to the effects available in the viewfinder like greyscale, sepia, and negative you can also apply a few effects, similar to some basic Photoshop effects. Surprisingly, preview and applying these effects is very fast.
Pictures / Video
The Fin's 3 megapixel camera pays off in many respects. First, it scores 20/30 in the vision test - one of the most impressive to date. It also takes very clear pictures as long as the subject in question is more than about a foot. (It's not good for macros). The auto white balance does a good job, but under some indoor lighting conditions, we got better results selecting the appropriate setting manually. Also, although the exposure is usually pretty good, we had to turn it down or up in extreme conditions like ultra sunny days or outdoors at night.
Like the still pictures, videos are clear and generally well balanced. Motion is smooth and sounds are clear if they are from nearby. The Fin takes advantage of the huge sensor and allows you to digitally zoom in on video without degrading the image.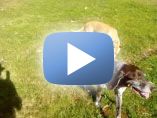 3GPP2 / MPEG-4 format (viewable with QuickTime)
File size: 737 KB
Browse / Customize
Browsing
The Fin uses the same browser as the Helio Ocean. It is capable of browsing desktop websites as well as mobile sites. Navigating around a web page is easy. Though it is similar enough to the Browser on past Helios that current members won't have a hard time, using this browser is very confusing.
Pressing the menu soft key on the left opens a menu at the top of the screen. The first column is automatically opened and you may scroll up and down it thinking "where is that simple function I was looking for? (Like bookmarks.)" But there are icons to the right subtly indicating you can scroll over for even more menus. The menus are more like a desktop application than something on a phone, but that's only true in the browser.
Helio makes it easy to browse to any site you want using the Go soft key on the right. It also makes entering a URL and visiting recent sites convenient with shortcuts on the Go screen. When you visit a desktop-formatted site, it is reformatted to for phone in a single column through Google. On the Fin, Helio fixed the Ocean's annoying habit of sending mobile-formatted sites through Google's reformatter as well.
Despite our complaints of slowness elsewhere on the phone, the browser is actually quite snappy.
Customize
Helio makes it easy to customize your home screen in about 100 ways - you can download new wallpapers or use your own pictures, add calendars, clocks and the like. You can also fill the home screen with Helio On Top (HOT) and its news feeds. There is a wide variety when you launch the application, but you cannot add your own RSS favorites right from the handset. Instead you have to log in to a hard to find web page and add them from there, or select from feeds other members have already added (like Phone Scoop).
You cannot use your own songs as ringtones, but can buy new ones from Helio or use one of the many on the phone, which span a wider variety of tastes than most locked handsets these days. You can select different sound effects for just about anything on the phone as well.
File Management
Adding, deleting or moving files is accomplished from the application used to access those files. There is no one-stop-shop for managing the memory and files on the phone.
Other
Clock
If you hold either of the volume keys for about a second, the external display will show the time, in addition to the battery and signal indicators that are always on.
As we said earlier, the external display is easy to read indoors. It's great if you're checking the time at your local watering hole wondering where the heck your mates are. It is pretty much useless if you're checking the time outdoors to see whether you have to break into a run to make the next train. If you flip the Fin open, the internal screen is easy to read no matter how bright it is outside, so you can check the time there.
Bluetooth
Pairing the Fin with a headset or headphones is quite easy. Once the Fin is paired, it does a good job of connecting/reconnecting with the headset whenever it's in range.
Like other Helio handsets, The Fin can only send and receive contacts and pictures over Bluetooth. To send or receive you must first go to the send and receive menu in the Bluetooth settings. Sadly, entering receive mode does not automatically make your handset discoverable, so you'll have to switch that on separately.
Other
In addition to the usual extras, Helio offers all-in members two GPS applications for free. Buddy Beacon lets you show your friends where you are and also lets you send out a message asking where all your friends are at. Unfortunately these messages aren't linked to your phone book at all so you get messages saying 310 555 1234 wants to know where you are, not Karl K wants to know where you are. Cross referencing this is tedious.
There's a Google Maps application which has gone unchanged since we showed it in our Drift preview. Helio has now added a true turn-by-turn GPS application to its library of downloads, which costs $3 for a day's use.
Video
You can see a few of the Fin's features we've discussed here in this video review:
or you can visit YouTube for more viewing and sharing options.
Wrap Up
Because it has so many of the Ocean's features in such a small phone, the Fin should make a good choice for those who are nerdy enough to want email and a real web browser but fashion conscious enough to want a slim stylish phone. Unfortunately the emphasis of style over utility will leave many Helio members with the Ocean still bulging in their pockets.
I wanted to switch to Helio but...
I wanted to switch to Helio this week but I can't. Helio wants a $350.00 deposit from me to give me an account. That is just crazy, I don't have immaculate credit but I certainly don't have horrible credit. No other provider has ever required a deposit from me at all, let alone $350.00 and I have had most of the major providers here in the US. So with this deposit, the termination fee from my current provider, the cost of the new phone and the last bill from my current provider I would be looking at close to $1000.00's just to switch to them.

You would think they would be doing whatever they can to get more customers. The employee's at local stores have also commented on losing many new customers because of this confusing high deposit.

...
(continues)
I came across this site
http://www.hellohelio.net/ »
which is buying out your current providers termination fee in order to switch to helio. It may not fix the deposit situation, but it at least lessens the cost $200 or so. I have an ocean and I lov...
(continues)
i can't believe it's been so long since we did an honest full review of a helio phone.
correction
i want to note that i updated the "customize" section. it was brought to my attention after i published the review that i COULD change HOT to include my own RSS feeds. i have changed this section to reflect how this is done.
The SPH-m610 was the Ultra Range flip Sprint carried. The SPH-m620 is the Upstage.
NICE REVIEW
Maybe helio should use the slogan "raising the bar" they seem to be the ones who are setting the agenda on whats cool in a phone.