Helio Fin is Thinnest Flip Yet
Article Comments 21
Aug 15, 2007, 8:00 AM by (staff)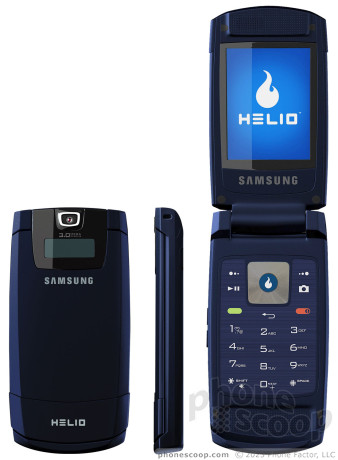 Helio today is launching the Fin, Helio's first flip phone. It is based on Samsung's Ultra series clamshell, like Sprint's M610 and AT&T's A717, but even thinner at 11.4 mm and with an upgraded 3 megapixel camera. The Fin shares the rest of the Ultra's features including stereo Bluetooth, microSD slot, large QVGA display, OLED caller ID display, and 100 MB of internal storage. The Fin shares the Ocean's new unified messaging app. Helio is also launching two new services for both the Fin and Ocean: turn-by-turn GPS-enabled driving directions by Garmin, and an update to the HOT (Helio On Top) home screen feature that can integrate any RSS feeds the user wants.
Helio???
To bad no one has this service!!! Helio is a phone company and a that is a phone. There! Ha!
umm, a lot of people already have this service. its the best mnvo out there and it's picking up so much speed. Helio is a cell phone company that uses sprints network. if it doesnt have sprint signal, it switches over to verizon towers because sprint ...
(continues)
Warning For Texters
I had the gsm version of this model and wanted to let people know about the touch sensitive keypad. The touch sensitive keys samsung is using make texting very cumbersome and slow. There's no click or feel to touching the key like other flat keypads, in my experience this led to many errors in typing. In my experience, the trade off of thin for frustration wasn't worth it. The display and everything else are pretty nice but for speed texters I'd try before buying.
true, but with all the info already given out, it doesnt seem like the fin has touch sensitive keys anywhere.
Helio is really impressing me...
Sure, they don't have a LOT of phones in their line up, but the ones they do have are packed with features, and for the most part exclusive. I was too scared to make the jump when my Sprint contract ended in early 2007, but in early 2009, if Helio is still around, I'll give them a whirl. I just get freaked when I see what happened to ESPN Mobile and Amp'd.
I agree,. . . I understand what your saying, but you know what, I think that if an MVNO can survive for more than 2yrs, than I wouldn't worry about it.

But with reguards to this Fin phone, I'm kinda surprised that there is a 3mp cameraphone w/o aut...
(continues)
Dern It..
Why does Helio get all the cool phones? 😕 There phones are so innovative and have the whole package going! Seriously.. there loaded with good cameras, GPS, tons of memory, etc!! I would take any of them! Too bad they use Sprint and verizons towers... and not AT&T or T-mobiles.. or I'd unlock one of those suckers in a heartbeat. 😁

I expect to see this company sticking around a while too. They aren't huge in North america yet.. but they are in Asia and I believe Europe as well. I expect to see more and more great devices with all the features you will really need in a phone for a great price coming from this company
foxyroxy said:
...They aren't huge in North america yet.. but they are in Asia and I believe Europe as well. ...
Actually, Helio is a US-only company. They are backed in part by Korean carrier SK Telecom, but that's j...
(continues)