Hands On with the ZMax for T-Mobile
Article Comments 8
Sep 16, 2014, 7:27 PM by Rich Brome @rbrome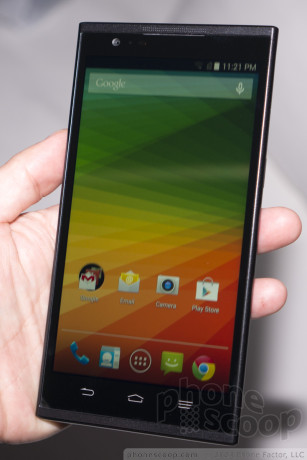 At an event in NYC tonight, ZTE announced the ZMax, an affordable, large-screen phone for T-Mobile USA. The phone comes at a time when ZTE is trying to escape its low-tier reputation in the U.S. The company will be putting its own brand on all phones instead of white-labeling many. Is this phone the one to help ZTE make a name for itself? Read on for our impressions.
Advertisements article continues below...
The ZMax is a big phone, as you'd expect from any phone with a 5.7-inch screen, which matches Samsung's new Galaxy Note 4. Smartly, ZTE has adopted the technique of LG, HTC, and Motorola in curving the back a bit to help it fit in your hand a bit better. Frankly, that's almost a requirement at this size. It's almost odd that Samsung and Apple haven't gone this route with their newer large phones, as it really helps.
The ZMax feels solid. Of course sealing the battery inside always helps with that. The materials feel high-quality and fit together well. It does have a slightly premium design that approaches the feel of the LG G3. However, nearly every surface is a fingerprint magnet, even the semi-matte back. Super-glossy plastic caps at the top and bottom are the worst offenders. But it's only noticeable in certain lighting.
The side keys are small, but feel good and work well. There's a pop-out tray on the side for the memory card, and another on the other side for the SIM card.
The camera interface has a decent feature set and a big, easy-to-use interface. ZTE did good job here. In some extremely quick-and-dirty tests, the camera seemed like it might be a bit above average for this price point.
The screen is 720p, which is about what you'd expect from this price point at this size. It's sharp enough for most people at this price range, and for most daily tasks. It's clear and bright, but viewing angles aren't great, so it's not ideal for showing off that crazy video you took to five friends at once.
The standard Android controls are below the display and have quite dim backlighting. In a dark room, it's enough to see them, but I worry that they could be hard to see in some settings.
In sum, the ZMax is a perfectly decent phablet, especially for the price. It runs standard Android and has no remarkable hardware or software features. Just a remarkable price: $252.
$252
This seems like a good value.

Would you consider this mid range or low end?
It's difficult to slot a phone like this into one of three bins (low / mid / flagship.)

But I would consider the Moto G a good benchmark for low-end (or "entry level", as the industry prefers) and this is certainly aiming one step above that in ter...
(continues)