Holiday Gift Guide 2013
Intro Basic Flagship No Contract Comments 13
Nov 26, 2013, 1:00 PM by Eric M. Zeman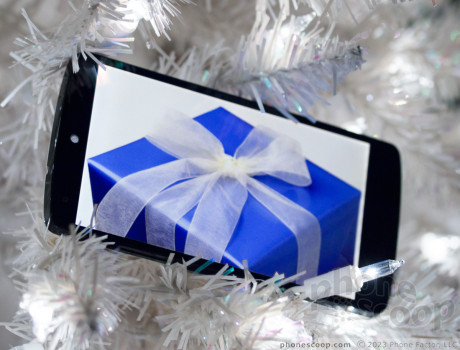 Phone Scoop's 2013 Holiday Gift Guide is the only tool the discerning shopper needs to pick out the perfect phone. Whether the intended recipients have been naughty or nice, everyone needs a phone. Here are options for every carrier, every device style, and every budget.
Advertisements article continues below...
The last few weeks of 2013 are upon us and once again it's amazing to see how much the mobile phone industry has evolved over the past year. Smartphones now account for the bulk of new devices sold in the U.S. and beyond. Competition among the top players has been fierce, with companies going toe-to-toe and feature-for-feature upping the ante all year long. With such a diverse and exciting array of compelling devices available, selecting the right one for the special people in your life can be a challenge.
The 2013 holiday shopping season officially gets under way this week with Black Friday and other deals sure to entice those eager to find a bargain. Whether you're shopping online, at carrier stores, or at big box electronics retailers, Phone Scoop's Holiday Gift Guide should help you navigate the crowded field of this year's phone crop.
There are excellent devices being offered this year by every carrier in the country, including the four big national operators, as well as smaller, regional players. Phone Scoop firmly believes that the carrier should play a significant role in determining your selection of devices. People generally have their carrier preferences already in place based on the coverage, plans, and pricing that works for them. To that end, we've organized our Gift Guide based on carriers and their current roster of hardware.
If there was one trend evident throughout 2013, it is that (practically) no one is interested in flip phones and other entry-level devices that might be devoid of data access. There are still some out there, but finding them is becoming more and more difficult. Smartphones continue to span every price point, from $0 to nearly $1,000. With sales and subsidies dropping the price of the best devices to one or two Franklins, choosing is harder than ever. No matter what, however, there is a good device to fit your budget and gifting needs.
This year, we changed up how we organized gifts. There so few devices that target just voice, or just messaging, or just media playback, that suggesting gifts based on specific features no longer really makes sense. These days, most phones offer a range of features that include good cameras, solid video powers, app support, and amazing communications tools. We looked more at price, functionality, quality, and overall position in the market, instead. We then lumped them into three main groups: devices that fall into the entry- and mid-market, those that are fully featured flagship devices, and those that are free of restrictive contracts. As long as you know which carrier works best for the person you're buying for, we can help sort out what price range and general device type fits the bill.
Once the holidays are over (or even before!), please be sure to erase your old phone and recycle it. Don't stuff it into some dark hole in your house — take it to a wireless retailer or other electronics store and trade in that old-and-busted gear. Who knows, you might even get a few bucks for it.
Why Not Nexus 5?
For AT&T and T-Mobile, MetroPCS and even Sprint users, having the Nexus 5 is not only a great device in the mid-high end, but also can hold its own against flagship without the price being too high. Additionally, for people like me, who are mid-contract or using no-contract services it also fits a great price, for a great phone, or back up, or replacement.

I dont see this offered in your gift guide. And it should be!
You're right. It should be!
Just one slight suggestion
For each category, it'd be nice to have a few different phones where possible, and I'd say that's to accommodate the different OS's. For instance, the Lumia 1520 might not be the best phablet for someone who wants the Note 3 or LG Optimus G Pro (or G2, which I feel is phablet-ish in size).

Maybe that's just splitting too many hairs. I just think it's funny that all the phones under the 'flagship mid-sized' section are available on all the different carriers, or some variant thereof.
Camrea? (flagship>camera, 4th line, 3rd word
What is this new feature? I must have it ! 🤣
Moto G or X
Is what I'm gonna give away as X-mAss presents: nice specs, budget price. 😁



...and they're not listed anywhere in the article either. 🤨
Those 2 are too a great option, considering price.

I think Mr. Zeman forgot to add the Moto's and the Nexus 5. They definitely belong there.
The Moto X is recommended in a couple of categories.

The Moto G is an interesting phone, although a few things took it out of the running:

1. It wasn't on sale when we were writing this, and the Verizon model now isn't expected until Janu...
(continues)