Kyocera Adds New Clamshell To Low Cost Lineup
Article Comments 1
Aug 8, 2005, 1:24 PM by (staff)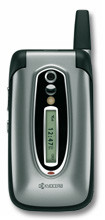 Kyocera today announced the Candid KX16 clamshell style phone. The KX16 features an internal color display, vertical monochrome caller ID display and a VGA camera with flash. It also has a dedicated side button for the camera, large keypad, speakerphone and voice activated dialing. The Candid KX16 should be out on BREW-capable networks this fall.
i was wondering how long it would take to get some info on that phone.
saw it on the us cellular rebate form but was wondering where it was.