Review: Samsung Galaxy Admire 2 for Cricket
Article Comments
Oct 31, 2013, 8:01 AM by Eric M. Zeman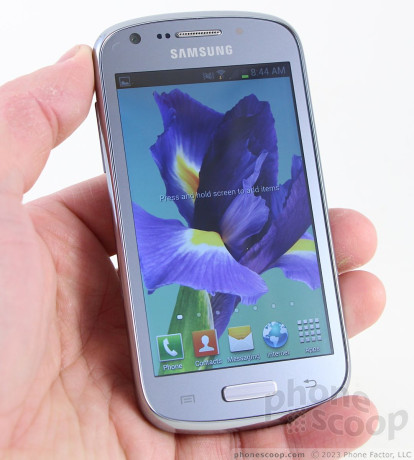 Samsung's mid-ranger for Cricket Wireless is a capable Android smartphone that offers good looks on a budget.
Advertisements article continues below...
Form
Is It Your Type?
Most of Cricket's lineup classifies as entry-level or mid-range. The Samsung Galaxy Admire 2 falls closer to the mid-range in that spectrum. It's a fairly simple Android smartphone that isn't expensive, but still looks good and functions well.
Body
The Admire 2 is a compact smartphone that's obviously a member of Samsung's family of Galaxy-branded devices. It fits right in with Samsung's conservative design language and closely resembles many of the phones Samsung has brought to market over the last year or so.
The Admire 2 may pull is shape and overall design from the Galaxy ilk, but Samsung chose some different shades in which to dress it. The display is surrounded by an attractive gray/blue panel that is framed with a chrome-colored rim. The chrome coloring wraps around the side edges and defines the Admire 2 's front face. The device has an oval shape that's smooth and clean. The back has a brushed metal look that looks more silver than gray, especially when it catches a ray of light. Samsung used just the right touches here and there to give the Admire 2 an elegant and refined look, while still keeping it somewhat simple and usable.
As is often the case with Samsung phones, all of the materials are smooth and glossy. It's a slippery device. The Admire 2 has rounded edges to help it fit better in the hand, but it is fairly thick at 12 mm. Thanks to the smaller screen, the width and height are kept in check, and the weight is just fine. It is comfortable to hold and use, and I had no trouble slipping it into any pockets.
The 4-inch screen is surrounded by a fairly thick bezel. It's not the worst I've ever seen, but there are certainly phones out there that offer a better screen-to-bezel ratio. The lone physical button on the front is a home key, which is placed just below the screen. This is customary for Samsung's smartphones. It's silver-colored, has an oval shape to it, and is very easy to find with your thumb. The action is quite good. There are capacitive buttons on either side of the home button. In typical Samsung fashion, the menu button is on the left and and the back button is on the right. They didn't give me any trouble. The earpiece is covered by a chrome-colored grille, which I find looks classy.
The volume toggle is on the left side. It has an excellent profile and very good travel and feedback. The slot for memory cards is also on the left. It's covered by a small hatch. That hatch worked fine and was easy to remove/replace. The screen lock/power button is placed high along the right edge of the phone. It also has a good profile and travel and feedback were perfect. The stereo headphone jack is on the top and the micro-USB port is on the bottom.
The battery cover forms the entire rear surface and a portion of the left and right side edges. It's easy to remove. Both the battery and SIM card can be removed.
Samsung did a fine job designing and assembling the Admire 2. It's no Galaxy S 4, but it's not meant to be. Despite its low point of entry, the Admire 2 is classy enough that no one should feel embarrassed to use it.
Performance
Screen
The Admire 2 has a 4-inch screen with 800 x 480 pixels. It would fit right in with the big boys if this were 2011. Samsung typically uses OLED panels in its devices, but the Admire 2 uses an LCD screen instead. Though it has a limited number of pixels, it still manages to look fairly good. Individual pixels can only be spotted if you hold the phone close and look for them on purpose. Most elements looks clean and sharp. It's very bright when cranked all the way up, which I found to be necessary in order to see it outdoors. Colors look more natural on this screen than on Samsung's OLED screens.
Signal
The Admire 2 performed fairly well on Cricket's network. The company has fairly good coverage in New Jersey. I was able to latch onto Cricket's network most places I took the Admire 2 in the metro New York City area, but I was unable to test it on LTE 4G, which the Admire 2 supports. I was always able to connect calls on Cricket's network no matter what the signal meter read, but CDMA data slowed to a crawl in weak coverage areas. Data speeds picked up when CDMA coverage was stronger. The Admire 2 managed to drop a few calls during my review period.
Sound
Call quality was quite impressive. Voices coming through the earpiece were incredibly clear, and the earpiece produces an incredible amount of volume. I had no trouble conducting phone calls even with noisy construction outside my office. The Admire 2 is good at making sure you can hear your callers. The speakerphone loses just a bit of the good quality, but is also impressively loud. The speakerphone worked well for me as an office assistant, and could also be heard above the noise in a moving car. People who I spoke to through the Admire 2 said I sounded loud and clear. Ringers and alert tones are plenty loud, and the vibrate alert got my attention most of the time.
Battery
The Admire 2 packs a 2,100mAh battery. That's a large power source for a phone this size, and is likely meant to help boost battery life when used on 4G LTE. When used on Cricket's 3G CDMA network, the Admire 2 lasted well more than a day on a single charge. I was able to surf the web, check social networks, send email, listen to music, watch YouTube, and shoot pictures with no problem. It often had 30% or more power remaining by the time I called it a day. Most people will want to charge the Admire 2 each night.
Basics
Menus
The Admire 2 runs Android 4.1 Jelly Bean with Samsung's TouchWiz user interface sitting on top. It has some, but not all, of the extensive features found on Samsung's tier-one smartphones, such as the Galaxy S 4.
The lock screen can be configured with a handful of app shortcuts that function both with and without a security code. You can also choose to have two different clock faces and live weather on the lock screen, as well as an information ticker if you're into that sort of thing. There are seven home screen panels activated by default, but those can be deleted or added to at whim.
The main app menu is fairly flexible. The default view is of a four by five grid of apps all arranged alphabetically. Apps can be rearranged in any order you wish, as well as viewed in list form, or dropped into folders. The notification shade includes toggles for the different radios on the device, such as Wi-Fi, Bluetooth, and GPS. Unlike more advanced phones, these toggles can't be customized and there are only 10. The notification shade also provides access to the brightness setting, full settings menu, and of course all your alerts. I appreciate that there's enough room in the notification shade to actually see the notifications.
The settings menu is more or less the stock version carried over from Android 4.1. All of the settings are listed on a single page that you scroll up and down, though they've been treated with the TouchWiz theme.
The Admire 2 does not include Samsung's "Easy Mode."
I didn't encounter any performance problems with the Admire 2. It has a 1.2GHz dual-core Snapdragon S4 Pro processor under the hood, and it provides all the oomph needed by the Admire 2. All the screen transitions were fluid, the apps opened quickly, and it ran some graphics-rich games just fine.
Calls and Contact
The phone app is a reskinned version of the stock Android dialer. It's got a software dialpad, with tabs that run across the top for accessing the call history and contact groupings.
As with most TouchWiz phones, the Admire 2 has an extensive set of controls for the phone app. Calls can be rejected with messages, the volume can be amped up when the phone senses it's in a pocket, and users can set custom alerts for incoming calls. There's also a noise reduction feature that eliminates background noise so you are easier to hear. I found this function worked well.
The contact app works just as well as on any other Android phone. Favorites and groups can be accessed via the phone app; there are plenty of widgets available, and of course you can set direct access shortcuts on the home screen panels if you wish.
Messages
As expected, the Admire 2 offers the stock Gmail, email, SMS/MMS, Hangouts, and Google+ apps. Together with their associated widgets, they make an impressive arsenal for reaching out to and connecting with your friends, family, and colleagues.
On the social networking front, neither Twitter nor Facebook is pre-loaded, but Samsung's ChatOn instant messaging app is included. ChatOn, which works on Android, BlackBerry, iOS, and Windows Phone devices, is a chatting app that works well and doesn't use monthly text messages.
Extras
Media
The Admire 2 offers tons of media consumption apps. All of the standard Google Play apps are on board for purchasing, renting, and consuming content such as music, videos, and magazines/books. The device also has separate music and video player apps that are best used with side-loaded content. The stock YouTube app is of course installed.
The Admire 2 comes with Samsung's Media Hub. The Media Hub is an alternative place through which to purchase and/or rent movies, television shows, and music. It works fine, but requires a Samsung user account. Sharing is easy thanks to Samsung's AllShare Play app, which handles the act of pairing the Admire 2 with nearby DLNA television sets or other home theater equipment.
The Admire 2 has Cricket's Muve Music service, too. Muve Music is included with most data plans.
Camera
The Admire 2 includes a 5-megapixel shooter. The phone does not have a dedicated camera button, but the camera can be launched via lock screen shortcut. The Admire 2 uses the same camera software that we've seen on Samsung's phones for ages, but it doesn't have the advanced functions as seen on the Galaxy S 4.
There's a control strip down each side of the screen. The settings strip on the left - which is fully customizable - offers access to features such as the flash, exposure controls, scenes, shooting modes, and so on. Those shooting modes include normal, panorama, smile shot, and cartoon. You can also choose from a number of different scenes, such as portrait, landscape, sports, and so on. You can use both a shooting mode and a scene together if you want to. The phone also provides access to the standard set of controls over ISO, exposure, metering, and so on. You can choose to use touch-to-focus if there is something in particular you want to be in focus.
Once you've spent a moment familiarizing yourself with the controls, the camera is a breeze to use. It performs most functions lickety-split, but takes a hair longer to focus than it should.
Photos
Images shot with the Admire 2 fall into the "acceptable" category. They're OK enough for everyday shooting, but not good enough for serious picture-taking. Let's put it this way: I'd say you're taking a chance if you skip taking your separate camera with you on vacation. The pictures I shot were generally in focus, exposed well enough, and showed accurate color, but grain was all over the place. Scenes with both bright/dark spots were always a bit of a mess, and bright colors tended to blow out the sensor. If you want to get that blackmail shot of your roommate at the party Saturday night, fine, but don't expect it to impress anyone.
If you want to branch out a bit and use the panorama or other modes, you'll find that they work well and produce results that are usable, but not great.
Video
The video camera performs a bit better than the regular camera does. The Admire 2 records at a maximum resolution of 720p HD, and the results were often clean and pleasing. Focus, exposure, and white balance were almost always accurate, and the video was free of distortions or odd movement that I've seen in other phones. I did, however, see a bit of grain, especially in low-lit scenes.
Gallery
The Admire 2's gallery application is the stock Android gallery app with the TouchWiz theme laid over top. The basic view includes a collection of all your photo albums, including the local one on the device as well as those from various accounts that may be synced with the device (Facebook, Flickr, Google+, etc.). You can drill down into these albums to see smaller collections of photos.
The Admire 2 has the same photo-editing features that most Android 4.1 smartphones do. Images can be cropped and rotated easily, as well as straightened, corrected for color/exposure problems, and red-eye. The gallery app lets users share images quickly and easily via dozens of avenues. You can also choose to download Samsung's own Photo Editor app, which offers a bit more control over the images you'd like to adjust. Samsung prompts you to download its app, which is free.
Apps
The Admire 2 comes with a typical mix of Google, Samsung, and Cricket apps. You can't delete most of the pre-installed apps, but you can at least hide those you don't use. The Samsung App Hub is available if you want to see which apps Samsung recommends for the Admire 2.
Bluetooth
The Admire 2's Bluetooth radio worked flawlessly. It paired and connected with every device I have sitting on my desk. Phone calls sounded good when routed through a headset, as did music when played back through stereo headphones. Calls sent to my car's hands-free system sounded excellent.
Browser
The Admire 2 ships with the standard Android browser and Google's Chrome browser. Both browsers are highly capable of rendering attractive web sites. Chrome offers a few more features than the stock browser, but as far as how web pages look, they are on even footing. The Admire 2 was not the fastest when it came to loading web sites, especially on Cricket's 3G network. It's a shame Cricket's LTE 4G footprint is so limited.
Clock
There's a white digital clock on the lock screen. It is big enough to be seen at an arm's length, but the style of the lock screen clock cannot be adjusted. You can put a dual-clock (two time zones) on the home screen, but that actually makes it harder to tell the time quickly.
GPS
The Admire 2 has Google Maps and Cricket Navigation. The GPS radio worked really well. It pinpointed me quickly, and accuracy varied between 10 and about 25 feet. I didn't have any trouble routing directions between points with either application. Google Maps is a bit more feature rich for navigation.
Wrap-Up
The Samsung Galaxy Admire 2 is a fine little phone. The hardware is the thinnest or lightest, nor of the highest quality, but the Admire 2 offers a lot for the money. It is well put together and has a classy look with plenty of appeal. I found the screen to be pleasantly surprising, and voice quality over Cricket's network was quite good. Battery life was also impressive.
The Admire 2 has all the same communications tools available to other modern smartphones and plenty of media options, too. Thanks to the capable processor under the hood, the Admire 2 never ran into any performance problems. As far as I am concerned, mobile data speeds are the Admire 2's biggest drawback. It's just not that quick without 4G LTE, which is currently only available in a handful of markets.
That said, the Admire 2 is worth a look if you're not interested in spending a fortune on a good phone.
No messages