Hands-On: MOTO X
Article Comments 19
Aug 1, 2013, 2:00 PM by Eric M. Zeman @zeman_e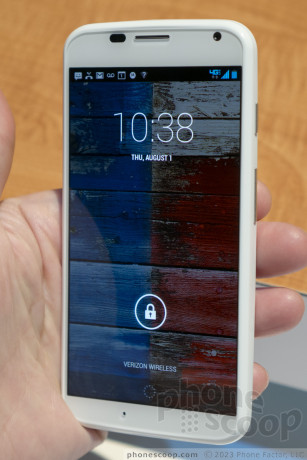 Motorola claims the new MOTO X was made just for you. It is a curious phone that offers useful new software features and some compelling hardware options. Here is Phone Scoop's first look.
source: Motorola
AD article continues below...
Hardware
The MOTO X is the first handset built from the ground up by the combined Google-Motorola entity. Motorola CEO Dennis Woodside said both companies sat down as soon as Google finished acquiring Motorola in May 2012 to begin work on this device. In other words, this is the first real device to come from the new Googlorola complex.Motorola's Rick Osterloh walked us through Google's thinking in crafting this new phone, and it is an interesting tale to tell.
First, the size and shape. Motorola wanted to make a device that is as comfortable as possible to hold. The company measured thousands of hands to come up with what it says is the "average human hand." It then created the basic size of the device, which includes a curved back surface so it fits better in the hand. "People's hands aren't flat, so why should their phone be flat," posted Osterloh. The curved surface will look familiar to anyone who's used the HTC One. It is comfortable, no doubt. The edges are tapered, which cuts down on the width along the outer rim of the phone. It helps that the MOTO X is also fairly thin and light, thanks in part to the materials used to build the phone. Speaking of which, Motorola says the back panel is made from a "composite." It refused to call the material "plastic." It feels like plastic to me, as does the front, which has a nice, beveled look so that there's no sharp corner where the side of the phone meets the display.
Speaking of which, the screen measures 4.7-inches across the diagonal and has a disappointing 1280 x 720 pixel resolution. I was really hoping for a full HD display. The MOTO X uses an AMOLED panel and it certainly looks good. There's nothing wrong with it, as far as my eyes are concerned, though viewing angles weren't as steep as I'd like them to be. Colors were rich and text/images still looked sharp. Some may be put-out that it's not a 1080p screen, though. Motorola said that it decided on the screen size after determining how big the entire device would be. It then stuck the biggest screen it could in the form factor it devised. That's why it has a 4.7-inch screen rather than a 5-inch screen.
The controls are laid out simply. There are no buttons along the left edge of the phone. The screen lock button and volume toggle are both placed on the right edge. There are a bit thin, but they have an excellent profile and are easy to find and use. The screen lock button has great travel and feedback but the volume toggle's action could be a bit more well defined. The stereo headphone jack is on the top and the microUSB port is on the bottom.
The MOTO X has a built-in 2200mAh battery. The X cannot be opened, so the battery is inaccessible. There's also no memory expansion, you're stuck with either 16GB or 32GB. Some people might be disappointed with these features, or, more accurately, the lack of these features, but it's par for the course for a smartphone these days — especially one being marketed by Google.
Overall, I like the feel of the device, though it certainly does have the high-quality appeal of either the HTC One or iPhone 5. Whatever Motorola wants to call the materials, they feel like plastic, and that means they don't have a premium feel to them. They don't feel cheap, not by any stretch, but you can tell they aren't the best polycarbonates ever. The back surface is matte, which I like, and the front is glossy.
Under the skin, you'll find very middle-of-the-road specs in the MOTO X. It is obvious that the X shares the bulk of its components with the recently-announced DROIDs for Verizon Wireless. It has the same 1.7GHz dual-core Qualcomm Snapdragon S4 Pro processor with the X8 architecture for extra GPU and sensor-monitoring oomph. It also has the same 10-megapixel / 2-megapixel camera set-up, with LED flash and 1080p HD video capture.
In all, the hardware is very good, but well short of excellent. However, there's a lot more to the MOTO X than the hardware.
Software
As interesting as the MOTO X's hardware is, the software a bit more interesting. If you've been following the evolution of Google's Android platform over the years, you probably know what's on deck with the MOTO X. There are three big features that it is introducing on the phone that will help to set the device apart from the competition.
Of course, the device runs Android 4.2 Jelly Bean. There's no word on when or if it will be updated to Android 4.3 (or other) version of Android. Most of the user interface looks and behaves just like it does within stok Android. The new features are Touchless Control, Quick Capture, and Active Display.
Touchless Control
This is Google's more formal stab at Apple's Siri. It is an expansion of Google Now and is used to issue voice commands that wake the device and then perform tasks. First, users have to train the software to recognize their voice. There's a tutorial baked into the phone. You repeat the catchphrase "OK Google Now" and the MOTO X learns your voice and will only awaken when you say the phrase.
The phrase can be uttered when the phone is asleep or awake. Google wanted the feature to be voice-activated to it would be easier to initiate in circumstances where using your hands to interact with the phone might not be safe or plausible. Speak the phrase and follow it with a command. The whole thing would sound something like this: "OK Google Now, call Rich Brome." And bingo, that's what the MOTO X will do. Or, "OK Google Now, did the Yankees beat Boston last night?" And bingo, it will tell you, and so on and so forth.
Touchless Control can be used with security. You can always get to voice calls, even when there's a passcode for the device. The MOTO X has to be unlocked first, however, in order to access any other function of Touchless Control.
Quick Capture
This feature was designed to speed up the process of taking pictures. According to Motorola's research, no one uses real cameras any more and most of us capture everyday images with our smartphones. It can be clunky to pull a smartphone out of your pocket, wake the screen, find the right shortcut, and launch the camera. It's easy to miss the shot you want. Thus, Quick Capture was invented.
The idea is simple. Pull the X out of your pocket, twist it a couple of times with you wrist, and boom the camera launched. Google says the X can go from pocket to capturing images in two seconds. Based on my tests, that's about right. The feature does have to be enabled, though. You can turn it on/off directly in the camera app. It's a good idea and executed well. (If you're wondering why Google picked a twisting gesture, Rick Osterloh told us that they tested thousands of gestures and the twisting movement was the easiest to learn and the quickest to enact.)
Active Display
This feature also appears on the Motorola DROIDs for Verizon Wireless.
According to Motorola's research, lots of people wake up their phones 50 to 60 times a day, but only keep the display on for 10 to 15 seconds. Motorola said when the phone is used thus, it's because people are checking the time and to see missed messages and/or notifications. Active Display is meant to pull some of that information out of the notification curtain and get it onto the lock screen where it is more useful.
With Active Display initiated, the X will display the time pretty much any time the X is moved around. In other words, if you flip it over, pull it out of your pocket, or even nudge it, the time will flash on the screen. The clock is accompanied, though, by notifications. So if you receive some emails, some messages, and miss a call, you'll see those notifications below the clock. You can prioritize the notifications. So if you get an email, the email shows up in a bubble. Long press on the bubble, and the X will show a preview of that email (or message, or call log) at the top of the screen. You can then choose to dismiss the notification and see the next one, open the message, or let the screen go dark again.
Motorola says that this can help cut down on battery drain, as some of the vital information we check when we turn our displays on is visible right away without lighting up the entire display.
Moto Maker
MOTO MAKER is the customization tool being introduced by Google that allows people (just AT&T customers) to completely customize their MOTO X. It's super neat. MOTO MAKER is a web site tool that is easy to use and walks you through all the options for customizing the device.
For example, there are two front panels from which people can choose, black or white. There are 14 different shades that can be picked for the back panel. There the back panel of the plain black or white models is a Kevlar-like composite, the custom panels are a resin, or polycarbonate. They all have a matte finish. Motorola will eventually offer wooden back panels, but not until later this year. The wooden back panels are especially appealing. They are contoured and fitted in the MOTO X's frame just like the resin back panels.
After you've selected a front/back panel combination, you can then customize the accents on the device. Basically, you can choose the color of the buttons and the color of the camera module. It adds a bit of flash to the design and helps the other colors stand out.
Last, you can choose to add a signature to the back panel. The signature can be anything you want. Google said that in its research, most people chose to put their own email address on the back in case the device is lost. You can put whatever text you want on the back surface, however.
Perhaps the best part of MOTO MAKER isn't the neat customization options, though: it's the price. It's free. It doesn't cost anything extra to custom-order a MOTO X. All U.S.-bound MOTO X handsets are assembled at a new plant in Ft. Worth, Texas. According to Motorola, the plant is able to build and ship most customized phones in four days or less, based on the availability of components. The 16GB model costs $199 and the 32GB model costs $249.
Sadly, this awesome feature will only be available for AT&T customers. Google hinted that other carriers might be able to offer custom designs in the future, but wouldn't say anything definite.
Last, of course Motorola has teamed up with a number of accessory makers. Interestingly, they've partnered with Sol Republic which has agreed to make JAX-branded headphones that will match all the custom colors available to the MOTO X. In other words, you'll be able to get accessories that match your personalized smartphone, no matter what the colors are.
I'm totally confused
I don't understand this. If I don't care about specs, I own an iPhone. If I care about personalization, I buy a case for it, which allows me to swap out the appearance of my phone far more often than my contract. And because it's a case, my penchant for bizarre colors won't effect my resale value.

(And although many cases are lame, there are some pretty damn cool ones out there for the iPhone.)

Or, to sum it up with more direct competition, the Galaxy lets you peel off the back cover and put on a new one at will.
For once I agree with you.
And what happens with insurance replacements? I'm going to assume it won't be covered by AT&T/asurion. Of if it is, what do they send out as a replacement? Your green and blue with purple phone or the standard black?
No microSD and None Removable Battery = BAD
I refuse to purchase a modern smartphone that doesn't have a microSD card slot.

👿

I've already almost maxed out my current 32Gb microSD card and need to buy a 64Gb one. And with phones lacking a microSD slot, you have to share the memory with applications and system resources.

And Cloud Storage isn't a viable alternative since a fast network connection isn't always available. Plus, since most carriers no longer have unlimited data plans, you would have to PAY to access YOUR OWN content (pictures, videos, music, documents) via the Cloud.

Great for the Carriers. Not so great for the customers.
I wish more people would realize this. It seems many in these forums think with their lower extremities.

Where is it an advantage to a consumer to spend 700-900 dollars on a phone that you can't service or replace the weakest link?

I've been to...
(continues)
Should be $99 with a contract
Especially with last year's 720p screen 🙄
Actually, it should be $99 off contract :p

I was surprised at the specs, which are nearly identical to the N4 (which has been out for almost a year).

If Moto had S4 / HTC One specs on this device, it would have been worth the hype. Now, not so ...
(continues)
Was hoping this might be an Android to get me back into Androids.
Disappointment. Definitely don't feel excited about this. Looks nice, though.
An Android to get you back into Androids. Its called the HTC ONE and Samsung Galaxy S4.
I expected less
as in lower price. For all the comments Dennis Woodside made about this huge price chasm between feature phones and smart phones and how that chasm wasn't going to last, Googorola just delivered a phone par for the (price) course.

I fully expected this phone with all of its mid-range specs and Woodside's comments to be in the $0-99 on contract and $299-$349 outright. Google does a good job of delivering value for money with the Nexus line. Why they aren't following the same path with this phone is beyond me. I fully expect that when iSupply or one of the others does a teardown on the X phone, it will have a BOM price at least 20% less than an iPhone/SGS4/HTC M7. If that's the case, then I guess Google's mantra of not being evil doesn...
(continues)
Epic fail
This phone brings nothing to the table but hype. It is disappointing and patronizing all at the same time. And its ironic that a Googlized Motorola suddenly thinks it is Apple, i.e., telling its customers what they want and offering less features for more money.
Man, this phone sucks...
I had such high hopes for this phone, drank the moto pr koolaid, its gonna be customizable, gonna be able to change stuff... oh wait, they really mean its customizable like a nokia 3300 line..awesome....I mean awesome if you buy it on contract from the devil, cuz everybody else only gets white and black. Then I can choose my own memory?!?! Well as long as its 16 or 32 gb, exactly like every other smartphone in production, of course without an SD card, cuz who wants to keep their own files anyways, then the NSA might not see my files with a click or I might be actually able to restore my contacts without data access...Oh how could I forget, the customizable wallpaper, You Mean I Can Set My Own Wallpaper?!?! WINNING!!! Made in the USA too, aw...
(continues)
want excitement? wait for Samsung!
i'll wait for Samsung to bring in the good stuffs!
they always put new features in their newest phones!
Woah... ugly?
Was it just me, or did other people just feel the word "ugly" appear in their heads within the first second of looking at this phone?

I dont know - this phone just.. doesn't look right. There is something about it that just makes it completley unappealing to me. Anybody else think this phone is just plain ugly?
I actually like it, my biggest complaint is non-removable battery. I like the 720p display simple because battery life and all my tvs are either 720p or lower anyway and shows and stuff still looks great on them. I like the customization option to.