Motorola Debuts Digital Tattoo for Unlocking Moto X
Article Comments 9
Jul 22, 2014, 3:04 PM by Eric M. Zeman
updated Jul 22, 2014, 3:11 PM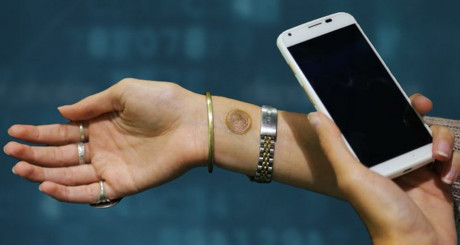 Motorola today announced the availability of a digital tattoo that can be used to unlock the Moto X. The tattoo is actually an adhesive based on VivaLnk's eSkin technology. It is about the size of a nickel and adheres to the skin for about five days. Users need only tap the Moto X against the digital tattoo, which has a shimmery, metallic design, to unlock their device. According to Motorola, the tattoo is waterproof and can be used during activities such as swimming and jogging. The digital tattoo was created by Google's Advanced Technology and Projects group in cooperation with VivaLnk. VivaLnk sells the tattoos in packs of 10 for $10. It was first announced last month.
Don't Let Alex Jones hear about this
Don't Let Alex Jones hear about this that looney will go into some conspiracy about being micro chipped.
Nightly news has even talked about everyone being micro-chipped. People are in denial about it but it will happen. Alex Jones is not who people think he is. Co-intel Pro at it's best. The people blindly follow him.
so...
so I have to buy more digital tattoos to unlock my phone
or use biometric measure to unload my phone..

hmmmmm
Ciao please
I refuse to be impressed until someone comes up with a Star Trek TNG style voice print automated computer system. Given that Lauxanna Troi is sadly no longer with us, someone else will need to carry the mantle.

"Number 1!!! Meet me in my ready room"

😁
Voiceprint recognition is a terrible idea. Remember when Data pretended to be Picard and took over the Enterprise ? Terrible idea!
Wow!
🙄

Could it be more obvious that this is a ripoff? I mean c'mon. "About" five days? We all know that crap will last three days tops, even if you're super careful. This is the only secure way to unlock a phone that doesn't require a password, PIN, or drawing? What about my fingerprint? Or my face? Seriously. What a freaking scam. I'll keep that extra $80+/yr in my pocket thank you very much.
go motorolla!
you have found a way to charge money to use a phone! (I know this isnt the only way to unlock the device, but its freaking awesome) this is really cool but idk if Id be willing to spend money to unlock my phone