Review: Samsung Rugby III for AT&T
Form Performance Basics Extras Wrap-Up Comments 8
Media
The RIII includes a rudimentary MP3 player as well as AT&T Radio. The MP3 player can handle sideloaded content, as well as anything purchased through the AT&T Music Store. Avoid the Music Store. Navigating it is a nightmare, the selection stinks, and it mostly offers ringtones. Also, everything is overpriced. The AT&T Radio app requires a $5 monthly fee to use, and streams music via the data network. It's a shame there isn't a real FM radio on the RIII. There is also an app for playing video, but it is severely limited. It can handle what you've recorded on the RIII and the content you download (i.e., pay for) from AT&T's video content store. It would not work with my sideloaded content.
Camera
The camera is an incredibly simple piece of software. A long press of the speakerphone button on the side of the RIII will launch the camera, or you can set a d-pad shortcut if you wish. The camera opens somewhat quickly.
AD article continues below...
The camera offers a small window through which to compose your photos. The d-pad serves as the shutter button. In the options menu, users can set shooting modes (single, panorama, continuous, etc.), compensate for low light, adjust white balance, add effects, and so on. Most of the essentials are present.
Surprisingly, the camera focuses quickly and fires off the shutter speedily. Images are previewed through a review screen, though this can be turned off.
Photos
I had low expectations for the RIII's 3-megapixel camera, and it managed to meet those expectations. Focus was generally soft in all images, and most indoor shots showed more grain than I care to see. White balance and exposure accuracy were inconsistent. With no flash on the RIII, you can write off the ability to take images at night or in dark places such as restaurants. The RIII's images turn out best when you're outside under a bright sky.
Video
The camcorder is limited to 320 x 240 pixels. In terms of quality, videos are passable at best. They are smeared with grain, pixels and artifacts are visible all over the place, and again focus is hardly present at all. The RIII may serve in a pinch to record a basic scene, but not much more than that.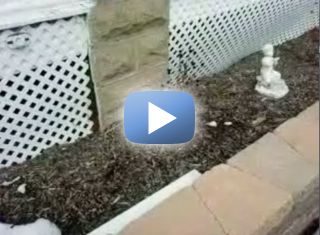 MPEG-4 format (viewable with QuickTime)
File size: 2.2 MB
Gallery
The gallery offers a surprising number of options for interacting with your photos. Images are displayed in either grid or list form. They can be shared via message or Bluetooth, as well as set as the wallpaper or contact image. Editing features include crop, rotate, resize, white balance & brightness adjustment, as well as frames, clip art, effects, and so on. Heck, the RIII has more features than some smartphones I can think of.
Apps
The RIII can run Java-based apps, which are available from AT&T's feature phone app store. The app store, which is accessed through the browser, is a crummy place. Too many of the apps require monthly subscriptions, and run poorly on the phone. Some of the apps preinstalled include AT&T Navigator and Family Map, AT&T Radio, AT&T Social Net, Maps, Mobile Email, Weather, myAT&T, and Wikipedia. There's very little room in the RIII's memory for additional apps, but apps can run from the microSD card.
Browser
The RIII uses the NetFront Access 4.2 browser. As far as feature phone browsers go, it works well enough. The controls are straightforward to use and it does an acceptable job of rendering mobile-optimized web sites. Full-HTML web sites generally don't look good, as they are all strung out in a single long column. Web pages often take longer than 10 seconds to load, even with the best network connection.
Bluetooth
The RIII can be used with mono and stereo wireless headphones, and the Bluetooth can be used to push files around. I didn't experience any trouble pairing it with headsets or my car. Call quality through a mono Bluetooth headset was barely acceptable.
Clock
The RIII's external display is what you'll use to check the time. A long press of the PTT button turns the external screen on. The clock is made of red digits on a black background. It looks like the shot clock you'd see at a basketball game. it is easy to read indoors, but not outdoors.
GPS
The RIII has a dedicated GPS button. It launches AT&T Navigator, which costs $10 per month to use. This button cannot be rewired to launch anything else. That's kind of annoying. The GPS radio of the RIII itself works well at locating the device, but AT&T Navigator was slow to operate.