Review: Samsung Galaxy Admire 4G for MetroPCS
Form Performance Basics Extras Wrap-Up Comments 4
Media
The Admire includes a basic music player application, as well as the Google Play Music app. The first works as a simple playback app, while the second has a richer feature set in addition to its ties to the Google Play Music Store. It lets you stream music that you've stored on Google's servers. I found the music streaming service didn't work at all when under CDMA-only coverage, but did under 4G LTE coverage.
The Admire also ships with the Rhapsody music service on board, which lets you stream music to the device for a monthly fee. As for video playback, it includes the stock YouTube app and that's it.
AD article continues below...
Camera
The Admire runs a Samsung camera application rather than the stock tools. On the right are the standard controls, including a software shutter button since the Admire lacks a physical camera key. There's also an on-screen control strip for adjusting the flash, exposure, and more.
The more detailed camera settings give you a fair amount of control. There are six different shooting modes (smile shot, action shot, cartoon, panorama, etc.); 14 different scene modes (sunset, sports, candlelight, etc.); as well as items such as timer, white balance, effects, and metering.
The Admire includes touch-to-focus, but no automatic review screen. It focuses and snaps images quickly enough.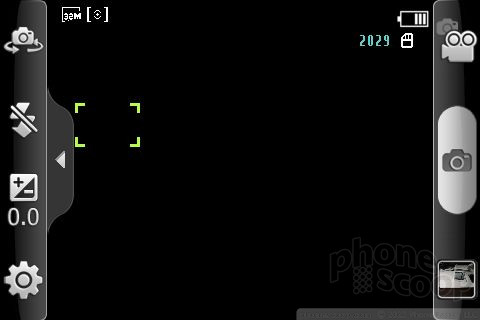 Photos
The Admire has a 3.2-megapixel camera with autofocus and flash. It performed much better than I expected it to. The majority of images I captured were in focus, had accurate white balance and color, and were free of grain and other digital noise. I'd rate them as worth sharing across your favorite social networks and beyond.
Video
The highest video quality that the Admire 4G can capture is 720 x 480 resolution, which is wide-format, but not HD. I was pleased with the video quality for this class of device. There was definitely some grain present, but by and large the video looked very good. Shooting outdoors in sunlight produces the best results, but even in a well-lit room, you'll be satisfied with what you get.
Gallery
The gallery is the stock Android 2.3 option. Photo albums float in stacks in the main gallery view, and you can sift through them in the chronological timeline in which they are arranged. It also taps into your Google+ account.
Editing options are severely limited. Crop and rotate are all you get. Sharing options are solid, and incorporate all the social networking apps on board the Admire.
Browser
The Admire ships with the stock Android browser, as well as some MetroPCS-branded web tools (MetroWeb, etc.). The stock Android browser is a known entity. It works well on MetroPCS's LTE 4G network. Browsing speeds were good, but not as fast as what's available from AT&T or Verizon Wireless.
Apps
The Admire is stuffed full of MetroPCS applications. Some include: M Studio, MetroNavigation, Metro411, MetroWeb, MyMetro, and VirtualCard. Some of these can be deleted, some cannot. There's still enough space left on the Admire for you to download your own applications.
Bluetooth
The Admire supports mono and stereo Bluetooth headsets. I had no trouble pairing with either. Sound quality through mono headphones was good, as was music sent through stereo headphones. The Admire also connects with computers and/or other phones for pushing files around.
Clock
The Admire offers the standard Android clock on the lock screen, which is visible when the device is first woken from sleep. It's a nice, large digital clock that's easily visible everywhere except under direct sunlight. It can't be customized, though.
GPS
The Admire includes Google Maps and MetroNavigation. Google Maps and its Navigation and Places features make for a powerful set of tools when it comes to routing directions and discovering nearby points of interest. The trifecta of these applications means there's no excuse to get lost nor to find a great place for dinner. Of course, its effectiveness is dependent on a strong network connection. The Admire's GPS radio performed very well in most circumstances, and was able to pinpoint my location to within 15-25 feet most of the time.